Leonard Cohen's "Hallelujah" is, by all accounts, a modern-day classic. It has been reinterpreted to great acclaim by the likes of Jeff Buckley, Rufus Wainwright and Regina Spektor, but for singer-songwriter Bastian Baker, the song has a deep, personal resonance.
The 27-year-old Swiss native has been performing "Hallelujah" across the globe as part of his opening act on Shania Twain's Now World Tour, and he released the above video capturing the emotional moment in honor of what would have been Cohen's 84th birthday on Friday. His connection to the song, however, predates both the tour and his current musical endeavors. 
"My dad wanted me to play the song at my grandmother's funeral," he told HuffPost. "I know I played the song but I don't remember anything from that moment. It was almost like a blackout. It was one of the most intense musical experiences of my life." Of Cohen, who died in 2016, he added, "He proved the power of music by writing this song that brings all these people together."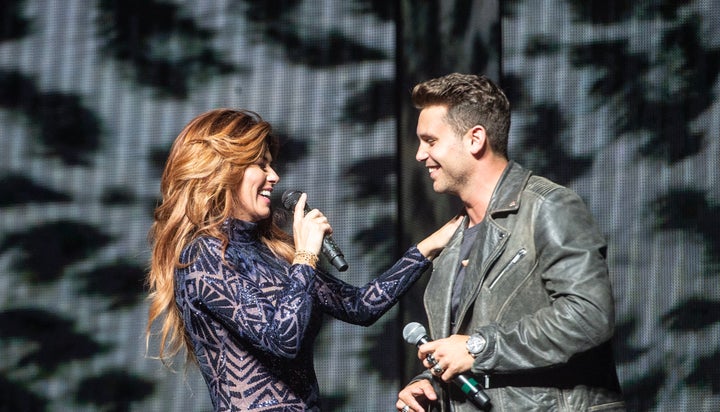 Baker is hopeful his rendition of "Hallelujah" will be helpful in introducing his own work to new audiences, too, specifically those in North America. Though he's enjoyed a successful recording career in Europe, he's gearing up to release his self-titled U.S. debut album on Oct. 26. Featuring the singles "All Around Us" and "Stay," the album reflects Baker's multicultural background. Its 14 tracks were recorded in Nashville, New York, Montreal and Brussels, as well as other cities around the world. 
"I see music as a borderless thing and I've always loved to play with that," he said. Describing his sound as "Ed Sheeran meets James Blunt meets Coldplay," he added, "My goal is to always have people leave my shows with a smile on their face and a better next day ahead. That's what I hope my record will do for them, too." 
The Now World Tour marks Baker's second time opening for Twain. He previously joined the country-pop superstar for three performances of her Rock This Country Tour in 2015.
Their creative relationship, however, dates back to the 2012 Montreux Jazz Festival when, after a chance encounter, they discovered they lived just 10 minutes apart from each other in Switzerland. 
"Someone came up and told me, 'Hey, this Canadian artist wants to talk to you,' so I said, 'Yeah, sure, I'll meet this Canadian artist,'" he recalled. "And it was Shania Twain! We connected in terms of music and culture in general, too, and just got on very well." 
Baker's been embraced by Twain fans, too, with critics singling him out as a "heartthrob" and a "blue-eyed hunk." Though he's happy for the praise, he ultimately hopes audiences take away a more profound message from his music.
"I always say I wish the world was a concert venue, because I look at my audience every night, and all I see are people from different backgrounds, from different everything, really, and we're all in the same place," he said. "That's how I wish the world was."
Calling all HuffPost superfans!
Sign up for membership to become a founding member and help shape HuffPost's next chapter
BEFORE YOU GO