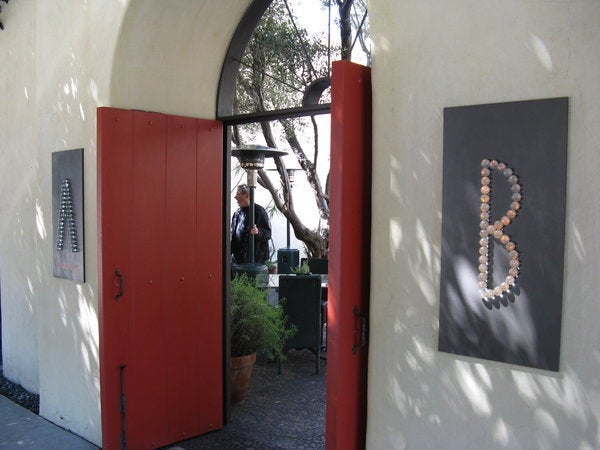 Bastide restaurant in West Hollywood is closing for good this time, reports Eater LA. Owner Joe Pytka decided to "let it go" after the property's landlord raised the rents insurmountably, and restaurant staff are already looking for jobs, according to LA Weekly.
Bastide makes the fourth fine French restaurant to shutter in the past year, joining Michelin-starred Sona, Ortolan, and Bistro LQ in the graveyard of fine food dreams.
Church & State (where former Bastide chef Walter Manzke stayed a spell) has been tapped as a successor to these shuttered French restaurants, despite its unlikely location in a relatively desolate corner of Downtown LA. But does the closure of four prominent, well-reviewed restaurants signal that Angelenos are losing their taste for haute cuisine?
Laurent Quenioux, former chef and owner of Bistro LQ, doesn't think so. Quenioux said to HuffPost, "We may see a trend that haute cuisine will get even better in LA, but in a less formal kind of way." He also called Bastide a "very special place in Los Angeles" and was sad to see it go, but emphasized, "It's gotta be accessible to everyone in order to succeed. People don't want $6 million restaurants anymore -- I think they want to have fun and get down to it."
Quenioux is getting ready to do exactly that in June. He's collaborating with Starry Kitchen in Downtown LA to put on a limited-run "fooding" (the term "pop-up" sounds so cliche to Quenioux), offering bistronomy and gastronomy at affordable prices.
Chrisophe Eme, former chef and owner of Ortolan, cited Bastide's tumultuous history of openings and closings and said, "I was not surprised when it closed again. But of course it's very sad because it's a beautiful restaurant." Eme doesn't think Bastide's closure signals anything about haute cuisine in LA, pointing out that the Bastide that closed this week was not the same restaurant that opened in 2002. "The cuisine was very casual, more like bistro-style. It was not like the Bastide that opened in the beginning." As for Eme, he's currently searching for a location and investors for a more casual restaurant, opening hopefully sometime this year.
No word yet on what Bastide's Executive Chef Sydney Hunter is planning to do next, but if the restaurant's alumni are any indication, Hunter will be "popping up" at a new location any day now. Chef Ludo Lefevbre's LudoBites is in its seventh iteration while he is also filming his new television show "Ludo Bites America" for the Sundance Channel. BlackboardEats and Food GPS presented Chef Walter Manzke's pop-up last month at Biergarten, while Chef Joseph Mahon, who pops up from time to time at Royal/T with fellow chef David Haskell, is set to open his "permanent pop-up," the Burger Parlor, in Fullerton.
Calling all HuffPost superfans!
Sign up for membership to become a founding member and help shape HuffPost's next chapter