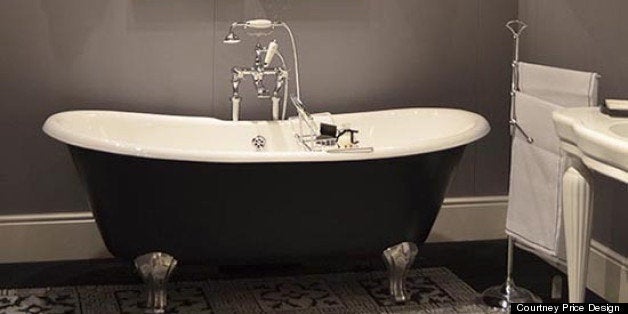 The bath trends at the International Contemporary Furniture Fair (ICFF) reveal a blend luxury and high tech that is more remarkable than ever. Technical sophistication has risen to an aesthetic high making our bath options better than ever. If you were unable to get to the show, here are the bath industry superstars of ICFF: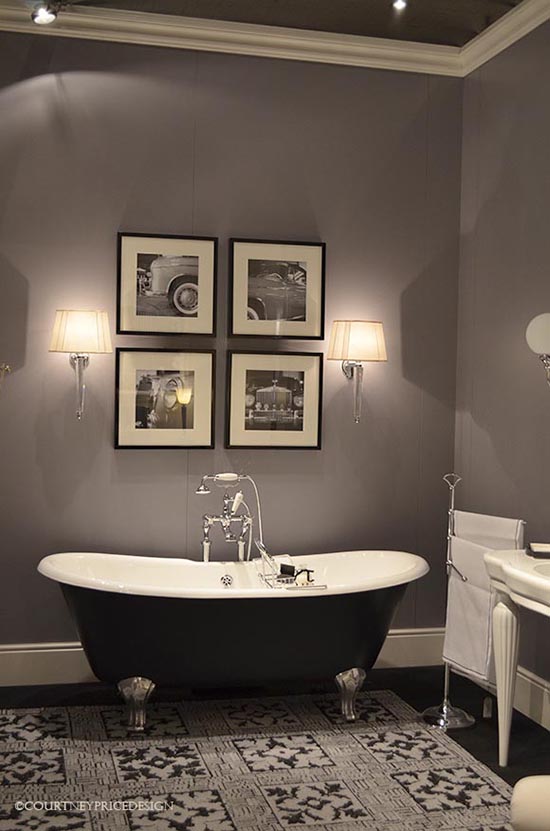 From a design perspective, products have never been better. This is the Devon and Devon space at ICFF, handsome and elegant. Devon and Devon is based in Florence and covers the entire range of bath design, drawing inspiration from the past to reinterpret into totally modern and relevant products.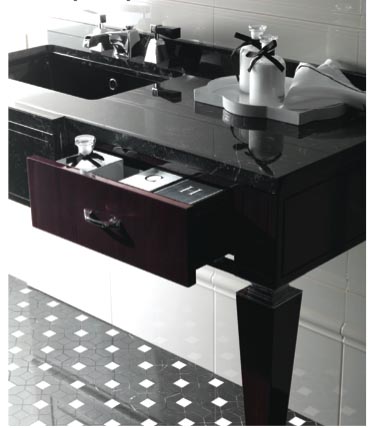 The Bentley vanity unit reinterprets the design and elegant, uncluttered lines of old Navy writing desks. I adore this deco style.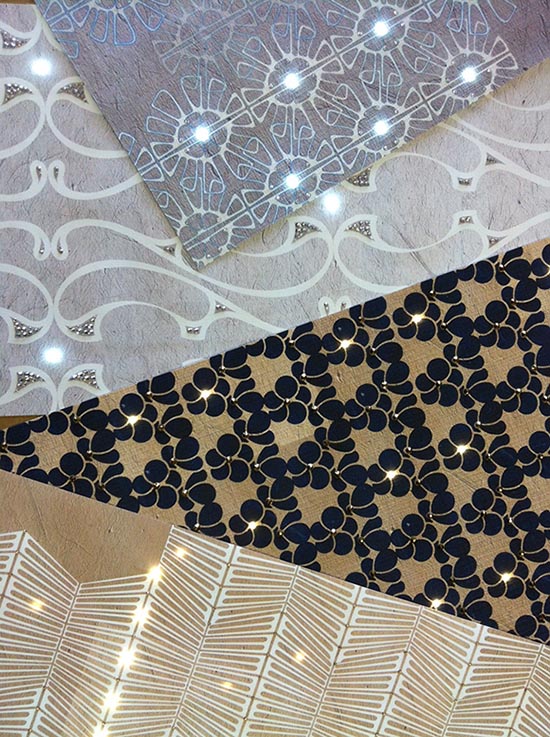 Wallpaper is back so I have to include the LED wallpapers I saw, because they would be stunning in a bathroom. The above wallpaper is by MeyStyle. I am crazy about their wallpapers!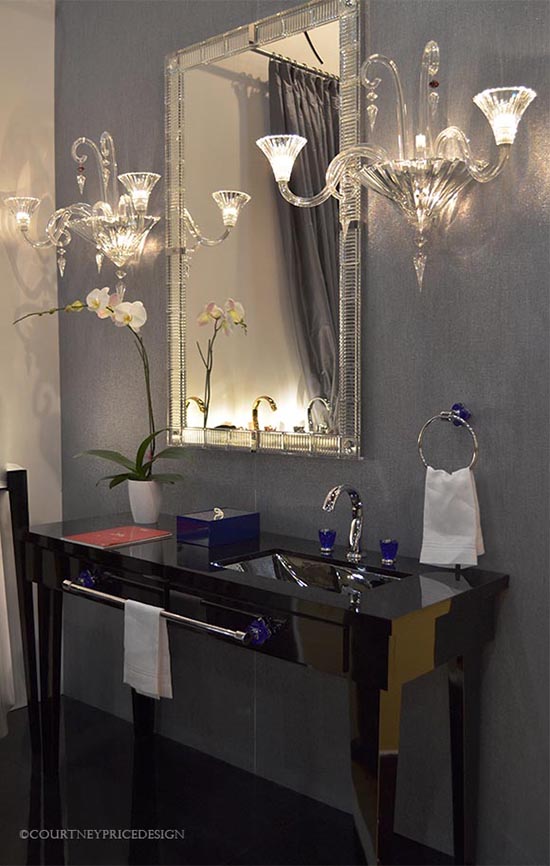 THG was all about bath glamour at ICFF. This Normandy-based company just oozes style and knows how to make a bathroom sexy. Above is their Baccarat inspired bath, and below a fixture detail in signature Baccarat red as well.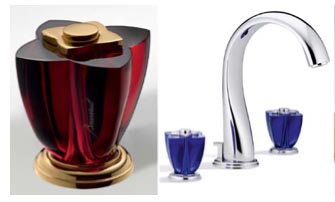 What do you get when you cross a leading luxury bath atelier with one of the most prestigious brands in fine French crystal? THG's Pétale de Cristal line. Baccarat for the bath, baby!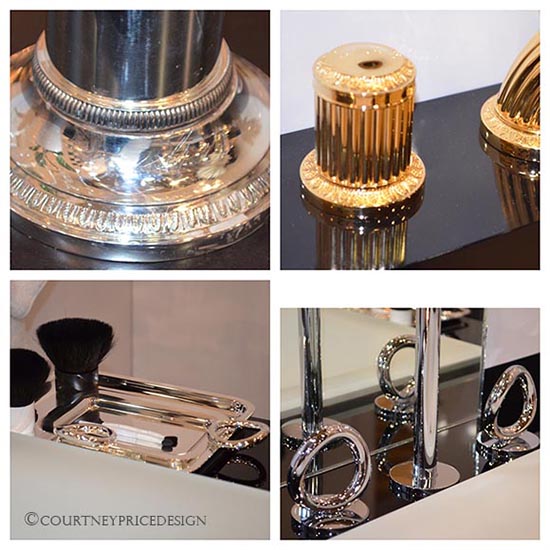 THG also exhibited Collection Malmaison, a partnership with Christofle, the premiere designer of French silver and decorative arts. Wow. Above I show how inspiration translates to product for the handsome Chrstophle line: Christofle's Collection Malmaison above and Christofle's Collection O by Studio Putman below.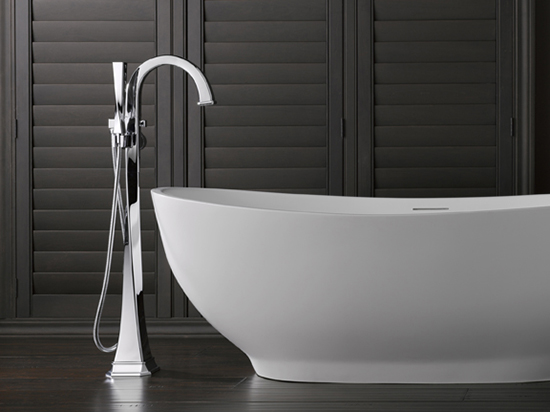 Brizo brought their new Virage free standing tub filler to ICFF. It is gorgeous, and we can't have one until November.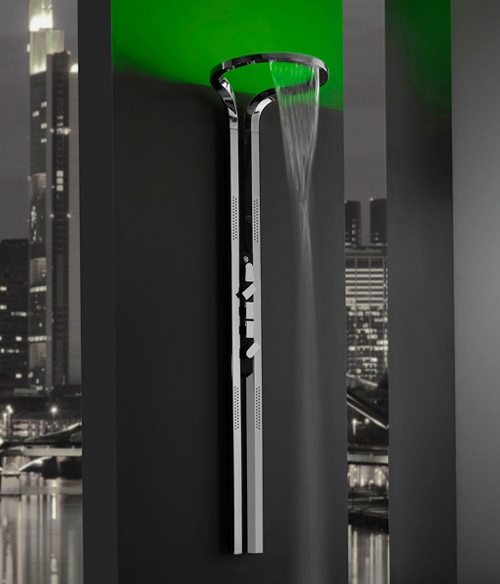 Graff brought an architectural vibe to the bath...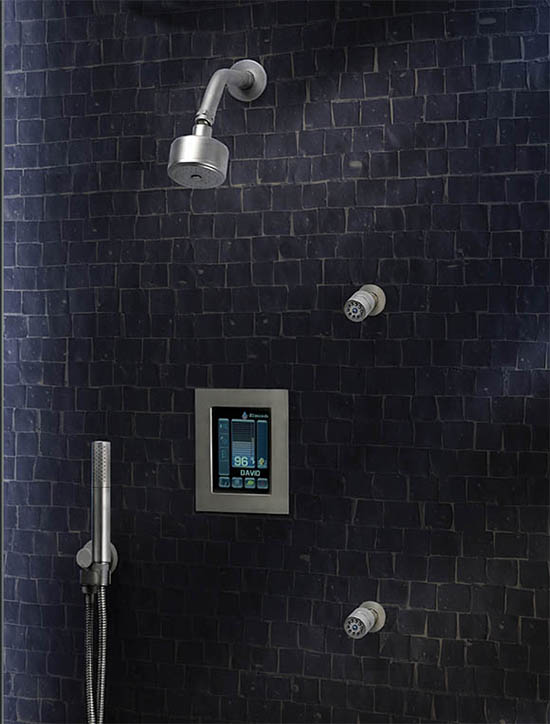 Brooklyn-based Watermark's Luxury Shower System featured a full-color digital touch screen, thermostatic valve that controls up to four shower outlets, ability to control shower lights and connection to any audio device with headphone jack. Nine programmable preset shower scenarios allow users to set their name, water temperature, water outlets, speaker volume, lights and water consumption.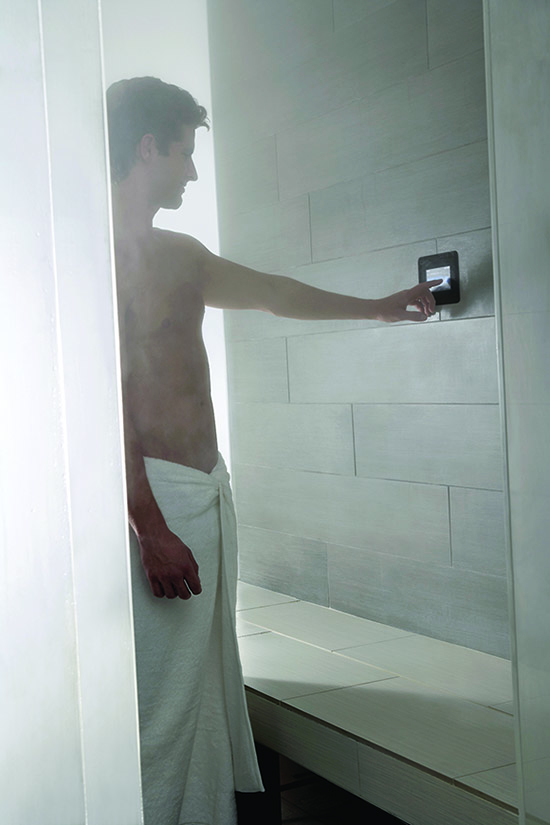 More than just a shower: I am increasingly impressed by the Health Benefits of steam showering: Mr. Steam Showers feature the iSteam technology. Home steam showers, as easy to use as a smartphone, the 4.3-inch color LCD touch panel keeps you in complete control of your steam shower experience. A simple drag of the finger will adjust temperature, duration, and special options like aromatherapy, chromatherapy, and music. The iSteam is the first of its kind to operate in a wet environment. Spoiler alert: the handsome guy -- not included.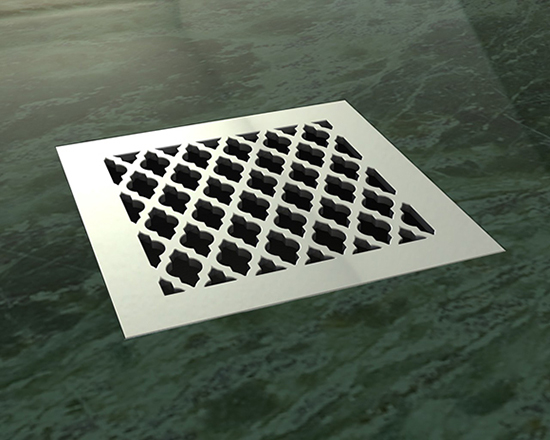 Not only is the shower experience receiving luxe upgrades, but we are seeing inspired design details, such as these Watermark drains. These are the best that I have seen.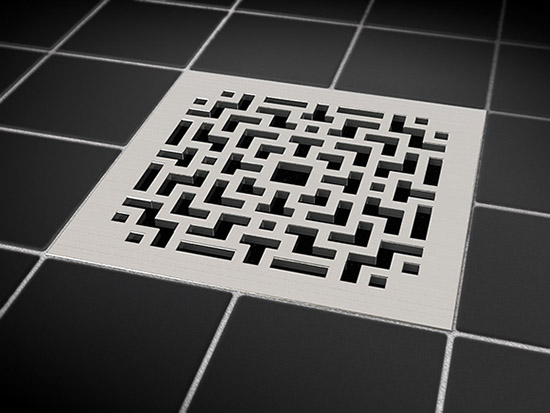 ...while we are tending to the structural details of the shower, we need to plan for the sensual indulgence of reaching for a nice warm towel: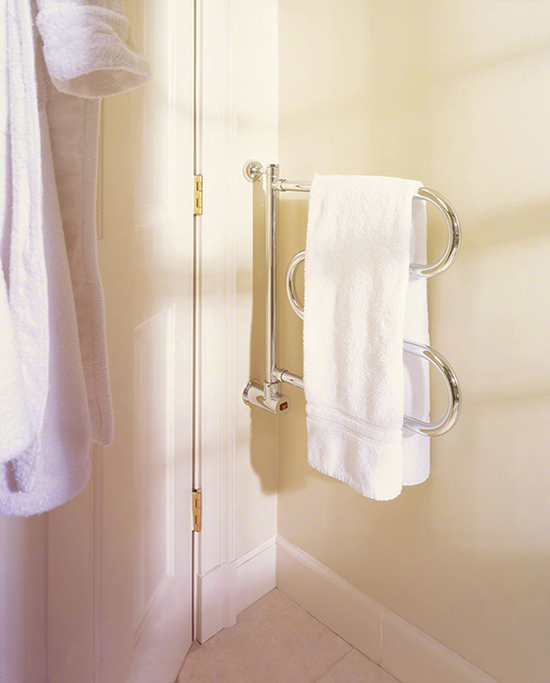 I adore these Mr. Steam towel warmers -- with the option of aromatherapy. Ahhhh, luxury. Want one? Elle Decor is partnering with Mr. Steam for a Towel Warmer Sweepstakes during the month of June, worth checking out!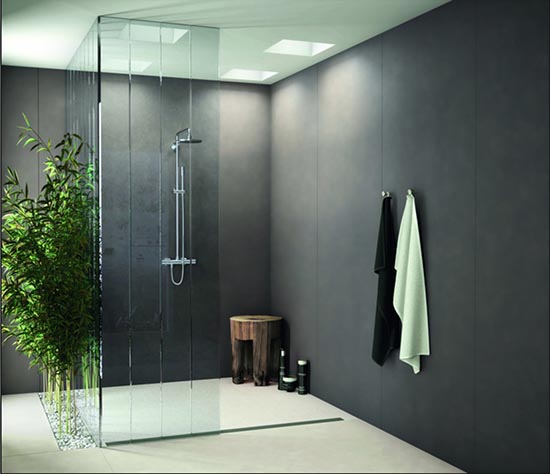 INALCO, a Tile of Spain manufacturer, is one of the innovators of thin tile -- tile that is as mechanically strong as normal porcelain -- but with unique advantages for easy installation with little grout on walls, counters and floors. This classic vintage look comes in a thin tile called Handcraft.
The bath takeaway from 2013 ICFF was that the technology keeps getting more detailed, sophisticated and elegant. The design is getting more luxurious. Details matter more than ever. The end result is high-end home spa and it is fantastic. If you have interest in reading about the home furnishing ICFF contemporary trends, see this post on my blog.
Related