Public restrooms have become the epicenter in the fight over the civil rights of our community. One of the most intimate public spaces and, at the same time, one of the most anonymous, they are an odd place, indeed, for battle. On our side, the weapons have ranged from serious economic repercussions to more irreverent and pointed visuals that demonstrate the utter inanity of the other side's fear.
It's time to take a breath, step back and expand this fight for "bathroom safety." As queer people, we must lead a national conversation that is freeing to people across all spectrums of gender identity and sexual orientation.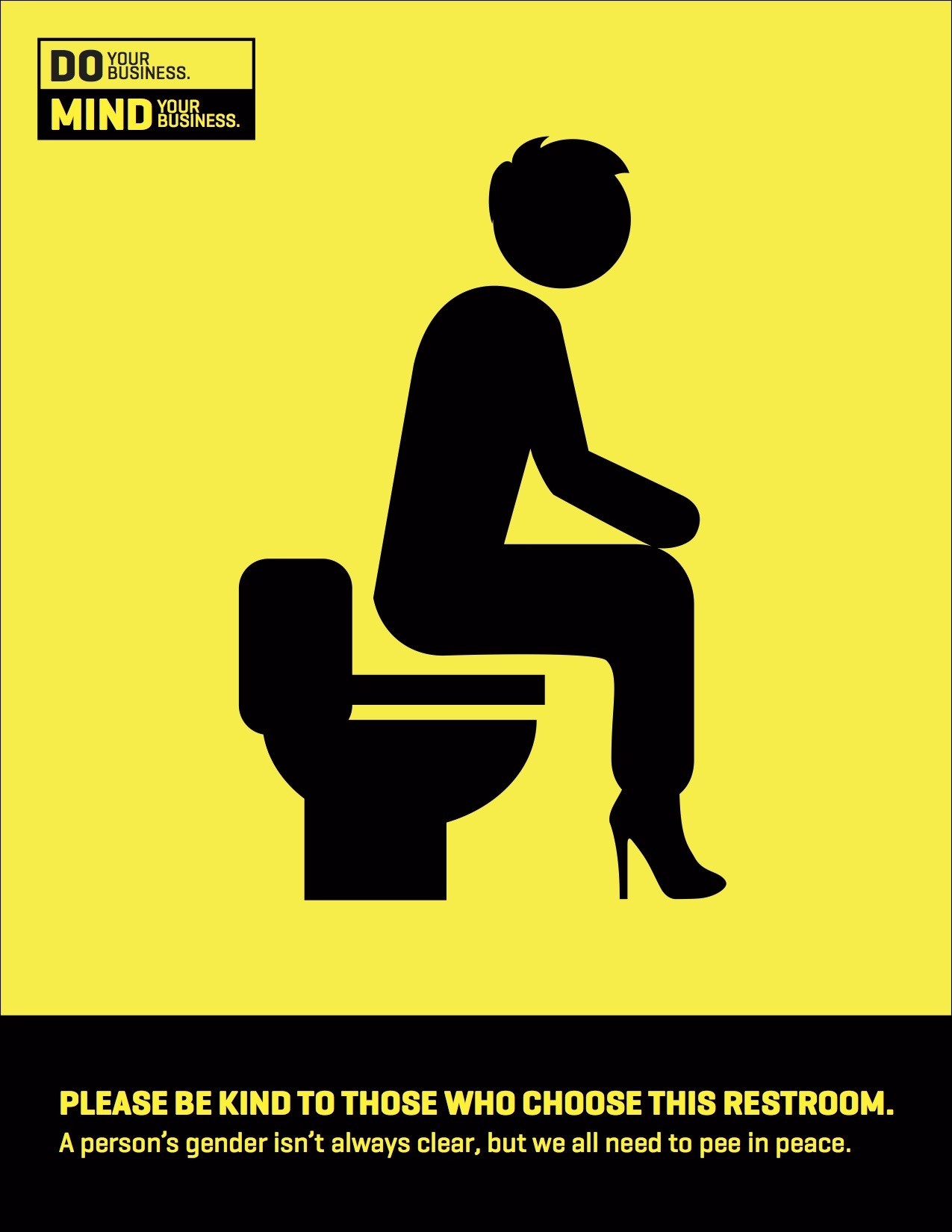 The issue is much larger than it seems at first glance and the solutions, therefore, must be more inclusive. The intense focus on the fight for gender-neutral restrooms and the perfect signage are missing the mark. We have to move beyond the binary that is implied in the quest for "All-Gender Restrooms."
To begin with, offering gender-neutral restrooms will only solve the bathroom safety problem when EVERY restroom in a given facility is all-gender. When inclusive restrooms and single-sex restrooms both exist in the same building, transgender people often shun the all-gender one, feeling that they are outing themselves by entering it. Others resent having to travel further, sometimes to another floor, to find the one safe place to empty their bladder. It's even worse for the trans kids who are forced to use the bathroom in the health office at school and, by doing so, are singled out unnecessarily.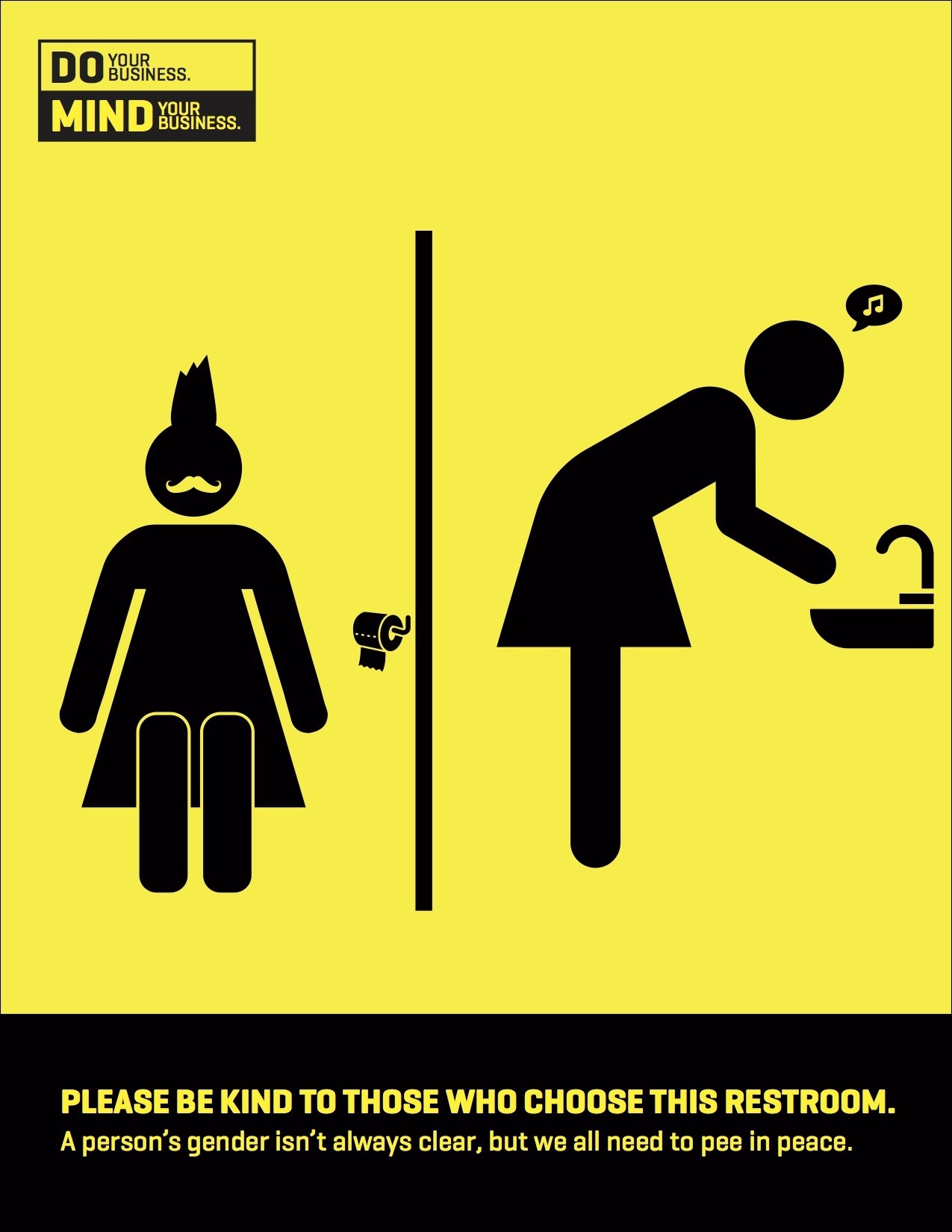 Remember, too, that all-gender restrooms are usually assigned to single-stall bathrooms. Without the finances (and commitment) to make all restrooms single-stalled, many facilities continue to have multiple-stall single-sex restrooms, i.e., Men's Rooms and Women's Rooms. It is here that we need to expand our work. Gender nonconforming people, like many of our butch women friends who both choose to use the Women's Room, and who would be required to do so in states like North Carolina, often endure ugly stares, harassment and even violence when they enter. Cathy's certainly been stopped unimaginable times going to the Women's Room with some version of "You know that's the Ladies' Room, right?". The tone isn't always considerate; often it is hostile and threatening.
Gender nonconforming people have been sorely overlooked in the "bathroom wars" around the country. It's time to include this issue in our conversations.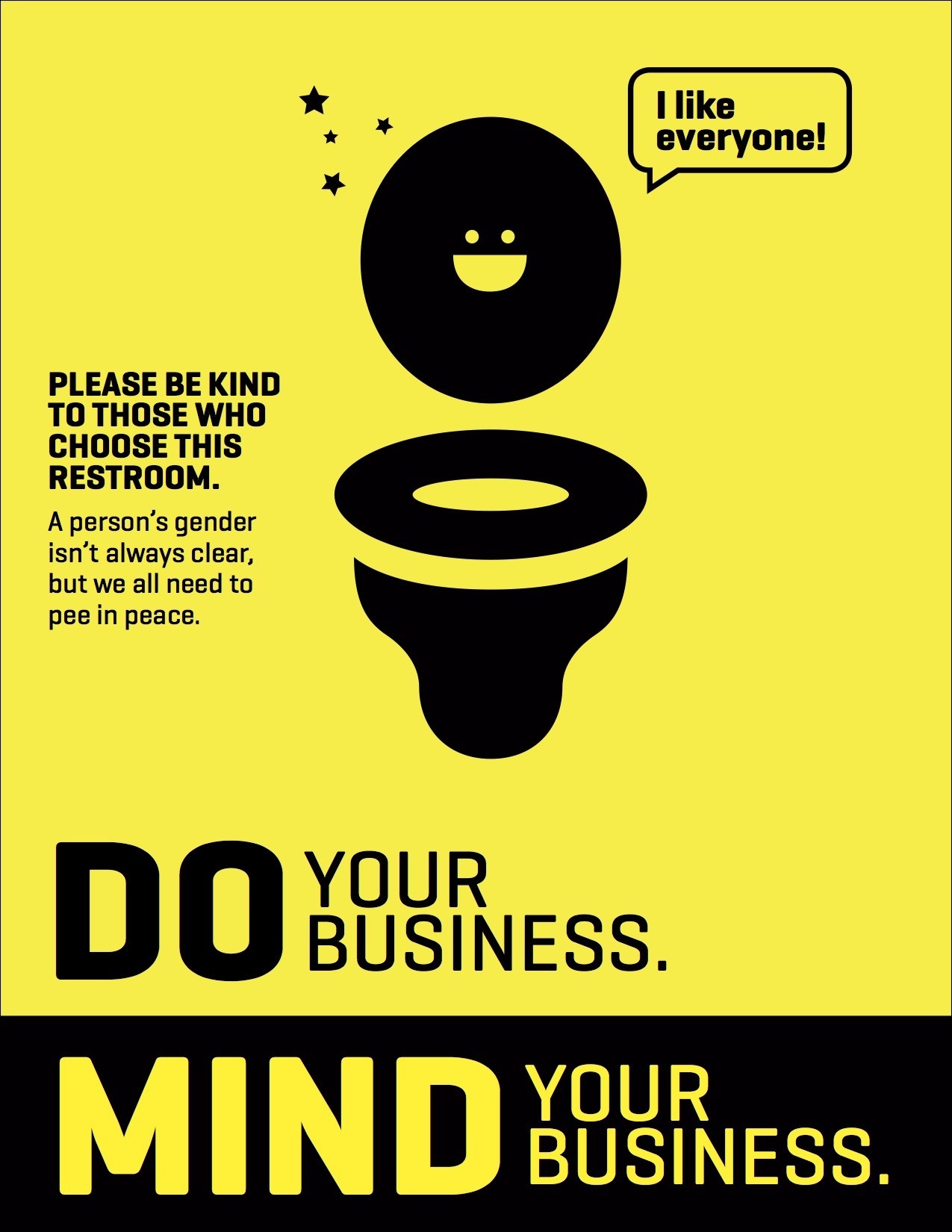 As the Executive Director of the National LGBT Cancer Network that creates and delivers cultural competence training across the country, Liz noticed this gap in in her toolkit. She needed a bold and light-hearted poster that would serve the serious function of increasing the bathroom welcome to a broad range of people within Men's Rooms and Women's Rooms. She gave this challenge to her transgender graphic designer, and this campaign is the result. The posters were created to be shared.
The "Do Your Business/Mind Your Business" campaign has eight different designs, so organizations and facilities can choose the ones that best reflect their own culture. There is also a bonus poster designed especially for cancer centers.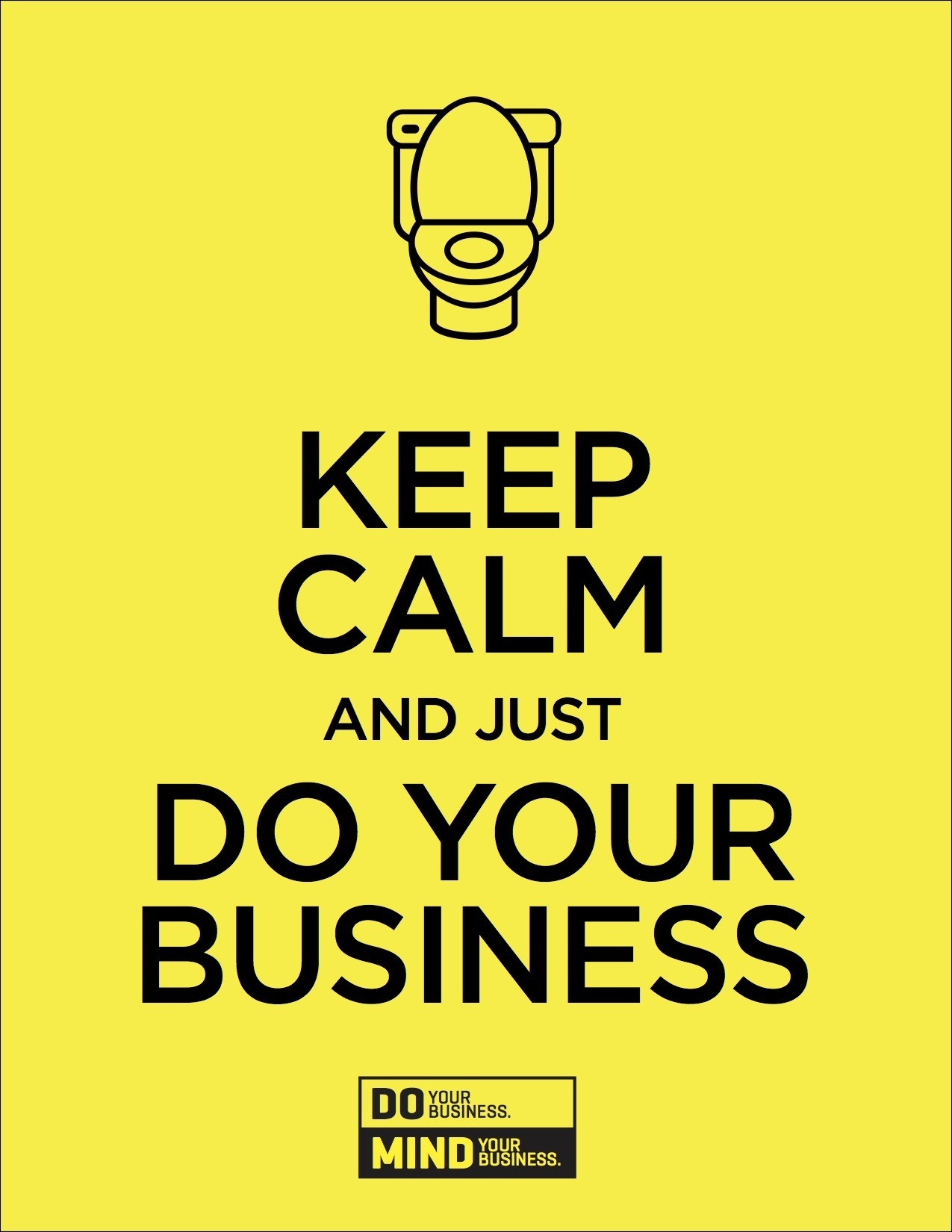 This is a community-based project with no logos attached. Go to the website, www.bathroom.support and download whatever suits your fancy. Slap them up everywhere. Attitudes change slowly over time; repeat exposure to the memorable black and yellow designs will help get the message across that not all of us who use the Men's Room or Women's Room will resemble the stereotyped notions of "male" and "female."
We look forward to the day when public restrooms need no gender description and our only worry will be whether or not there is toilet paper.
We all just want to pee in peace.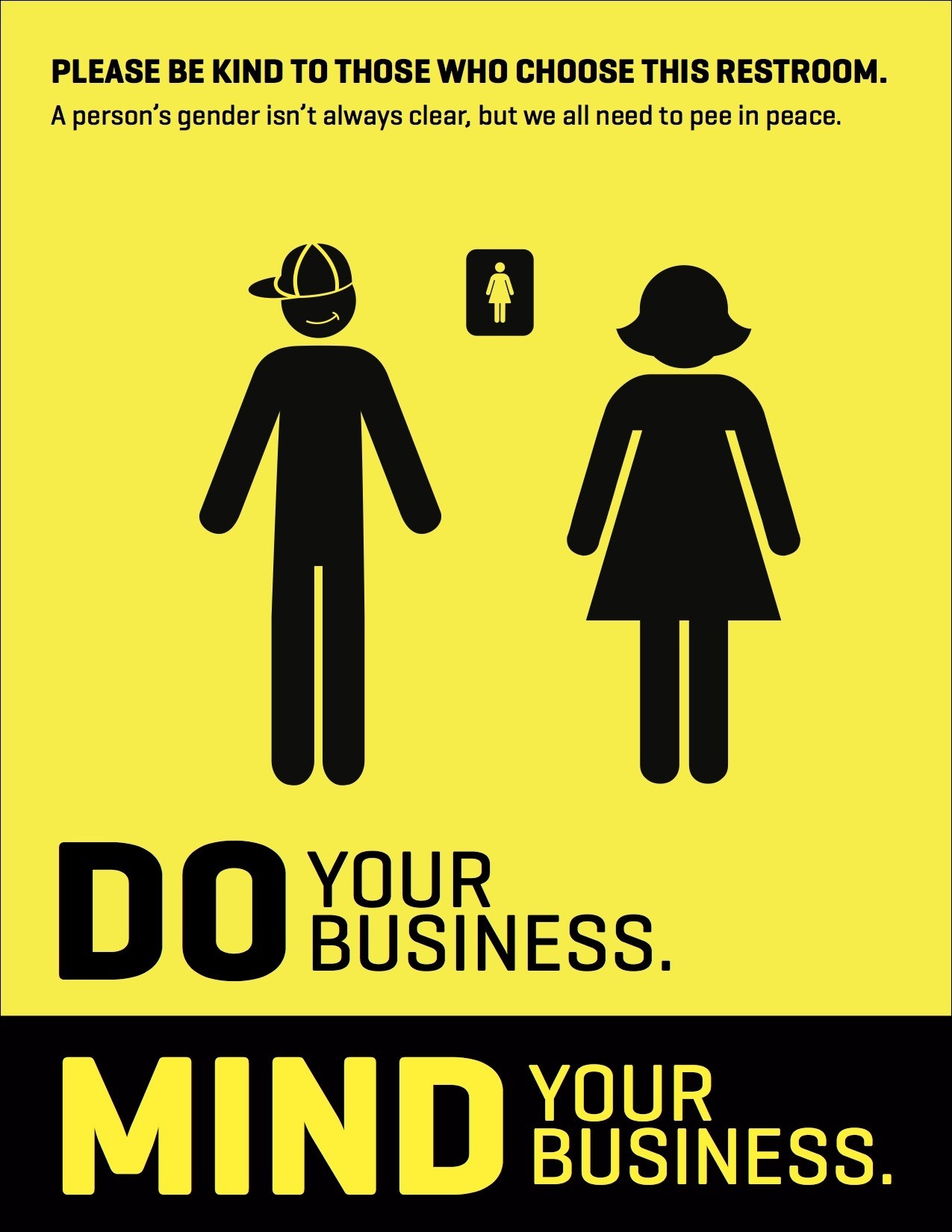 REAL LIFE. REAL NEWS. REAL VOICES.
Help us tell more of the stories that matter from voices that too often remain unheard.