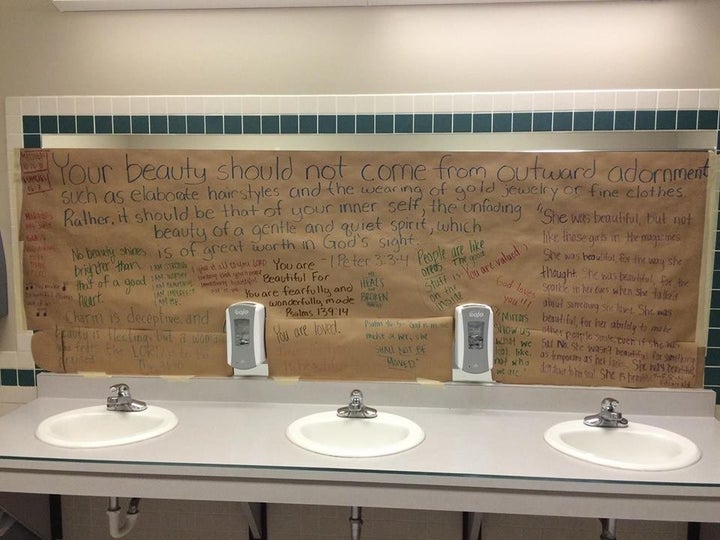 Students at a private Christian school in Kansas covered the mirrors of the girls' bathrooms with paper to tell their peers their outward appearance is less important than their faith.
"This was something the senior girls came up with," Matt Brewer, the headmaster of Trinity Academy in Wichita, told The Huffington Post in a Facebook message. "They really wanted to share God's truth with their younger classmates."
The temporary coverings feature handwritten messages about inner beauty, ranging from biblical passages saying "Your beauty should not come from outward adornment" to kitschy sayings like "People are like Oreos... the good stuff is on the inside."
Story continues after photos:
PHOTO GALLERY
Trinity Academy Bathroom Mirrors
"Especially as freshmen and sophomores, you're trying to find your identity and who you are and we want them to find their identity in God and in Christ and not in a mirror and not what their outward appearance looks like," senior Hannah Hancock told local news station KWCH on Monday.
Watch another senior, Jordan Melugin, tell KWCH why she thinks the messages are important (story continues below):
 Photos of the mirrors received a positive response on Facebook, but a person who says their siblings attended Trinity told Jezebel that the effort felt more like shaming girls for taking pride in their appearance.
"It feels to me like they're papering over the mirror because they can't go all out and ask the girls to wear paper bags themselves," the anonymous tipster wrote to the site. "Believe me, I grew up in this culture, and being told 'your beauty should not come from outward adornment!!!' just sounds like MORE exhausting shaming and policing."
Not to mention that covering up bathroom mirrors is just plain impractical. Don't some people need to make sure they don't have food in their teeth? What if you have to adjust your contact lenses? 
There's no covering on the boys' bathroom mirrors, Brewer said.
Calling all HuffPost superfans!
Sign up for membership to become a founding member and help shape HuffPost's next chapter