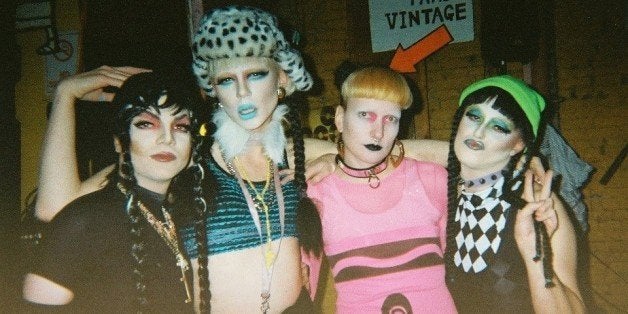 Over the past two years, weekly queer party and drag showcase Bathsalts has become a staple on Monday nights for the Brooklyn queer community. The event has served as a forum for the kind of transgressive and edgy drag for which this outer borough has become iconic.
Two years later, the party is still going strong.
Housed in a Mexican restaurant called Don Pedro, Bathsalts has become a Brooklyn queer institution and an entry point for many of this community's emerging drag queens and performers. The party is the brain-child of Mr(s) Williamsburg 2013 winner Macy Rodman and co-hosted by Severley Mame, two artists previously featured in Huffington Post Gay Voices Associate Editor James Nichols' series Queer New World.
Describing Bathsalts as a "naughty little clubhouse," Macy Rodman previously told The Huffington Post that the party acts as a platform where performers can try "really creative, artistic, edgy stuff that they can't do other places, or feel like they shouldn't do other places... [where] people just feel like they can get silly, or crazy, or nasty when they perform."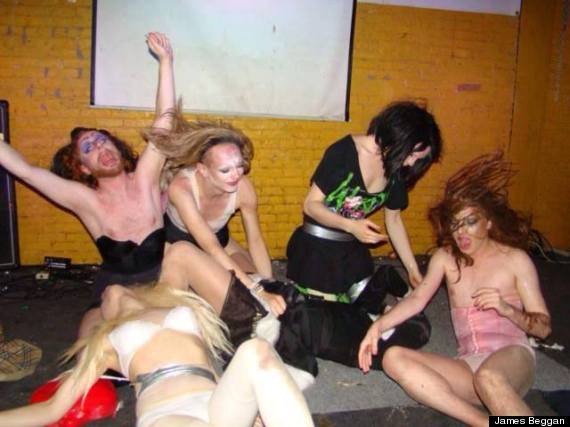 This Monday night, June 9, will be the two-year anniversary of Bathsalts and the pair have organized a massive line-up for the occasion that includes 25 different performers.
From "Night of 100 Christine McVies" to "I'm A Very Sexy Baby," every week of Bathsalts has a different, eclectic theme that drives the performances throughout the evening. However, perhaps the most unique part of Bathsalts is "Salty Talk," a faux talk show with the two co-hosts in which the pair offer their witty perspectives on current social and political issues dominating that week's headlines.
The show has brought out the likes of queer NYC legend Justin Vivian Bond, who attended a recent installment of the weekly party in which the co-hosts discussed the current debate surrounding use of the word "tranny."
In anticipation of tonight's two-year anniversary of Bathsalts, The Huffington Post chatted with Macy Rodman and Severely Mame about how this party has evolved since its inception, what attendees can expect tonight and what the pair sees for the future of this Monday night Brooklyn queer institution.
How has Bathsalts developed and changed over the past two years? Macy Rodman: When we started, drag was so new to all of us and the fun was just exploring and, well, feeling our oats. Now it's become something where people are used to seeing drag, they're used to seeing weird drag, and the thing that BathSalts has that is different from other parties is an environment that feels like getting drunk in your friend's basement. I love high drag and pomp and circumstance as much as the next girl, but I think being approachable feels new and different in this context.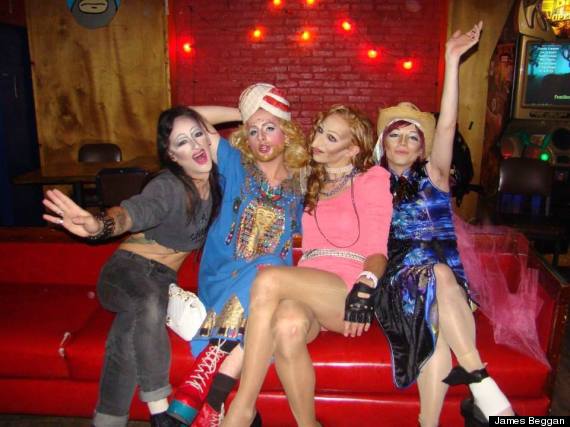 What can attendees expect from this two-year anniversary showcase? Severely Mame: Our two-year anniversary show is going to be the best of this year of Bathsalts! We brought back some of our favorite show themes as categories in the Ball and we have invited back some of our favorite performers! "Salty Talk" is also a special one -- we have added Shane Shane and Laricious to the panel for the evening to weigh in on Hot Topics, we have some special funny gals for "Dad Joke Of the Week," and last but not least the winner of our BATHSALTS FAN FICTION CONTEST will be announced and their fan fiction will be read.
Salty Talk is a unique facet of Bath Salts -- what is this segment and what do you try to do with it? Macy Rodman: "Salty Talk" is about frank, unfiltered insight from two laymen. Whenever something comes up in our range of vision in the "queer community" that affects us, we talk about it, because it's important to keep the air clear, even if the result is messy. It's not about trying to define our point of view at "Salty Talk," but instead creating an environment where these very relevant topics don't become untouchable in conversations.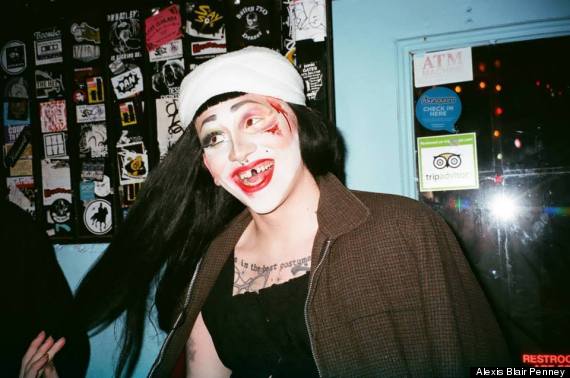 You recently discussed the debate surrounding the word "tranny" at a Bathsalts that happened to be attended by Justin Vivian Bond. Why are forums like Salty Talk important for social and political issues affecting the queer community? Severely Mame: Having "Salty Talk" really gives us a space and time for us all to discuss things going on in our community and the world. It's a platform for all discussion we need to have, and is done in a group that isn't politically oriented in any direction with a mix of all orientations, which gives it a dialogue of any and all viewpoints. It is also all done in a very light-hearted way and we can discuss issues without getting too heated or serious because the next topic might be "powdered alcohol" or Courtney Love's tweet with the diagram of where she found the missing flight 370. I am one of the least political people I know, and since we've started "Salty Talk" I've been able to at least form my own educated opinions that are based off of what everyone in the discussion has to say.
What can we expect from Bathsalts in the future? Macy Rodman: I have absolutely no idea what to expect from week to week, and that's why I continue to love it like an ungrateful teenage daughter.
The two-year anniversary of Bathsalts will be tonight, June 9, at Don Pedro in Williamsburg. Head here for more information.
Popular in the Community