BATON ROUGE, Louisiana ― The devastating floods that have engulfed the area since last week may not be of biblical proportions, but to some displaced residents, the flooding feels like another plague visited on a region already weary from a year of natural disaster, civil unrest and deadly shootings.
"This community has been through a lot in the past few months with the shootings and the racial issues. Now this. It's all been back-to-back," said Baton Rouge nurse Aron Coates, who came to the makeshift shelter at Celtic Studios to offer assistance to flood evacuees.
Coates was among several people The Huffington Post interviewed Monday at the Baton Rouge movie warehouse-turned-shelter and the surrounding area where an estimated 3,000 people are being housed.
Local media has dubbed the disaster "The Great Flood of 2016," while the Red Cross said it's undergoing the largest relief effort since Hurricane Sandy.
Like many of her fellow Baton Rougeans, Coates is alarmed at the flood's devastation and exhausted to see the area and its people beset by yet another tragedy in a matter of months.
In early July, a Baton Rouge police officer was caught on video violently shooting Alton Sterling, a black Baton Rouge man who was selling CDs in front of a friend's convenience store.
Sterling's death prompted days of intense protests against such use of force in a city of historic racial tension where some residents say police treat the black community like second class citizens.
"It's like Mother Nature is trying to purge everything out and bring us together.""
Less than two weeks later, a Missouri man killed three Baton Rouge-area police in an ambush-style attack and prompted another period of mourning in the community.
Racial inequality has been a thread woven through many of the state's recent tragedies, be they natural disasters like Hurricane Katrina or police killings of black, and often poor, residents.
Several evacuees who spoke to HuffPost expressed hope that amid the devastation from the deadly floods, residents could find common ground.
"What's happening now is a very tragic thing," Coates said. "But it's like Mother Nature is trying to purge everything out and bring us together."
"Right now people aren't concerned about black versus white," she added. "We're all just trying to survive and get everybody back on their feet. So it kind of washed all that away. ...I think in the long run it will be a healing thing."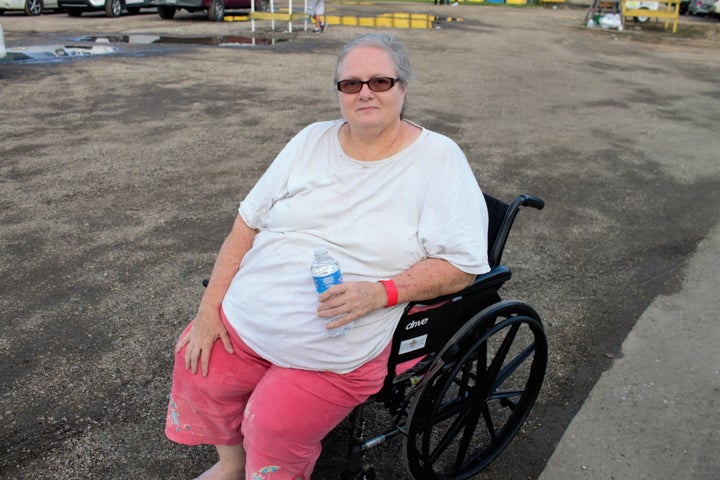 Pat Payne, 61, has lived in Baton Rouge since 1993. She and her husband, Brian, were staying at the shelter after losing everything in the flood.
"There's nothing left," Payne said. "What you see on our backs is it.
The flooding started Sunday morning when Brian told her water was coming onto their yard.
"Then the next thing we knew it was in our house. Everything is ruined. They had to come get us by boat," she said. Now, the couple plans to leave to stay with friends.
"As bad as it is, everybody is coming together and helping each other by doing what they can. It's good ― it's good to see that."
Payne noted a Facebook comment Montrell Jackson ― one of the slain Baton Rouge police officers ― made before he was killed.
"He said 'Please don't let hate infect your heart.' I hope he's looking down and seeing that hate is not infecting our hearts."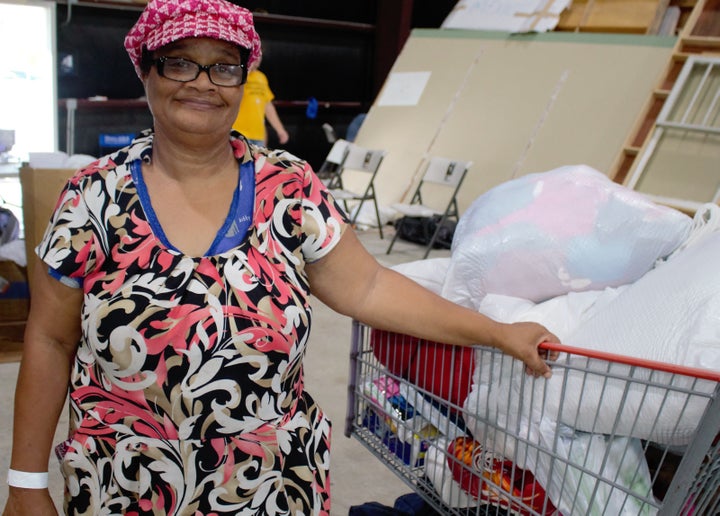 Ellen Anderson, 55, who has lived in Baton Rouge for two decades said that she, like the Paynes, has lost everything in this flood. Anderson had been living with her son and daughter-in-law.
While Anderson was able to escape, her son has been trapped in the home since Thursday.
"There was water up to the ceiling. We're still waiting on them to rescue my son. The water is so high they can't rescue him," Anderson said. The current devastation has her looking at recent events differently now.
"I think what has happened here is God is letting everybody know that he rules this country," she said. "Ain't no white lives matter or black lives matter. Everybody's lives matter. This disaster shows us all that."
She added, "We're all together here now and we have to love everybody. We can't hate nobody."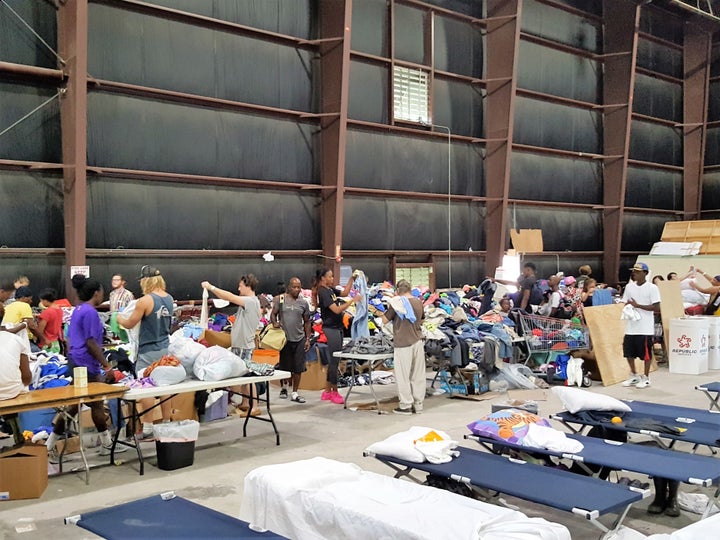 Like many of her neighbors, Leslie James, a lifelong resident of Baton Rouge, said she's been overwhelmed by recent events and now the flood. The 55-year-old said despite all of it, her faith has kept her going.
"It's a lot to deal with. We have seen so much division lately with law enforcement and the residents of this city and now this. It can be discouraging, but my faith keeps me encouraged amongst everything else," James said.
"I think this has brought us together the way we used to be. We care about each other, we look out for each other and we're there for each other," she continued. "I hope and pray people will continue to come together and that the leaders of the city, state and country will provide us with the necessary help we need to move on with our lives."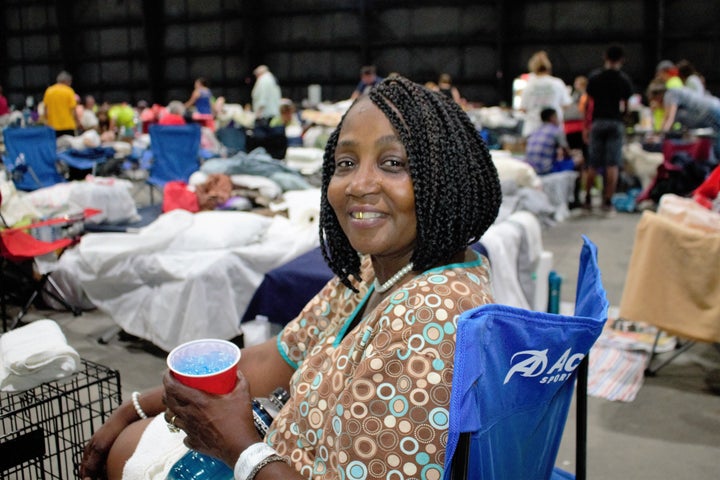 The floodwaters that engulfed 54-year-old Elnora Patterson's house were unlike anything the lifelong Baton Rouge resident said she's ever seen.
"The water was up to the tip of the stop sign on my street. I kept saying, 'Lord when is this rain going to stop?' It was nonstop."
The epic floods felt to her like "God is trying to tell us something."
"It's time for everyone to get their act together. Stop all this nonsense and love each other," Patterson said. "There was so much negativity before this. We don't show enough love towards each other, so God had to do something. He had to bring us together and look at us now. We're all together here and everyone is helping everyone."
With so many residents stripped down to nothing, Patterson said previous divisions don't matter right now.
"We're all in the same room. We're together now and that's what God wanted us to do," she said. "Sometimes it takes bad things to happen for good things to happen."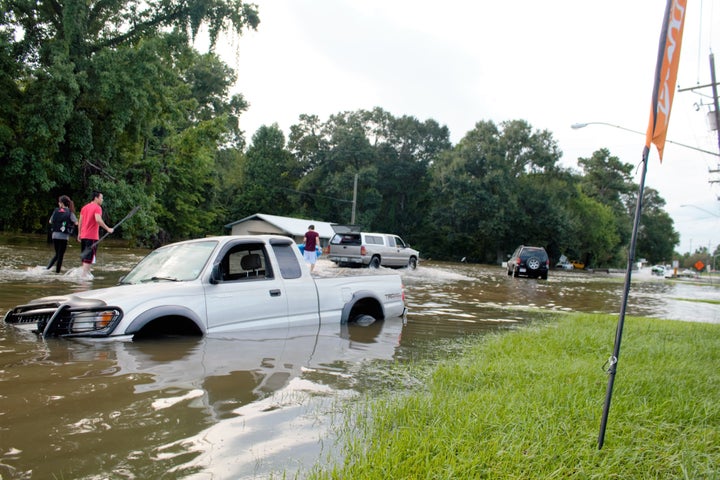 Outside Celtic Studios in the heavily-damaged Denham Springs area, resident AJ Herbert said everyone is helping one another despite their losses. An estimated 90 percent of the homes in the area have flooded.
"I'm at a loss for words," said Herbert, a football coach at the local high school.
On Saturday, he went out to the subdivision with other motorists who had "jacked up vehicles" to help evacuate residents onto boats.
"I was nervous because the current was moving so fast that it was pushing vehicles off the road. One lady we rescued was paralyzed from the neck down. We had to get her and her chair out of her place and into a boat. There was a lot of elderly people."
Herbert guesses he made about 20 trips over 10 hours.
"The community really came together," he said. "It's sad it takes an event like this to pull people together, but it didn't matter who you was if you could lend a hand, you was.
"There was people who knew they lost everything, but if they was able to help other people they was doing it."
David Lohr reported from Baton Rouge.
Deadly Louisiana Flooding Photos