BATON ROUGE, La. ― Matthew Gerald, a 41-year-old rookie police officer who was one of three lawmen shot to death last week by a gunman who targeted police, was remembered Friday at an emotional service attended by thousands of mourners and police officers from around the nation.
"For Matthew Gerald, being a cop wasn't just what he did, it was who he was," said Baton Rouge Police Chief Carl Dabadie Jr., whose voice broke several times as he eulogized the slain officer. "He served with honor [and] our hearts are broken."
Ascension Parish Sheriff's Office Chaplain Ken Spivey spoke about Gerald's commitment to the military, the police department and his family.
"Following his graduation from Central High School, Matt initially pursued a career in the military," Spivey said. "He achieved the rank of U.S. Army specialist, earning four air medals. In addition, he was a Black Hawk crew chief, a corporal in the United States Marines and also completed three tours of duties in Iraq. Matt relentlessly showed others good through his own actions ... The love of his life, however, was his family. Matt was an amazing husband, son, father and a friend."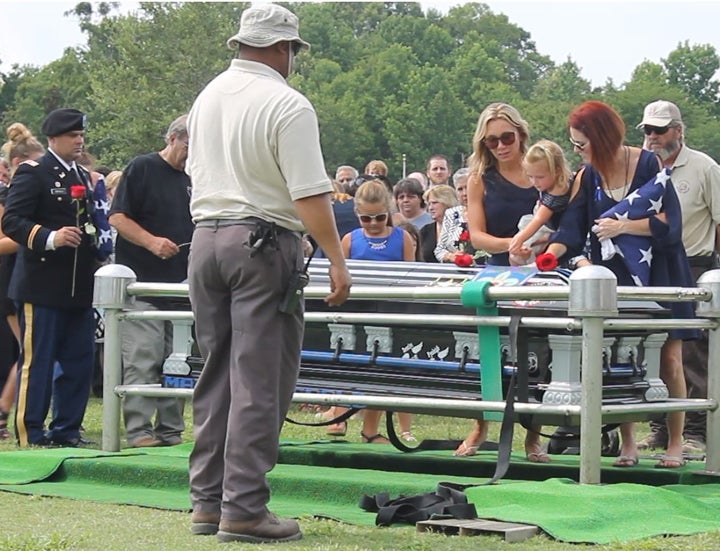 Gerard's funeral was held five days after a gunman opened fire in Baton Rouge, killing Gerard, Baton Rouge Officer Montrell Jackson, 32, and Brad Garafola, 45, of the East Baton Rouge Parish Sheriff's Office. Three other officers were wounded.
The gunman, identified by police as Gavin Long, a former Marine from Missouri who authorities say targeted the officers, was fatally shot by a SWAT team.
"There is no doubt whatsoever that these officers were intentionally targeted and assassinated," Col. Michael Edmonson, superintendent of the Louisiana State Police, said Monday. "It was a calculated act."
Garafola will be buried on Saturday. Jackson's funeral is set for Monday.
In the days before the Louisiana shootings, demonstrators had been demanding justice for victims of police brutality, particularly Alton Sterling, who was killed here on July 5.
During Gerard's funeral, Chief Dabadie expressed frustration at media reports critical of his agency's handling of protestors.
"The media has blasted us for what we do and how we do it," Dabadie said. "Basically, portraying law enforcement as these bunch of bullies who go around and beat people up … We're not bullies. We're protecting our communities and they're throwing us under the bus for it and that's wrong."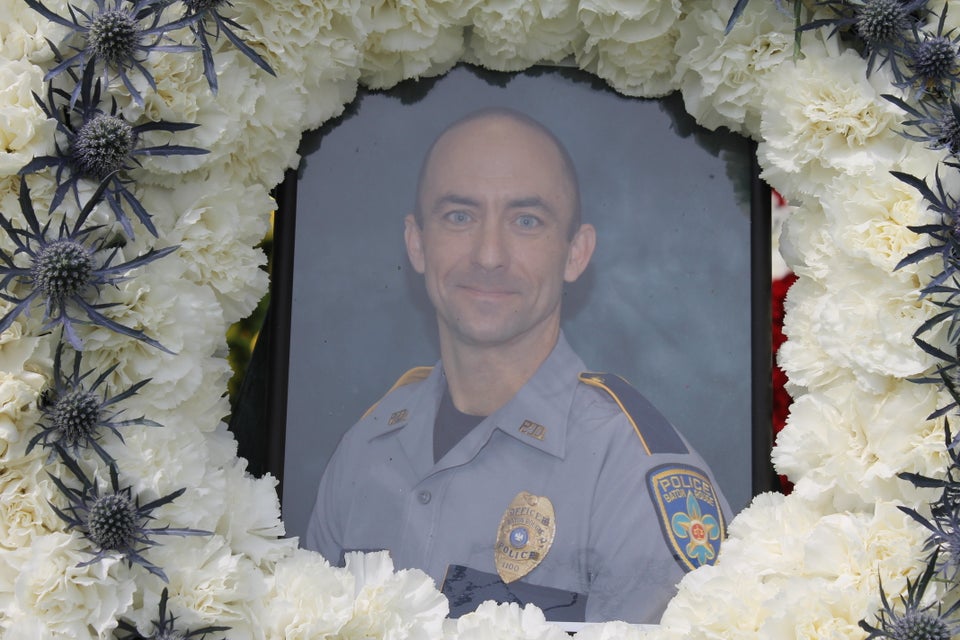 Baton Rouge Police Officer Matthew Gerald's Funeral
Also speaking at Friday's service was Kip Holden, mayor-president of East Baton Rouge Parish, who asked everyone to set aside their differences and join together.
"A community in mourning should evaluate itself and say, 'What else can I do to make my community better,'" Holden said. "The men and women who don that uniform are here for all of us."
Gerald's wife, Dechia, who attended the funeral with daughters Dawclyn and Fynleigh, did not speak at the funeral. However, she did write a letter, which was distributed to mourners. In it, she said her husband was driven to become a police officer, something she supported and felt made their marriage stronger.
"Ultimately, the only thing stronger than his love for the red, white and blue was his love for us," she wrote.
Popular in the Community