The shooting in Baton Rouge, Louisiana, that left three officers dead and three wounded was a deliberate "ambush-style" attack, authorities said Monday.
Louisiana Gov. John Bel Edwards called the assault a "diabolical attack on the very fabric of society" during a press conference that afternoon.
"That is not hyperbole," he added, also vowing to leave "no stone unturned" in the ongoing investigation into the incident.
In an interview with the Times, Louisiana State Police Public Affairs Commander Lt. J.B. Slaton said Long "was targeting officers" and "definitely ambushed" them.
"We are still trying to find out what his motive was," he said, "and that's going to be part of our investigation. But we believe he was targeting those officers."
Authorities have said Long was the only gunman, but are looking for anyone who may have had advance knowledge of the attack or who may been a co-conspirator.
"If there are others out there, we'll bring them to justice," Baton Rouge Mayor Kip Holden said during the press conference with Edwards.
He closed the event with a quote from the Bible that he said symbolized the city's resolve: "Yea, though you slay me, I will rise again..."
Another deputy was critically wounded, and two officers suffered injuries that were not life-threatening.
"To me, this is not so much about gun control as it is about what's in men's hearts, and until we come together as a nation, as a people, to heal as a people, if we don't do that and this madness continues, we will surely perish as a people," East Baton Rouge Parish Sheriff Sid J. Gautreaux said Sunday.
"Each one of these individuals, married," he said. "Each one of these individuals have family."
According to Marine Corps records, Long had a conventional tour in the Marines. He served for five years and retired as a sergeant in August 2010 with an honorable discharge. During that time, he was trained as a data network specialist and attended the Marine School of Infantry, indicating that he received infantry training. He also served as a communications specialist in Iraq from June 2008 to January 2009 and served in Okinawa with the 3rd Marine Air Wing. Nothing in the records indicates any disciplinary actions against him.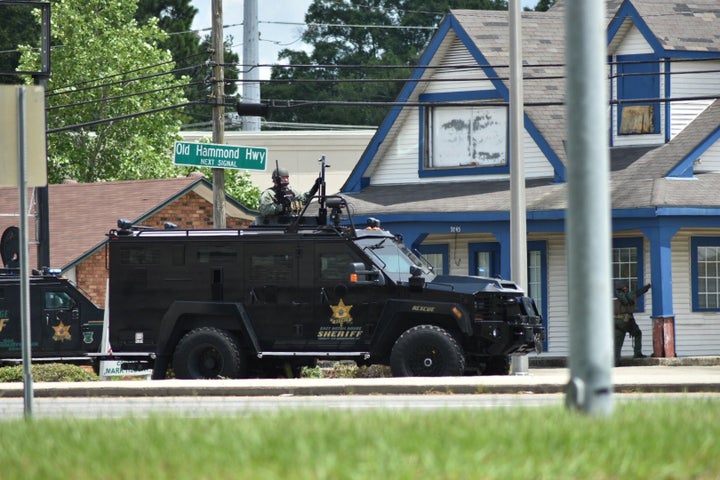 The Hammond Aire Plaza, where the shootings took place, is about a mile south of police headquarters and about five miles away from where Alton Sterling was shot and killed by local police on July 5.
Sterling's death sparked protests and nationwide outrage after video showed two officers overtaking him before shooting him. Other footage also appears to show that Sterling, who was black, was not holding a gun when he was shot.
In the aftermath of Sterling's death, Jackson wrote on Facebook of the difficulties he faced patrolling the city, the Times reported.
"I swear to God I love this city but I wonder if this city loves me. In uniform I get nasty hateful looks and out of uniform some consider me a threat," he wrote.
"This city MUST and WILL get better," he continued. "I'm working in these streets so any protesters, officers, friends, family or whoever, if you see me and need a hug or want to say a prayer. I got you."
Sunday's killings also follow police deaths in Dallas less than two weeks ago. In that case, Micah Xavier Johnson, a 25-year-old Army veteran, shot and killed five police officers and injured seven others as a Black Lives Matter protest was winding down. He had no association with the group.
The Dallas shooting claimed the lives of officers Brent Thompson, Patrick Zamarripa, Michael Krol, Michael Smith and Lorne Ahrens.
Dallas Police Chief David O. Brown tweeted his condolences for Baton Rouge police on Sunday.
"Five days ago I traveled to Dallas for a memorial service of the officers that were slain there," he said. "I said that that killer would not be the last person who tries to make us turn on each other, nor will today's killer. It remains up to us to make sure that they fail. That decision is all of ours. The decision to make sure our best selves are reflected across America, not our worst."
Vice President Joe Biden on Sunday called the killings a "despicable act ... an attack on our very way of life at home" during a speech in Melbourne, Australia.
Ryan Grenoble contributed to this report.
Before You Go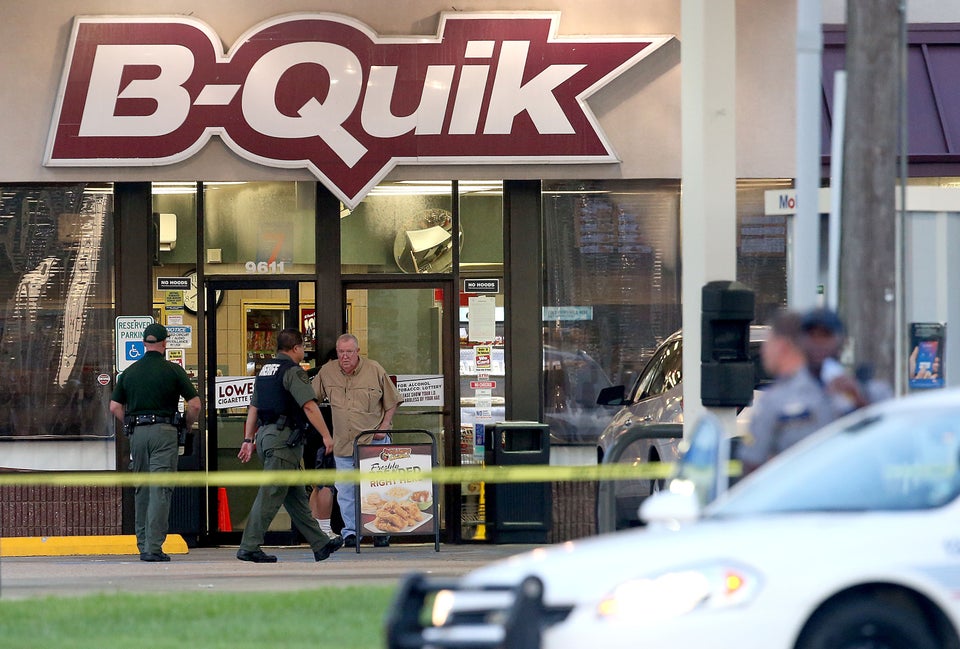 Multiple Officers Shot In Baton Rouge
Popular in the Community