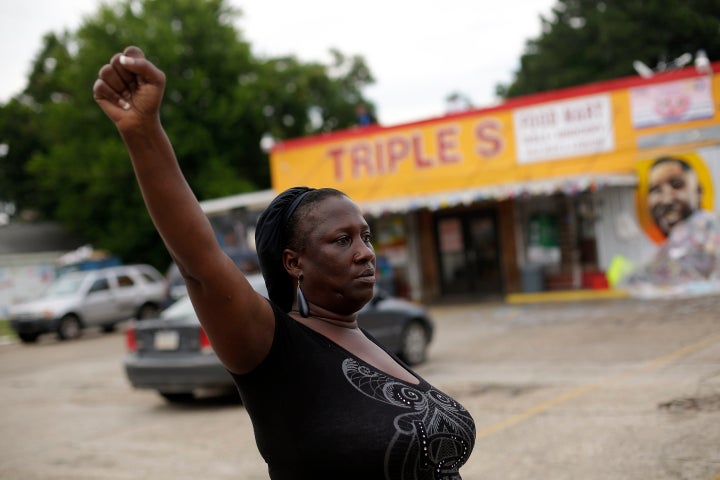 BATON ROUGE, La. ― By the time the sun had set in Baton Rouge on Tuesday, the Department of Justice still hadn't delivered its official ruling against the officers involved in the fatal shooting of Alton Sterling last July.
"When Trump appointed Sessions as the Justice Department head, we knew with his history that nothing was going to change and I think it's a shame," NAACP Baton Rouge Vice President Byron Sharper told HuffPost on Tuesday. "This country is at a point where we're either going to make it or break it. Not just Baton Rouge, but the entire country. And we got a president ― wild and crazy ass Trump – who is not a good fit for anybody. I think a lot of people that voted for him are going to reap what they have sown."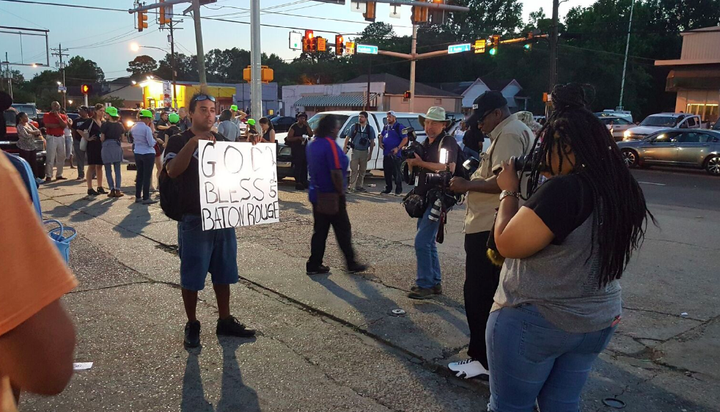 A vigil was held on Tuesday outside the Triple S store where Sterling was shot. Dozens of people gathered for a peaceful demonstration to grieve as well as express their anger over what they say is another gross act of injustice against black lives. Sterling's aunt Veda Washington spoke before the crowd, in disbelief of how she found out about the news.
"Now we haven't heard anything. The district attorney has not called us and told us anything. The lawyer called and said they have not made a decision. Ain't that something?" she said. "But The Washington Post calls up here. Where's my mayor, because she promised me she would let us know? Where's the governor, because they promised my family that they would let us know?"
In fact, it was Arthur Reed, a well-admired local activist known as "Silky Slim," who shared the news with Sterling's aunt. She immediately "broke down crying," he told HuffPost. "It was rough on her."
""Justice Department? They don't know what justice means. This is a slap in the face."
Reed is also the founder of the group Stop the Killing, a community anti-violence nonprofit organization. As a former gang leader, Reed transformed his life and became a motivational speaker who has worked to fight back against violence, especially police killings of black people, and demands that Sessions "wake up" to the reality of racism within policing.
"I don't think people are going to continue to allow themselves to continue to be victims of these individuals who have infiltrated law enforcement and are killing African Americans," he told HuffPost. "You have individuals who grew up in the Ku Klux Klan, whose parents were in the Ku Klux Klan and now they're Ku Klux Klan and if they infiltrate law enforcement, they become Ku Klux Klan with a license to kill."
"So we have to be very real about what's going on and look at these individuals who have infiltrated law enforcement and are carrying out these assassinations right before our eyes," he continued. "This is a problem. Jeff Sessions has to wake up."
Despite not receiving official word from the DOJ and having only reports from national outlets, Baton Rouge residents expressed familiar feelings of pain and anguish.
"Our officials should be ashamed of themselves. This is outrageous. They blew it," Sharon Bethley, a 59-year-old resident, told HuffPost. "Justice Department? They don't know what justice means. This is a slap in the face. It is. I think it's vile because you don't have to execute someone when they're flat on their back. It's senseless. It's a senseless death."
"I am tired of seeing black men killed at the hands of police and there never be any justice," said Meghan Matt, another local resident. "I would hope Jeff Sessions would take his job seriously and protect the civil rights of all citizens. He's been very vocal about protecting police, but he's said a lot of things that are contradictory to our constitutional rights. His job is to protect all citizens and even if it's uncomfortable for him, he needs to step up and do it the right way."
Others said the outcome from the DOJ was to be expected, and that it is a cry for the desperate need for criminal justice reform in America.
"I'm not surprised," Donney Rose, a local activist and teacher, told HuffPost. "Donald Trump ran on a platform of being a law and order candidate. Donald Trump believes in stop and frisk. Jeff Sessions believes in the police from an absolute perspective. It's saddening and disheartening."
CORRECTION: An earlier version of this story misstated that the press conference regarding the charges would be held in Florida.
Before You Go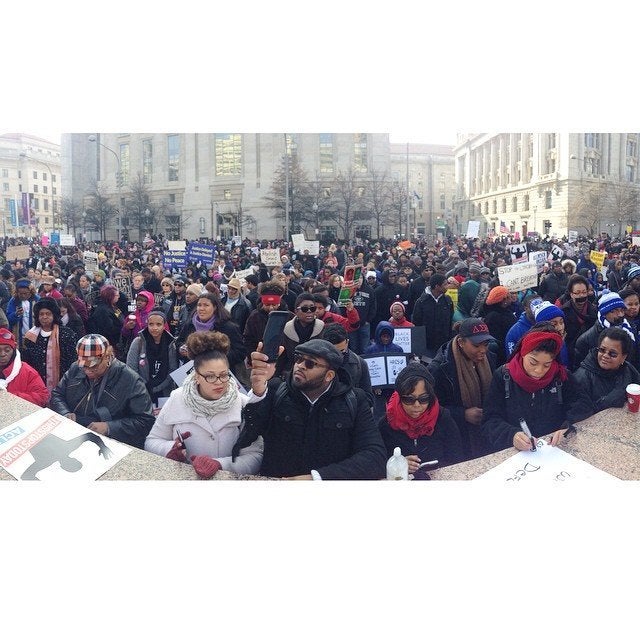 Powerful Black Lives Matter March In Washington
Popular in the Community