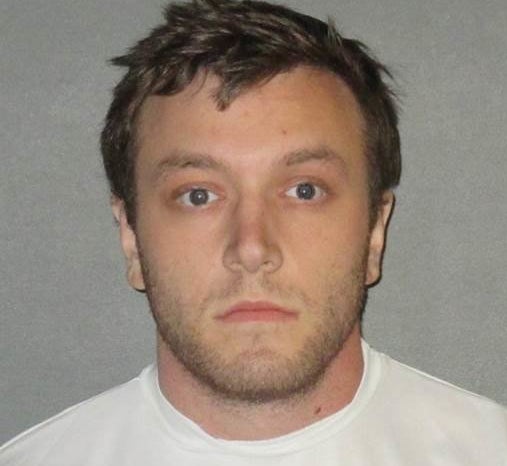 A Louisiana man accused of killing two black men in what may have been racially motivated attacks last week reportedly had a copy of an Adolf Hitler speech in his home.
A police source, speaking to The Associated Press, confirmed the unsettling discovery by authorities at the Baton Rouge home of Kenneth Gleason. The 23-year-old, reportedly an Eagle Scout, faces two counts of first-degree murder for the separate shootings.
Authorities declined to comment on the discovery of a speech by the Nazi leader or on a possible motive in the killings at a Tuesday news conference, saying only that they're looking into all possibilities at this time, including whether the killings were motivated by racism.
Baton Rouge police Sgt. L'Jean McKneely had previously told the AP that there was "a strong possibility that it could be racially motivated." 
Gleason was arrested over the weekend on unrelated drug charges after authorities said they linked his red car to the deaths of 59-year-old Bruce Cofield on Sept. 12 and 49-year-old Donald Smart on Sept. 14.
Police had said that the victims, who were shot first from a car and then again at close range, appeared targeted at random.
Gleason posted bail Sunday on the drug charges before being arrested again in the slaying investigation as well as for suspicion of aggravated criminal damage for a third shooting in which a gunman fired at the home of a black family in Gleason's neighborhood.
Police said shell casings recovered from the scenes matched and that Gleason's DNA was found on some of them.
A conviction on the murder charges could bring a death sentence, said East Baton Rouge District Attorney Hillar Moore III, who described the attacks as "cold" and "calculated."
"Had there not been a swift conclusion to this case, I feel confident that this killer probably would have killed again," said Interim Police Chief Jonny Dunnam. 
Gleason, who was seen wearing what appeared to be a T-shirt for the Boy Scouts' rugged Philmont Scout Ranch in New Mexico during his arrest Tuesday, earned the top Eagle Scout rank in 2012 after completing a construction project for a United Methodist Church, according to The Advocate in Baton Rouge.
In a statement to HuffPost, Boy Scouts of America CEO Gary Mertz, of the Istrouma Area Council, said they "were shocked to learn about the allegations against" Gleason.
"This behavior runs counter to everything for which the BSA stands. Although this matter is unrelated to Scouting, our thoughts and prayers are with all those impacted by this terrible tragedy," Mertz said, adding that Gleason is not currently registered in Scouting and will not be welcomed back to any future programs.
This story has been updated with the BSA statement.
REAL LIFE. REAL NEWS. REAL VOICES.
Help us tell more of the stories that matter from voices that too often remain unheard.