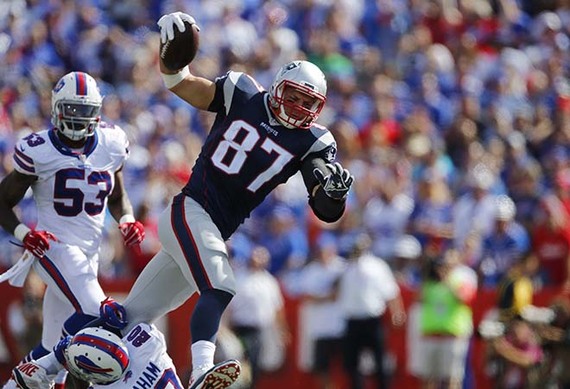 With 10 wins under their belt, the New England Patriots are rolling. But the team has also been taking its hits, too, making the offense less effective and putting more of the burden on Tom Brady's shoulders.
Last night's game, which pitted the Bills against the Pats, was telling. It nearly came down to the wire, with the Bills really fighting for the win with all of their might. In the end, the scoreboard's final numbers would read 20-13, edging Tom Brady and company another inch closer to reliving that magical 2007 perfect regular season.
Sammy Watkins was a non-factor, hampered by Malcolm Butler at nearly every play. LeSean McCoy did some of the heavy lifting, but it would not work out to be enough in the end. The game was nearly a boozer, though, and at times downright boring to watch. Towards the latter portion, with the Pats up by seven, three straight broken drives resulted in punts for Brady and co.
New England stuck firm on the defensive side, not allowing the Bills to make much of their second half chances, as they hung on to try and at least make overtime with the only thing standing between them being a touchdown and the New England defense.
In the end, several field goal kicks and a trio of touchdowns marked the only big scoring plays. There could have been one more big-time touchdown, but the refs whistled a perfect pass down the right lane by Tom Brady to Danny Amendola as a dead ball. After a lengthy conference that was muffled by the roaring of boos from the crowd, the refs decided that they had errored, and gave the yardage on the completion and the first down to the Pats, but quashed any chances of a big touchdown (Amendola was wide open and uncontested).
For certain, this team is different during the second half of this season. It's unlikely we'll be seeing any future blowouts like we did when Tom Terrific tore apart the Bills during week two. Or when he took out the Dolphins in a blowout victory. Instead, what we are seeing is a team that is determined to make the most of the hand they've been dealt; namely in lieu of injuries that are decimating the most talented players on their starting roster.
Star reciever Julian Edelman isn't going to be back for a while due to a broken foot. Aaron Dobson has an ankle injury. Danny Amendola was out after the third quarter with a knee-injury. Dion Lewis is gone for the season with a torn anterior cruciate ligament. And vital left tackle Nate Solder has torn biceps and won't be returning this season, either.
In the post-game press conference, Brady was certain to make it apparent that injuries are part of football and that it's all about teamwork to get the win, regardless who's sitting on the bench or is out for the season.
"I don't think that's an excuse," said Tom Brady in an interview with the USA Today. "I think we can play better, and I think some of the things that we didn't do well have nothing to do with missing some other guys. We've just got to do things better if we want to score more points, and I always talk about just execution, us all being on the same page. And I think there were a lot of plays out there where we didn't necessarily do our job very well, and if you don't do it well then no one else can really make up for what you're trying to do."
Up until last night, the Pats had a record 38 consecutive quarters where they scored. But after last night, that's where the streak will stand. Brady still stuck in there and did his part, though, notching 277 yards and a touchdown on 39 passing attempts.
Perhaps the most trying game of their regular season comes this weekend, when they'll suit up to do battle with the Broncos, who have one of the better defenses in the NFL. If the Pats can manage to keep their undefeated season alive in this forthcoming matchup, it'd be a strong signal that they're on course for a second undefeated season.
Visit

NowItCounts.com

,
The Destination for Americans 50+

for stories that matter to you covering financial, health, beauty, style, travel, news, lifestyle, food, entertainment and sports.
Calling all HuffPost superfans!
Sign up for membership to become a founding member and help shape HuffPost's next chapter