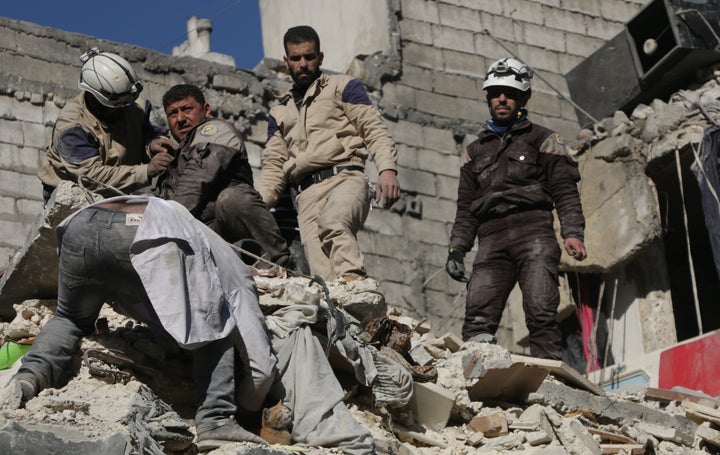 Every week, we bring you one overlooked aspect of stories that made news in recent days. Did you notice the media forgot all about another story's basic facts? Tweet @TheWorldPost or let us know on our Facebook page.
As countries pledged record amounts of aid to Syrians at a London conference on Thursday, bombs rained down on northern Syria, making it even harder for aid organizations to reach those trapped by the country's war.
The battles raging around Aleppo have added thousands more Syrians to the 4.5 million people already cut off from aid as the war nears its sixth year. The fighting is increasing the urgency -- and difficulty -- of U.N.-sponsored peace talks and the effort to deliver aid to Syrians.
On Thursday, a day after the fledgling peace talks collapsed in Geneva, some 60 nations met in London to pledge aid to Syrians and Syrian refugees. The conference was heralded as a historic success. Countries committed to give $6 billion in aid in 2016, and $5 billion more over the next four years, to the U.N. and countries hosting Syrian refugees. "Never has the international community raised so much money on a single day for a single crisis," U.N. Secretary General Ban Ki-moon told the conference.
Donor countries may be trying to make up for lost time. The U.N. had requested a steep increase in aid compared to previous years, partly because just 43 percent of the $2.9 billion pledged to the U.N. for Syrians in 2015 has been funded. Oxfam said earlier this week that some of the nations most involved in the war had provided some of the least aid in proportion to the size of their economies, including Saudi Arabia and Russia. Aid groups urged donors to make good on their pledges this time.
Yet at the same time as diplomats made aid pledges in London, a Syrian regime offensive on the northern Syrian city of Aleppo hurtled forward. Backed by wave after wave of Russian airstrikes (one opposition commander counted 250 airstrikes in one day), as well as by Iranian and Lebanese Hezbollah fighters, the government has seized control of a string of towns north of Aleppo, sending tens of thousands of Syrians fleeing toward the border with Turkey.
The fighting has also cut off the main supply route between Aleppo and Turkey -- an area that has been in the regime's sights for months and has been billed as key to winning the war. The supply route, however, is also critical for aid agencies trying to get food and other humanitarian supplies to civilians trapped in the war.
The aid group Mercy Corps, which provides food to half a million people in the Aleppo governorate, said its operations in northern Syria have been "effectively sliced in half."
"The supply route is nearly impassable and the intensification in airstrikes and fighting mean that we are no longer able to reach the innocent civilians living in Aleppo City," said Christy Delafield, a Mercy Corps spokeswoman. "For many of these families, Mercy Corps was their only source of food."
"We are also unable to bring in the same amounts of aid into other parts of north Syria," she added.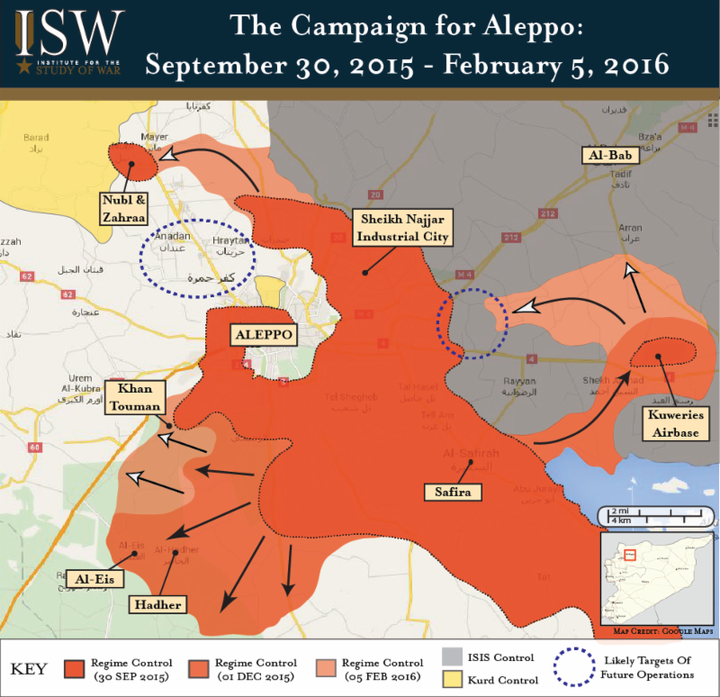 The uptick in fighting around Aleppo, as well as the collapse of U.N.-sponsored peace talks as Russian airstrikes intensified earlier this week, affected the atmosphere in the room at the London conference, Mercy Corps Europe's executive director Simon O'Connell said after attending the meeting. There was widespread agreement at the conference that a political resolution "is of paramount importance," he said.
The conference also produced significant commitments to open up education and employment to nearly 4 million Syrians who fled to neighboring countries -- a recognition of the long-term nature of the crisis spawned by Syria's war, as well as part of reinvigorated European efforts to deal with the Syrian refugee crisis after it spilled over into the continent.
Syrians at the Thursday conference welcomed the aid, but urged countries to do more to help protect civilians inside Syria and make sure that the aid can actually reach them.
"Of course we welcome the funds pledged today, but all the money in the world won't protect children in their beds from barrel bombs," Raed al-Saleh, head of a Syrian civil defense unit called the White Helmets, said in a statement signed by 30 humanitarian organizations.
"More needs to be done to end the sieges and ensure humanitarian access to all areas," Salma Kahale, executive director of Syrian democracy and human rights group Dawlaty, said in the statement.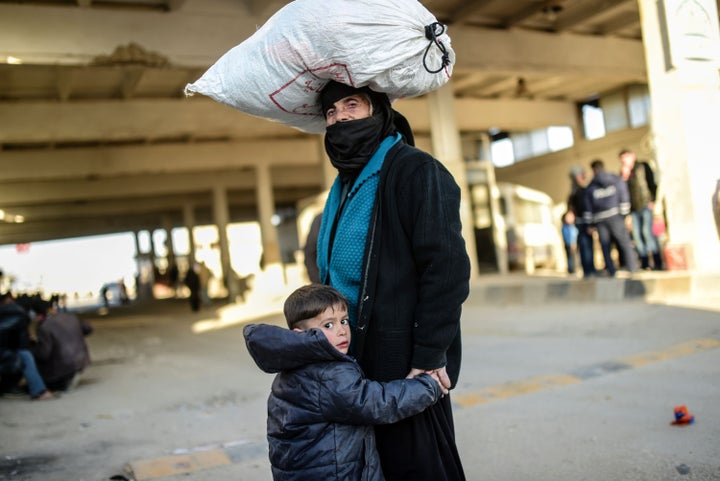 The U.N. estimates almost half a million Syrians are living under siege, including in towns like Madaya and Moadimayet al-Sham, where dozens have died of starvation or from lack of access to medical care. Siege Watch, an international project monitoring sieges in Syria, reports that over 50 areas and close to a million inhabitants are under sieges, the vast majority of them imposed by the Syrian regime.
"We need to ensure that there is no repeat of the starvation seen in Madaya," head of aid group Concern Worldwide Dominic MacSorley wrote on Thursday, urging the leaders meeting London to remember the 13.5 million people inside Syria who depend on humanitarian aid.
"Increases in funding are no good to them if there are no guaranteed channels through which to distribute resources," he said.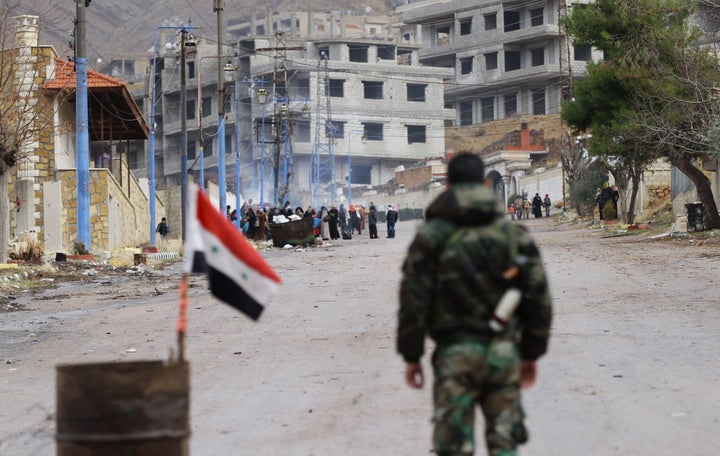 The U.N. has been criticized by Syrian organizations, international aid groups and some of its own senior officials for failing to adequately confront Bashar Assad's regime over the lack of humanitarian access, despite a U.N. Security Council resolution mandating unfettered aid access. They slammed the U.N. humanitarian agency's Damascus office for deleting references to the sieges, at the Syrian regime's request, in an aid document that was part of the U.N.'s appeal at the London conference.
Yet the U.N. faces a dilemma in negotiating with a regime at war to safely bring aid as many civilians as possible. "Some simply say to me: 'The U.N. should break the sieges,'" U.N. aid chief Stephen O'Brien told the Security Council last week. "But that would be reckless. It would entail sending convoy drivers and humanitarian workers into the line of fire."
Just 10 percent of U.N. requests to deliver aid to Syrians in besieged or hard-to-reach areas were approved by the Syrian regime in 2015, O'Brien said. Some 75 percent of requests received no answer at all, he said.
On Thursday the U.N. Secretary-General said the lack of humanitarian access and escalating fighting had derailed the peace talks this week, which the U.N. hopes to resume on Feb. 25. "What will most help the people of Syria is not just food for today, but hope for tomorrow," he told the assembled donor representatives.
Read more on the conflict in Syria: 
PHOTO GALLERY
Inside Syria's War
Calling all HuffPost superfans!
Sign up for membership to become a founding member and help shape HuffPost's next chapter