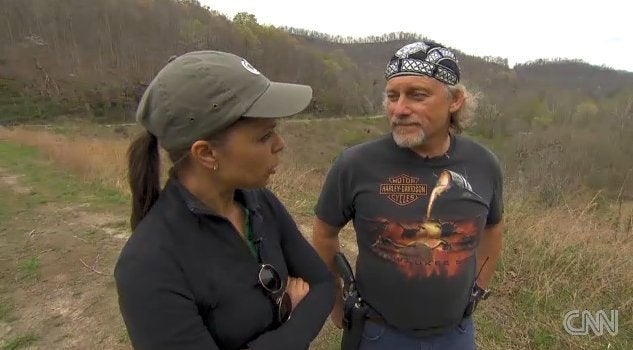 O'Brien reported on the fight over mountaintop removal at the Spruce One mine in Sharples, West Virginia, one of the largest mountaintop removal sites authorized in Appalachia. The mine has been the center of a fierce debate over mountaintop removal since environmental groups charged that the practice violated the Clean Water Act. In a statement to The Huffington Post. O'Brien said, "Creating 'Battle of Blair Mountain' was an eye-opening experience." She called the town "a microscopic representation of the economic and environmental tension that exists all over the country, especially in coal mining states."
O'Brien interviewed coal miners in favor of mountaintop removal, activists who oppose it and a coalition of people who favor alternative mining practices for the film, which CNN said aimed to "tell the story from all sides." The documentary focuses on Jim Diels, a rock truck driver at the site, who fears that his job will be affected if the EPA vetoes the mine's permit for mountaintop removal. It also shows his neighbor Billy Smutko, who opposes mountaintop mining and has suffered property damage from the practice. EPA Administrator Lisa Jackson, Senator Joseph Manchin (D-WV) and Robert Kennedy, Jr. also weighed in on the issue.
"By being fair and treating each side equally - those in favor of mountaintop removal, those against it and the others that lie somewhere in between – it became clear that there are great stakes for all involved," O'Brien said.
She and her team arrived in Sharples last winter when local residents were waiting to see if the EPA was going to allow the practice at the mine, and filmed the documentary over nine months as crucial events were unfolding. O'Brien traveled to West Virginia four times, according to the local newspaper.

In a review of "The Battle For Blair Mountain," Melissa Waage at the Natural Resource Defense Council -- an environmental advocacy group that opposes mountaintop removal -- noted that the documentary would bring the issues in front of "what may be its largest national audience yet." She said, "It's pretty significant that a network like CNN and a person like Ms. O'Brien are giving this problem an hour of primetime."
WATCH:
Popular in the Community