As the Iraqi army, backed by US airstrikes, attempts to take back the city of Mosul from ISIS we can't forget about humanitarian aid to civilians. When the guns start firing, Iraqi families are going to flee.
These war victims will need food, water and shelter. And we better be ready for this. Mosul is the 2nd largest city in Iraq. Potentially over a million civilians are going to need life-saving help.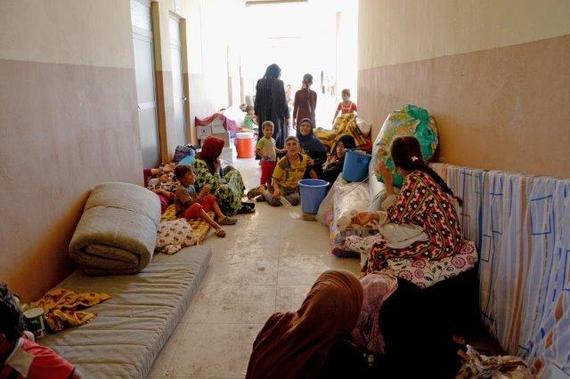 Iraqi families fleeing Mosul find safety in Debaga camp, but many more are expected once the offensive on Mosul begins in full. (World Food Programme photo)
Hani El-Mahdi of Catholic Relief Services (CRS), warns, "To avoid a major humanitarian disaster, it is critical that any further military action in Iraq, especially around such a large city like Mosul, must be accompanied by serious advance planning and preparations for humanitarian needs."
CRS is working with their partner Caritas Iraq to gear up for the massive displacement of civilians the offensive on Mosul will likely cause. We need to provide more support to humanitarian agencies so they can do their job.
The response from the entire international community must be better than it was for the liberation of Fallujah. Those displaced civilians are living in terrible crowded conditions in extreme heat according to El-Mahdi.
Since the ISIS terrorists began attacking cities throughout Iraq in 2014, more than 3 million people have been displaced and needing food and other aid.
We not only have to save Iraqis from ISIS, but also from hunger. But tragically, there is another crisis within a crisis: low donations for food aid.
The UN World Food Programme (WFP) is reporting a massive funding shortage of US 77 million for its mission throughout Iraq. The WFP is already feeding civilians who fled the fighting in Fallujah and elsewhere. To feed Mosul's population will require even more donations from the international community.
New funding must come right away so the WFP can be prepared for the relief of civilians who flee Mosul. The funding is so low for WFP they had to reduce rations for Iraqis in Baghdad and the southern part of the country.
We need a quick scale up of food aid to Iraq. Hunger always comes with war and we must recognize this.
After World War II, for example, the United States appointed Herbert Hoover as a food ambassador to coordinate relief in Europe and Asia. He made sure food needs were met in war devastated countries. We need a similar approach today to make sure people are fed in every area in need.
You cannot stabilize Iraq if the citizens are starving or lacking clean water and shelter. You cannot rebuild agriculture and food production without funds. Without this assistance, hunger will continue even long after a military operation. The Middle East wars of Syria, Iraq and Yemen all have caused extreme humanitarian emergencies We have to respond timely. For until these wars end and reconstruction takes place, humanitarian needs will remain high.
Expelling ISIS from Mosul will be a major victory against the terrorist group. But we must also defeat hunger in Iraq too and provide the basics of shelter, clean water and medicine to civilians. For this is absolutely vital to securing any peace in the Middle East.
REAL LIFE. REAL NEWS. REAL VOICES.
Help us tell more of the stories that matter from voices that too often remain unheard.