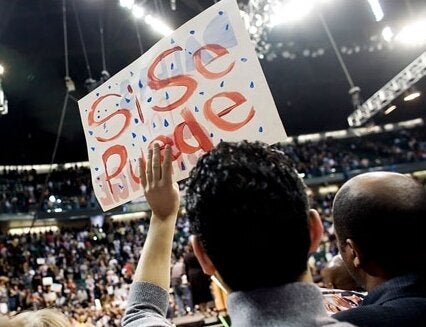 What is it with local GOP officials in New Mexico? Last month, Bernalillo County Republican Party chairman Fernando C De Baca was forced to resign after saying "Hispanics consider themselves above blacks" and wouldn't vote for a black presidential candidate and today the chairwoman of a Republican women's group is in hot water after calling Barack Obama "a Muslim socialist."
In a letter to the editor printed Tuesday in the Alamogordo Daily News titled "Why I'm a Republican," Marcia Stirman, chairwoman of an Otero County Republican women's group, hits all the major (and some minor) talking points -- she believes in the death penalty, small government, spanking kids, gun rights, winning wars, etc. -- before calling out the "Muslim socialist" heading the Democratic party ticket.
After calls from the Council on American-Islamic Relations (CAIR) for state and national leaders to repudiate the remarks, state and national leaders did just that.
Otero County GOP chairwoman Sassy Tinling said she will ask Stirman to step down, and New Mexico state Republican Party executive director Matthew Kennicott said Stirman's comments don't reflect the party's beliefs and she doesn't speak for the party, according to the Associated Press.
Maybe New Mexico Republicans are frustrated that Obama continues to build his lead in their perennial toss-up state, and Democrats claim almost 220,000 more registered voters than do Republicans.
Maybe it's that New Mexico Rep. Tom Udall, Democratic nominee to replace retiring Republican Senator Pete Domenici, looks likely to cruise to a win over Rep. Steve Pearce.
Maybe it's that none of the New Mexico house seats are Republican locks. CQPolitics.com ranks the 1st and 2nd congressional districts, both currently held by Republican reps, as a toss up and leaning Republican, respectively. The 3rd district is considered safe for Democrats.
In the New West Politics "Diary of a Mad Voter" blog, Heath Haussamen writes that views like Stirman's are hurting the Republican party and could partly be to blame for states like New Mexico increasingly shifting blue. He writes:
It's a free country, and Stirman is certainly entitled to thinking that is ignorant, divisive, hateful and inciting. But if she chooses that path, she'll be part of the problem, not part of the solution... Thinking like Stirman's in the GOP is a primary reason for the shift to the left that promises to give Democrats a huge majority in Washington on Nov. 4. The GOP is going to have to do some soul-searching and redefine itself after the coming shellacking.
---
For the complete Battle for the West daily digest, click here.
Related
Popular in the Community