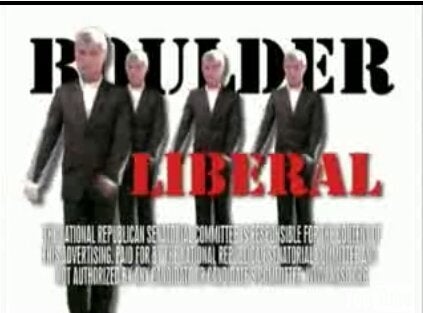 The National Republican Senatorial Committee confirmed today it was pulling its support from the Colorado race to replace retiring Republican Sen. Wayne Allard. Rumors of the pullout began circulating last week, but subsided after NRSC chairman Sen. John Ensign said, "We're going to stay there up until the end," at a National Press Club breakfast Tuesday and the committee released a new ad attacking "Boulder Liberal" Mark Udall on Thursday.
New ad released before NRSC pulled support
Taking Ensign at his word, apparently the race has reached its end. Udall has widened his lead over Republican challenger Bob Schaffer to 8 points in the latest average of polls.
The NRSC will stop running ads next week, and their pullout follows that of the Democratic Senatorial Campaign Committee earlier this week. But while the DSCC move was seen as a sign of confidence that their candidate has a comfortable lead and doesn't need their help in the last few days of the campaign, the NRSC pullout smells of desperation and not wanting to throw good money after bad.
"The NRSC found out the hard way that not only have their ads backfired and turned off voters, but that Coloradans are standing with Mark Udall," Udall spokeswoman Tara Trujillo told the Denver Post.
Schaffer campaign manager Dick Wadhams told the Post he thinks the race is still winnable, but didn't sound happy about the NRSC move. "That's what they decided and we'll live with it," he said.
Democrats are gunning for a filibuster-proof 60 seats in the Senate, and Colorado and New Mexico (where Tom Udall, Mark's cousin, has a comfortable lead) look like "done deals," said Washington Post political blogger Chris Cillizza.
Looking at the current political landscape and demographic shifts, Richard Martin writes in New West that Colorado is turning blue, not purple. "The West is likely to be a bellwether for a dramatic shift toward Democratic principles and candidates, with Colorado on the leading edge. If that happens, it's possible the Democrats could solidify their ascendancy for a generation."
---
To read the rest of the Battle for the West daily digest, click here

Related
Popular in the Community