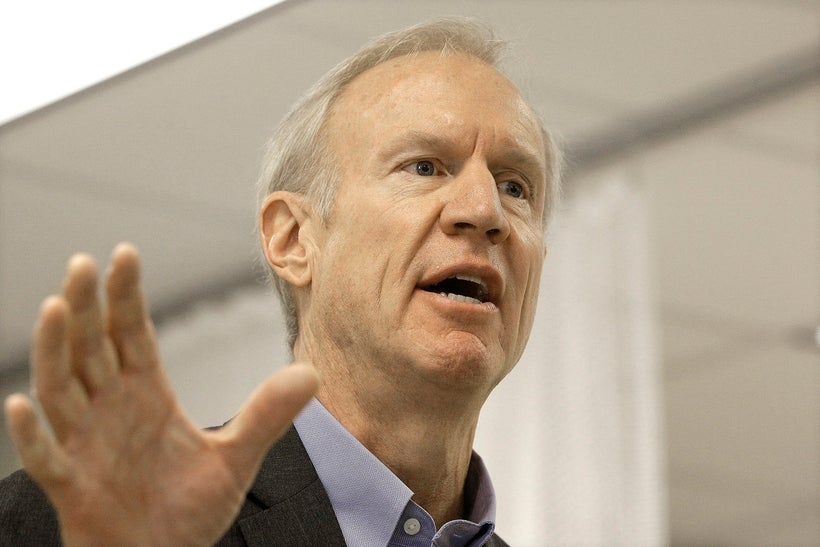 Democratic multibillionaire J.B. Pritzker is rumored to be considering a run in 2018 to become the 43rdgovernor of Illinois — against the current occupant of that seat, Bruce Rauner (R-IL), who just seeded his re-election committee with $50 million of his own money.
Pritzker is the cofounder and managing partner of Pritzker Group, a private investment firm, and the son of Donald Pritzker, cofounder and former president of Hyatt Hotels Corp. He's also the brother of Penny Pritzker, who was President Obama's Commerce secretary for three-and-a-half years, until earlier this month.
The family's no stranger to political donations, but J.B. pulled out all the stops in the 2016 cycle, shelling out $12.9 million and eclipsing his previous efforts. Combined, he and his wife, Mary Kathryn, shelled out an impressive $22.1 million to Democrats and liberal committees last cycle. Except for a $4,200 donation to Sen. Joe Lieberman (I-CT) in 2006, every dollar Pritzker has given at the federal level since the 1990 cycle has gone Democratic.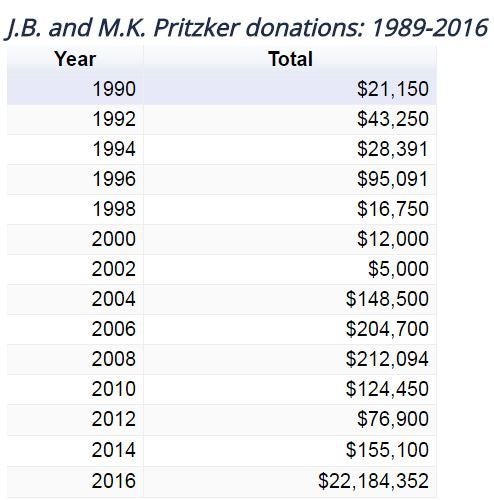 The bulk of the Pritzkers' money went to Priorities USA Action, the largest Democratic super PAC, which dedicated itself to supporting Hillary Clinton's 2016 White House bid. The Pritzkers gave more than $15 million to Priorities, which raised $192.1 million to benefit Clinton in 2016.
The Philadelphia 2016 Host Committee, the nonprofit organization that raised funds for the Democratic National Convention, was the Pritzkers' next major 2016 grantee, receiving $1.25 million. Planned Parenthood Votes took in $1 million, and about $1 million went to Correct The Record, the hybrid PAC/super PAC that raised $9.6 million to assist Clinton. The rapid response team used an FEC exemption to work in close quarters with the Clinton campaign to go after misinformation spread about Clinton via Facebook, Twitter, Instagram and other social media sites.
Pritzker further bolstered Clinton with nearly $707,000 in contributions to her joint fundraising committee, Hillary Victory; much of that was distributed in $10,000 increments to state Democratic parties (which, in turn, often sent those funds back to the Democratic National Committee). Add in the gifts of his wife Mary Kathryn and the Pritzker pair gave a whopping $1.4 million to Hillary Victory. The Senate Majority PAC, a super PAC dedicated to electing Democrats to the United States Senate, received $1 million. Democratic Illinois state Sen. Daniel Biss's super PAC "LIFT," Leading Illinois for Tomorrow — better known as a staunch anti-Rauner political action committee — received a $350,000 check.
Born in Chicago in 1965, Pritzker has an undergraduate degree from Duke University and a law degree from Northwestern. Forbes estimates his net worth to be around $3.4 billion, a bit more than that of his siblings John ($2.2 billion net worth) and Penny ($2.5 billion net worth) and his cousin, Thomas Pritzker, who Forbes pins with a $3.1 billion net worth. In fact, J.B. is said to be the 190th-richest person in the United States and the 527th-richest person in the world.
Politico reported Pritzker is seeking advice on a possible gubernatorial run from Democratic donor Michael Sacks, who was the lead donor to LIFT last year. Meanwhile, the DNC gained $534,400 from J.B and M.K. Pritzker, the Democratic Senatorial Campaign Committee received $66,800 and Americans United in Support of Democracy gained $10,000. The Pritzker pair also supported the individual candidacies of many incumbent Democrats, amounting to over $100,700 in donations.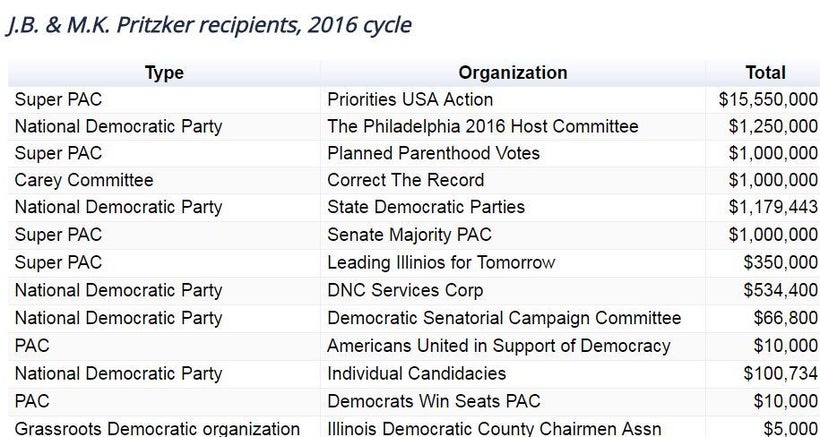 Many in Illinois are not convinced of hotel scion J.B. Pritzker's belief that only a Democrat with big money is positioned to compete with incumbent Rauner, who will likely spend millions more to compete for a second term in 2018. Rauner spent a record $65.3 million in his 2014 campaign, including $37.5 million of his own money. As of November 2016, Bruce Rauner and his wife Diana had contributed nearly $31.6 million to various Republican campaigns and conservative PACs since his 2014 election, including more than $16 million to the Illinois Republican Party alone, and $2.5 million to the Liberty Principles PAC.
Though Pritzker's candidacy is still uncertain, Chicago Alderman Ameya Pawar became the first Democrat to announce a candidacy for governor in the 2018 election in early January.
This post was published on the now-closed HuffPost Contributor platform. Contributors control their own work and posted freely to our site. If you need to flag this entry as abusive,
send us an email
.