Will the real Niagara Falls please stand up?
Are you Canada's family destination, its Disney and Vegas tumbled into one? Or are you the lounge club and calzone capital of Upstate New York?
Niagara, you used to have newlyweds in Ramblers with tin cans jangling behind. You had New Yorkers arriving by the trainload. You were the Newport, the Cape May of the North.
Now I'm not so sure. Are you a wonder of the world? Are you a spray starch?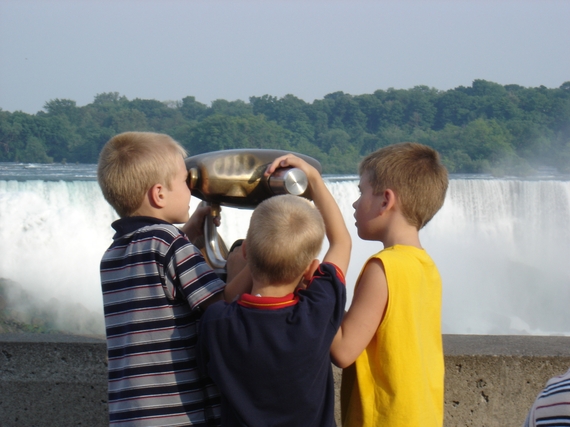 To know Niagara Falls these days is to know two mist-split shores: the Canadian city and the American town. Newlyweds still book rooms in both, and some say the negative ions from the rush of the falls cause feelings of attraction.
But if you're not into ions, there are all sorts of other lures, like the Canadian side's sleek casinos and space needle towers, and the U.S. side's Italian bakeries and a state park, the nation's oldest, by Frederick Law Olmsted.
Still, I couldn't help wondering which side of the Falls was the real Niagara. A few years back, I took a trip up there to try and find out. Here's my report card:
Even the famous walls of water have a split personality. Both Canada's huge Horseshoe Falls and the smaller American Falls (which includes wispy Bridal Veil) make mist. Both pound rocks with falling fish and everyday explosive sound. But though equally tall -- each drops the Niagara River about 170 feet -- almost 90 percent of the total water volume flows over the wider Canadian end.
Asked if this statistic made her slightly jealous, New York state park ranger Jess Alarie said no. "What's water volume," asked Alarie, "when you're around so much beauty? We think you can get closer to the falls on our side. There's a saying that on the Canadian side you see the falls, on the U.S. side you feel them."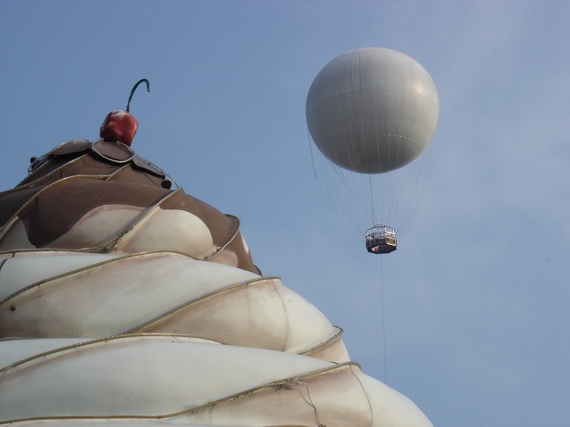 Walkways and viewing stations on both sides let you get right up to the edge and feel plenty of spray, but it's clear: The better panoramic views are owned by Canada. Over there, you've got the entire sweep of the falls (including the American Falls, which is hard to see from the U.S. side) and a long parklike pathway to work on catching the light just right for a rainbow down below.
Visitors Doug and Marty Willsie of Durham, Ontario, told me that the comparison was a no-brainer. "Who has the better view?" said Doug. "Unless you cross over, you Americans can't see your own falls, can you?"
Canadian side A+
American side B
Up for a whirlpool jet boat ride through churning rapids near the falls? Both sides offered this adventure when I was there (splash gear and footwear provided) along with helicopter flights and the old but still cool Maid of the Mist boat trip that takes you right into the rinse cycle at the bottom of Horseshoe Falls.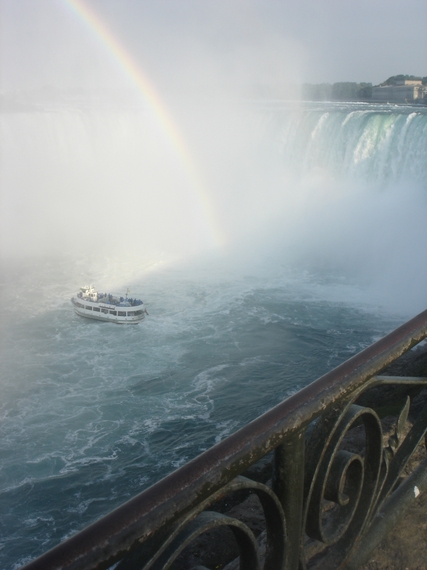 But when it comes to falls-based activities, one key Canada-vs.-United States difference was this: Getting behind -- and under -- the tumbling water meant choosing between the American Cave of the Winds attraction and the Journey Behind the Falls experience on the other shore.
Plan on taking Canada's Journey? Bring your miner's helmet and lamp. It was a long way down into this muskrat's warren of dim, drippy tunnels behind Horseshoe Falls. Plus, on my trip, there was a claustrophobic wait in a line that snaked down stairwells and through interior rooms. An outdoor platform next to the falls was hurricane-force fun, but unless you like gray mist, skip the portals that are supposed to let you look behind the falls.
As for "Cave of the Winds," a big plus for me was that we were issued not just a poncho but also non-slip sandals that you can keep as a souvenir. On the other hand, sorry to be picky, but well, where was the cave? No one tells you these things, but the namesake of this attraction collapsed in 1920. Left over was a series of boardwalks and stairways at the base of Bridal Veil, including a next-to-the-falls wet deck where you can take a powerful shower.
Sometimes this experience includes being hit by a fish. According to Danielle Lutz, a visitor from Newfane, N.Y., "I was standing here and saw something shiny and silvery coming over the falls. Next thing I knew, a fish landed on my shoulder. I can't remember what kind it was, but one of the guys on my tour cut its head off and filleted it."
Canadian side C+
American side B+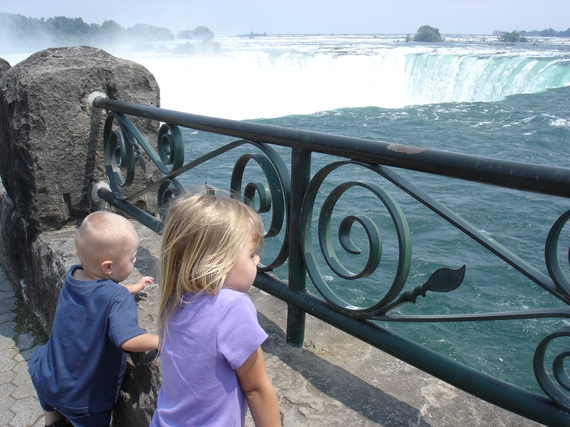 First impressions of the U.S. side can be a bit misleading. I ran into rows of motels, neon signs for attractions like "Club Joey" and "Empire Billiards," and above it all, a strange blank helium balloon that looked like it was Army surplus from an ad in a comic book.
The balloon turned out to be a helium-powered ride called Flight of Angels that floated you up and down on a tethered cable for 400-foot-high vistas of the town and falls. And despite the honky-tonk, this town has some things worth seeing.
Don't like heights? Get a thrill by proxy at the combo bus station/convenience store/Daredevil Museum, where there are rock-dented barrels that, along with their riders, have survived the falls. The first barrel daredevil to go over and live -- a local teacher named Annie Edison Taylor, in 1901-- eventually died (in 1921) of natural causes. You can check out her headstone at Oakwood Cemetery in town. There's also a Little Italy district that has interesting Italian specialty markets and a superb local bakery, Di Camillo's.
Tell someone you've been to the Canadian side and they'll want to know: Did you see the Floral Clock? This 40-feet-in-diameter working device claims to be one of the largest in the world; it makes time artistic thanks to the efforts of 20,000 tiny flowers. Only the Canadians could pull this off. Their master gardeners get out on ladders to weed it weekly.
Despite the clock and several pretty parks, Niagara, Canada, is no tea-and-biscuit destination. It's more like an arcade. Among many other theme-park-style amusements, I counted an Imax theater with a special Niagara Falls show ("Live like a daredevil from the edge of your seat!"), Marineland Canada, the Butterfly Conservatory and the Skylon Tower (like Toronto's CN Tower) for views. Lauren Albrecht of the Niagara (N.Y.) Tourism and Convention Corp. told me that development in Canada may be getting out of hand. "They've built so many towers, hotels and other things that it's changed the way the mist goes. The wind currents are different."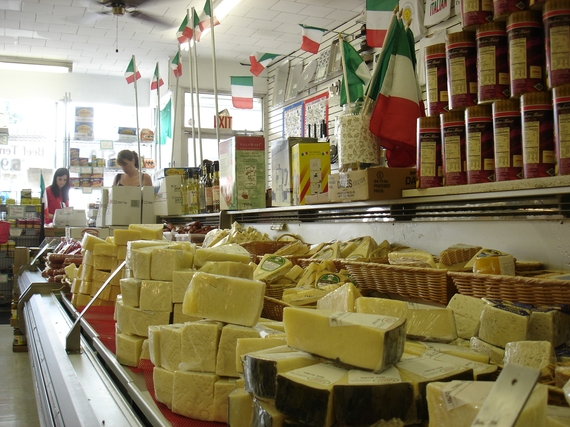 Still, you can fill up a week or more over there, and all this stuff keeps picky kids or teenagers from complaining. Especially neat, at least in my book, was the Niagara Falls Aviary: Birds of the Lost Kingdom, which claims to be the world's biggest indoor aviary. It's not clear what lost kingdom these birds are supposed to come from, but no big deal. More than 300 of them were flitting around in 50,000 square feet of potted tropical rain forest. And we tourists were allowed to feed them -- well, at least the rainbow lorikeets and one or two other species that don't bite.
Canadian side A+
American side B-
Canada wins the Golden Barrel for Niagara's best overall side. It's tough to compete with Ontario's sweeping views of the water, mighty casinos, clever flower designs and theme-park-caliber array of things to do.
But don't dismiss Niagara Falls, N.Y. Rather than being down-at-the-heels, as some people suspect, it's up-and-coming with cool neighborhoods, homestyle Italian cooking, and cheerful family-run stores and motels instead of the usual chains.
Big-time fun. Small-city charm. Whichever you choose, reserve early.
And keep an eye out for falling fish.