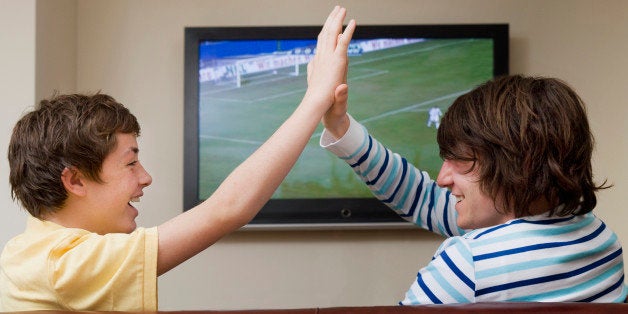 Are you ready for some football? How about some team-inspired interiors? These homes are showing their Boston Patriot and Seattle Seahawk pride, but not with framed jerseys or team flags. Check out these fan-tastic homes featured on Porch.com.
Bold red polka-dots and delicate blue and white ceramics aren't the only touches of blue and red in this 1960s redo. By varying the patterns (florals, geometric, stripes, etc.) you can avoid thematic overload.
Crips whites and brilliant royal blues can allude to an almost beachy, nautical theme, perfect for this weekend-getaway home. Pair these strong colors with solid neutrals like wood, rattan or bamboo. These natural materials will give needed texture as well.
This fun child's room plays upon familiar nautical themes in a patriotic red, white and blue. A featured wall covered in a modern geometric print sets the tone for a creative play space. Lots of white help balance out the space and keep it from being overwhelming.
Navy blue walls make a striking backdrop for this waterfront home. Notice the back of the chair detail that elegantly ties the neutral brown tones of the dining set to other blue colors in the home. A fun touch of red adds a dynamic touch.
Blue and green is a great color combination for the bedroom: It's cool, comforting and reminds us of colors found in nature. What a great way to fall asleep! Matching the drapery to the wall color is a great way to add texture and volume to the room without breaking up the lines.
This spring green used in the living room plays upon the beautiful foliage seen from the picture windows. More green is playfully placed around the room and is a great compliment to a popular combination of navy blue and brown.
This 1908 home in Seattle features an entrance that makes a great first impression. A playful botanical wallpaper dominates the upper walls and is mirrored in the matching bench pillows. Additionally, the traditional wood panels on the walls and ceiling are a great paring to the feminine florals.
Bold, peacock blue dominates this light-infused entrance. An eclectic mix of patterns and shapes, like the vintage chippy doors, oversized paisley rug, Moroccan pouf, and lime green table create a fun and festive entrance.