Whizzzzz... splat. Whummm... plop. Thud, thud, thud.
All familiar sounds if you're attending the Battaglia delle Arance, or the Battle of the Oranges in Ivrea, Italy, and all the more reason to keep your head on a swivel. Even the bravest of competitors agrees.
SEE PHOTOS OF THE ORANGE-TOSSING CHAOS BELOW
"It's scary," Filippo Prior, who entered the town's piazza in a horse-drawn carriage, tells Gadling. "You have a helmet but you can't see anything because oranges are flying at you from all angles."
According to The Telegraph, legend has it that the festival celebrates a 12th-century miller's daughter spurning the advances of the town's evil lord -- by cutting his head off, which freed the town from his rule. Originally, festival-goers threw beans at one another, but some time in the 19th century, women began tossing oranges from their balconies at boys they liked. If the boys reciprocated the feelings, they returned the projectiles.
Today, The Daily Mail notes, the festival ships in 57,000 crates, or 400 tons, of oranges for the citrus-flinging festivities. Residents dress up in medieval costumes to pelt one another, The Telegraph reports, though orange-tossers only participate in one of the festival's three days, as one jump into the foray can lead to plenty of soreness and bruises, according to The Daily Mail.
UPI reports that 165 were injured in this year's festival, with 13 requiring hospitalization. Some, however, see a black eye and bruises as a sign of pride, according to Gadling. And anyone who doesn't want to be bombarded by fruit wears a red hat, The Daily Mail reports, which signifies a spectator.
Aside from the cleanup, which requires 100 workers, the festival concludes on Fat Tuesday with awards to the best teams, a procession and the burning of a scarlo, or a pole covered in heather and juniper bushes, Gadling writes.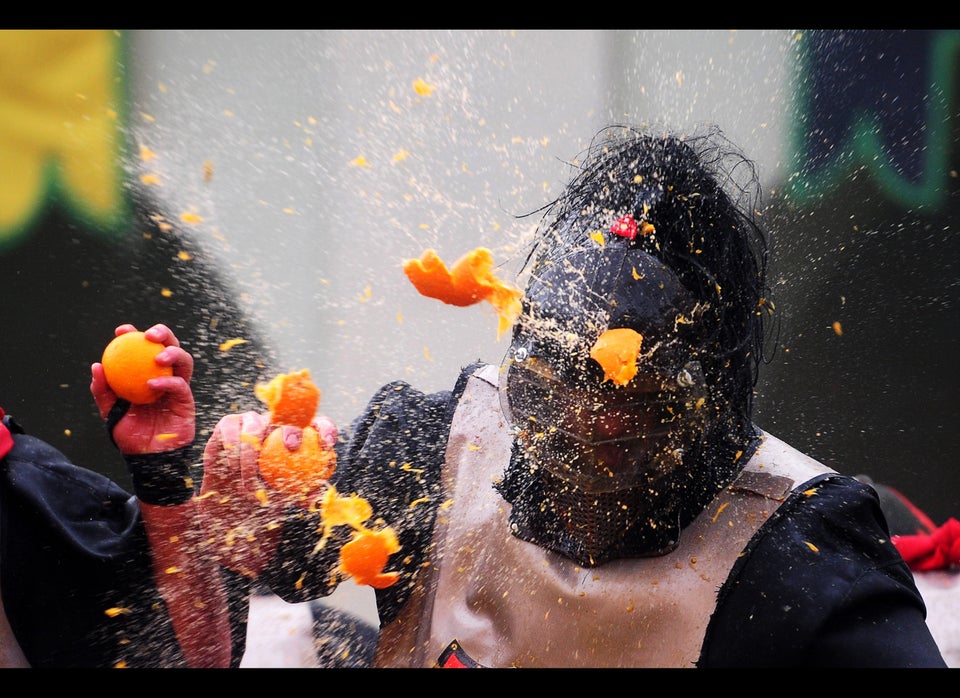 Battle of the Oranges
Popular in the Community