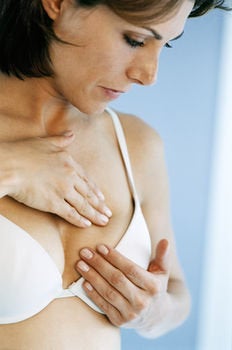 All of us have read or heard stories about people who turn lemons into lemonade. It isn't often that we get the privilege of meeting such an individual.
Before her bout with breast cancer, Christine Clifford Beckwith had definitely cracked the "glass ceiling". At age 40, she was Senior Executive Vice President for SPAR Marketing Services, an international information and merchandising services firm in Minneapolis, Minnesota. Once a top salesperson in the billion dollar service industry, Christine was responsible for accounts with Kmart, Toys 'R' Us, Procter & Gamble, AT&T, Mattel Toys, and Revlon, among others.
Diagnosed with breast cancer in December of '94, Christine went on to write five award-winning portrayals of her story in her books including Not Now... I'm Having a No Hair Day! (written especially for children), Inspiring Breakthrough Secrets to Live Your Dreams, and Your Guardian Angel's Gift. Christine's newest book You, Inc. The Art of Selling Yourself was published March 1st from Warner Books.
Christine is also President and Chief Executive Officer of THE CANCER CLUB, a company designed to market humorous and helpful products internationally for people who have cancer. She has been featured in several national and international publications including Better Homes & Gardens, SELF, Golf Digest, The Singapore Women's Weekly and The Hindu in India. Christine appeared on CNN Live as "one of the world's leading authorities on the use of therapeutic humor".
Hosting The Christine Clifford Celebrity Golf Invitational, a benefit for breast cancer research, Christine's inaugural event in 1998 raised over $100,000, making it the most successful first-year event in the history of the American Cancer Society. Christine's total contribution has been over $1,000,000.
Q. Dr. Wegmann: I know you are a CSP, but some people reading this interview do not know what those initials stand for. Can you tell us what it stands for, how you received this designation and what it has done for you?
A. Christine: "CSP" stands for Certified Speaking Professional. It is an earned designation with the National Speakers Association and represents the highest level of commitment to the field of professional speaking. CSPs have to fulfill a variety of requirements including continued education credits, presenting a minimum of 50 times per year for 5 years in a row, making over $50,000 per year, and having over 100 different clients in that five year period.
It clearly demonstrates to the companies that are considering me for hire that I take my speaking business very seriously.
Q. Dr. Wegmann: Fourteen years ago you were diagnosed with cancer. How did you take the news, and what was your initial reaction?
A. Christine: I took the news very badly. My mother had died of breast cancer at the age of 42 (I was 19), and back in those days, there wasn't any support or any of the resources we have available to us today. My mother got clinically depressed, and retreated to her bedroom where she lived as a total recluse. My father left my mother and she died. So when I was diagnosed at the age of 40, I thought to myself, "I'm going to become depressed, my husband is going to leave me, and I'm going to die." I truly thought my life was over. What I didn't realize is that a new life, a better life, had just been born.
Q. Dr. Wegmann: Through the highs and lows of battling cancer you've done some amazing things. One of those projects is The Cancer Club. Can you tell us about The Cancer Club?
A. Christine: The Cancer Club offers humorous and helpful products for people with cancer. In addition to an online Prayer List, we offer a free monthly eNewsletter, tips for caregivers, cartoons, and a store which features over 100 different gift items for cancer patients including books, DVDs, stuffed animals, custom jewelry, ornaments, and inspirational gifts.
Q. Dr. Wegmann: You credit a product called Protandim with helping some of your health challenges, can you tell us more about the product?
A. Christine: I could talk all day about the benefits Protandim LifeVantage.com has brought to me personally, but it is a supplement made from five natural ingredients that has been scientifically and clinically proven to reduce the level of Oxidative Stress in your body (caused by free radicals) by a minimum of 40%. The scientist, Dr. Joe McCord, who invented it, has been nominated for two Nobel prizes, and is featured in our current Surgeon General nominee Sanjay Gupta's book, Chasing Life: New Discoveries in the Search for Immortality. What it does is increase the production of two enzymes, SOD (superoxide dismutase) and CAT (catalase), which play a major role in neutralizing cell damage. It also stimulates the production of glutathione up to 300%. A lack of glutathione plays a role (as does oxidative stress) in over 200 diseases, including cancer, heart disease, Parkinson's, diabetes, Alzheimer's and many more.
I encourage everyone to log on to the site mentioned above and watch the ABC Prime Time video. It's pretty exciting stuff!
Q. Dr. Wegmann: I read an article you wrote titled "How To Generate a Seven Figure Income" What advice can you give for the average person who is struggling to make ends meet, considering the current economic times?
A. Christine: Diversify. Don't put all your eggs in one basket. For example, I'm not just an "author" or a "Professional Speaker," I also do consulting on sales & marketing, have a supplement Distributorship, and run an online retail business. So if one spoke of my umbrella breaks, I have many others to hold it up.
Market yourself like crazy. Despite our tough economy, you can't sit back and hope that people will find you. Seek unique, inexpensive ways to get your name out there.

Don't be afraid to ask people for help. The worst thing that can happen is that they turn you down. But so many positive things can come just by asking, that it's definitely worth the risk of failure.
Humorist, Author, Professional Speaker, President/Chief Executive Officer of The Cancer Club

Christine received her CSP designation (Certified Speaking Professional) from the National Speakers Association. Less than 300 people hold the CSP, putting Christine in the top 7% of professional speakers worldwide.
Christine is married to speaker/author Harry Beckwith (Selling the Invisible) and between them, they have six children: Tim, Brooks, Harry, Will, Cole, & Cooper, their dog Skyar, and their legendary flying cat Simone. She lives in Minneapolis, MN.
Related