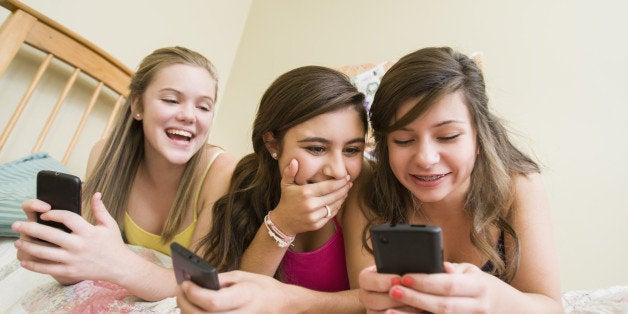 This article was co-authored with Dr. Brian K. Gran, an associate professor in the Sociology Department at Case Western Reserve University, with a secondary appointment with the School of Law. He recently co-Edited "Expanding the Human in Human Rights: Toward a Sociology of Human Rights" by Paradigm Publishers.
Parents, let's face it. Our children's social lives are more complex, more challenging and frightening than ever before. The playing field is rapidly expanding and evolving with social media. This brings many benefits such as real time global connections, building social skills, along with increasing risks, creating spaces for cowardly anonymous bullies to taunt and tease their victims.
We need to understand these spaces because some are safer than others when used by Teens and Tweens. Yik Yak. Meerkat. Periscope. Our list could go on and on.
What can you do to protect your child from anonymous cyberbullies? Very little. And that's wrong. Comments and videos that offend, lie, and harass can be anonymously posted using Yik Yak, Periscope, Meerkat, and numerous other apps. Your child may be a target of those abuses. A Yik Yak user can post a message anonymously at anytime. Meerkat and Periscope users can post videos anonymously at anytime. Meerkat's video becomes unavailable when the user stops taking the video. Periscope videos remain available for twenty-four hours.
Should young people use these apps? Even the companies say no. Yik Yak and Periscope users can be age 17 if a parent or guardian approves. At age 18, a parent's or guardian's permission is unnecessary. Meerkat seems to recognize that its users include young people: Meerkat allows 13 year olds to use their app. Apple's iTunes rates Meerkat at 12+. But get this: Apple rates Periscope at 4+. But remember -- a user's age is not verified; any child can fabricate a birthdate to meet the provider's requirements.
Yik Yak recognizes its users, even include middle school students. Yik Yak has set up electronic fences, "geofences," around middle and high schools to preclude students from using their app while in school. The electronic fences do not extend to off school grounds, where young people can misuse the app. Meerkat and Periscope have not taken similar steps.
What are limits on content? All services state that users should not post content that offends, threatens, and abuses. But what happens if content that offends, threatens, abuses, or maligns is posted? It is up to the service to decide to remove the content. Do the providers monitor content to ensure postings do not offend, threaten, abuse, or malign is not posted? Do they remove the content before a child is bullied?
No. To make matters worse, it often is up to the child who has been bullied to try to remove the content and prevent future abusive posts.
What can a parent do? Your first response may be to discourage or prevent your child from using these apps. But that doesn't help. A victim does not have to use the app.
So what then? Really it's a question of past and future. What can be done about past posts? A parent or guardian can contact the app company to ask that they remove the content.
But is the past really in the past? No. In social media, there is no Delete button as most of us know it. Even if posts are removed, your child has been harmed. Your child will continue to go to school, to the library, to athletic fields, to after school activities, where she will see and be with people who read or saw the posts. Another wave of comments through other media, like Facebook, can promote anonymous, electronic bullying.
What can be done about future, anonymous posts? A parent or guardian can contact the app company to ask that they prevent the offensive user from posting in the future. All of the companies indicate they will work with law enforcement agencies, but Yik Yak was criticized for only making available a cell phone number, not the user's identity. Law enforcement then had to contact the cellular telephone company to learn of the user's identity. Yik Yak seemed more concerned about privacy of its user than the victim of Yik Yak's posts.
We recommend the following steps. First, communicate with your child about these apps and their potential to harm. Ask your child to let you know of bullying. Second, contact your local police if a post is offensive, threatens, or is abusive. Third, ask the app company to remove the harmful post. Fourth, contact an attorney to learn about your child's rights and how to stop harmful and defamatory posts from being made. A good source for parents and children is Safe, Smart & Social, including a helpful guide of apps that are recommended for Teens or Tweens and those that "lend themselves to cyberbullying."
We contacted Yik Yak, Periscope, and Meerkat to ask what may a parent or a guardian do if their child is subject of defamation or offensive language, via their service. Unfortunately, representatives of Yik Yak, Periscope, and Meerkat did not respond. Ironically, the email Meerkat asks parents and guardians to use had "permanent delivery errors."