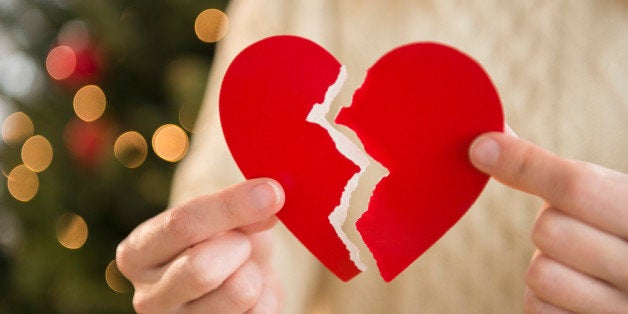 They say breaking up is hard to do. Imagine how hard it is during the holidays.
Sadly it seems breakups are all the rage around the time the carolers start singing and the dreidel gets spinning, according to a unique Facebook study. Data-journalist David McCandless found after observing 10,000 Facebook statuses, which included the words "breakup" and "broken up," that the biggest breakup time of the year is two weeks before Christmas.
Regardless of which holiday you celebrate, dealing with heartbreak on top of the stress that comes along with the festivities in December can be paralyzing. The world seems full of joy and you're a mess dreading the "most wonderful time of the year." Your reality couldn't be further from the truth.
If you have to roll through the holidays broken-hearted, you need an arsenal of tools and an action plan to get you through it. Here are 10 steps.
1. Find Family and Friends
Being with family and friends is a crucial step no matter what time of year a breakup goes down, but it couldn't be more important during the holidays. This is the universal time of year where it's assumed you're going to be with loved ones anyway, so go to them now. You need to be around those who love you. Let them take care of you and feed you lots of comfort food.

2. Be Selective with RSVPs.
I'm actually telling you not to say "yes" to every holiday party you get invited to. Here's why. If you get asked to a party where it's all couples and you're minus your plus one, attending said party would make you feel worse than you already do. This is the feeling we're trying to avoid. If the gathering will have lots of people regardless of relationship status, get dressed and go. As my graduate school professor once said, "You never know."

3. Eat, Pray, Love it.
Elizabeth Gilbert was definitely onto something. During the holidays and through New Years, everyone usually has plans. You maybe had a vacation set with your significant other, but that is now null and void. So lick your wounds for a minute and then pick a new place to go. Buy the plane ticket and change your surroundings. Money an issue? You've been saving for a rainy day? Well the storm is here. It's raining and the clouds are above. Buy the tickets. You won't miss the money.
4. Work While Others Are Off.
You're going through a breakup and you've got some extra time on your hands. While everyone else is taking days off during the last few weeks of the year, be the person who doesn't mind putting in those holiday hours at work. Not only will you look like a hero in your boss's eyes, you'll be staying busy, which is one of the healthiest things you can do after a breakup.
5. Remember Others Have It Worse.
Since navigating your way through this time of year with a broken heart can be excruciating, I suggest taking the pain off of yourself by volunteering. Helping those less fortunate at a homeless shelter or a soup kitchen is a selfless act and seeing the joy on strangers' faces will make you feel better and it will help put things in perspective.
6. Out With the Old.
I don't just mean your former significant other. Spring-cleaning and organizing are amazing activities to do by yourself because you never have to leave your home, which in turn helps in avoiding the holiday madness too. Think of it as devoting a lot of time to freshening up your life. And it's cathartic.
7. Binge Watch TV.
Here's another stay-at-home activity you can do without having to take your sweats off or even shower. Watching TV shows in bulk is a great time sapper and it will contribute to the cause of getting you past New Years in one piece. Invite a friend over for dinner, start up Netflix, and chill out for hours.
8. Do December on the DL.
There is no rule saying you have to socialize during the holidays. If you're going through a breakup, you may just feel like being alone during this time. The love of your life is gone and everyone around you seems happy. Don't force yourself to be a social butterfly, rather, cocoon and get yourself mentally prepared for the new year.

9. Retail Therapy.
This is the time of giving. While you may have already bought your former significant other's gift -- which you must return immediately -- go out and buy presents for everyone else. The very act of giving gifts will help heal your broken heart. Although, don't go to the mall to do your shopping. A mall outing during Christmas when you miss your ex is torture.

10. Tune It Out.
Yes, I am suggesting that you pretend it is not the holiday season and think of these days like they're nothing special. Ignorance is bliss. Choose not to watch "It's a Wonderful Life." Choose not to listen to holiday music on the radio. Choose to skip the tree lighting ceremony or Hanukkah menorah lighting if you feel like your light is out. With a broken heart, choose how you walk through these next few weeks and you will win in the end.
And remember, January is just around the corner.
Related