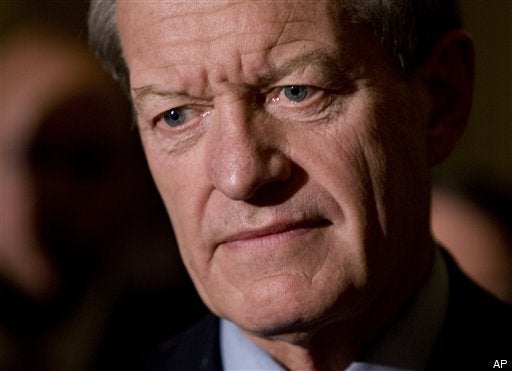 The bill unveiled by Senate Finance Committee Chairman Max Baucus has been blasted as a major giveaway to insurance companies. But the even bigger winners are the drug makers.
That's because the Baucus bill matches up, nearly to the letter, with the secret deal that he, the White House and Big Pharma struck over the summer -- a deal the various parties roundly denied had been struck when it went public.
In August, the Huffington Post published a memo that outlined exactly what each side was going to do for the other. And Big Pharma was getting a lot more than they were giving up.
Pharmaceutical Research and Manufacturers of America senior vice president Ken Johnson said that the outline "is simply not accurate." White House spokesman Reid Cherlin concurred: "This memo isn't accurate and does not reflect the agreement with the drug companies."
But now that the bill is out, let's fact check those denials.
1) The memo said that PhRMA would "[a]gree to increase of Medicaid rebate from 15.1 - 23.1%".
The finance bill, on page 56, increases the Medicaid rebates for patented drugs from 15.1 to 23.1 percent.
2) The memo said that the parties had agreed "to get FOBs done." FOBs refer to follow-on biologic drugs - vaccines and other drugs made from living cells that are the fastest growing field of pharmaceutical research.
PhRMA wants extended patent protections from generic biologic drug makers. A finance committee aide said that the Baucus bill doesn't address biologics, leaving that to the Senate health committee's bill. The health committee bill gives drug makers 12 years of market exclusivity -- five more than the White House proposed -- and allows a 12-year extension with a minor tweak to the drug. The protection is worth billions to drug makers and is entirely unnecessary to encourage research, according to the Federal Trade Commission, which recommended zero years of market exclusivity.
"Already biologics take up at least 30% of Medicare part B spending and this proposal has been rolled into the overall health care reform bill, which is meant create cost savings, which it will not do," Jane Andrews, a medical student at the Johns Hopkins University and a member of Universities Allied for Essential Medicines, wrote in an e-mail to HuffPost. "It's simply a giveaway to BIO/PhRMA from Congress supported by the American Association of Universities."
3) PhRMA agreed to "Sell drugs to patients in the donut hole at 50% discount." This one's not in dispute: All parties had previously announced that this was part of the deal. There it is on page 124.
4) "Companies will be assessed a tax or fee that will score at $12 billion. There was no agreement as to how or on what this tax/fee will be based."
The $12 billion, stretched over 10 years, would have amounted to a tax of $1.2 billion per year. Instead, the Baucus bill hits Big Pharma with nearly double that -- a $2.3 billion annual fee, according to page 216 of the bill -- but they still did much better than industry counterparts who didn't reach a deal with the White House. Health insurers got hit with $6 billion in annual fees in the bill, and medical device makers got dinged for $4 billion a year.
The memo also listed four things the committee and the White House agreed to keep out of the bill.
1) Drug makers wanted Baucus and the White House to block Democratic efforts to allow cheaper drugs to be shipped in from Canada. There's nothing in the finance bill that allows that.
2) Some Democrats wanted PhRMA to give the federal government rebates for what it considered past excess charges; the memo says the White House agreed to oppose those rebates, and the bill doesn't include any.
3) As agreed, the bill does not overturn a GOP law -- pushed originally by chief pharmaceutical lobbyist Billy Tauzin, when he was in Congress -- that bans the government from negotiating for cheaper prescription drug prices.
4) Democrats wanted to shift some drugs from Medicare Part B to Part D, a move PhRMA opposed because it would reduce reimbursement rates. The administration agreed not to include that provision, according to the memo, and it's not in the Baucus bill.
PhRMA's Johnson told HuffPost in an e-mail that the deal should be abided by and should not exceed the agreed-upon $80 billion price tag. After running circles around the health care industry competition, he's earned the ink for the full quote:
Our unprecedented agreement to provide $80 billion in health care savings will provide immediate relief for seniors and disabled Americans who hit the coverage gap, cutting their out-of-pocket costs in half. That's a huge commitment which will force our companies to make some very tough choices moving forward. With the economic recession and ongoing challenges of discovering and developing new life-saving medicines, they are already feeling immense financial pressures.

The idea that you can squeeze more and more out of our industry without consequences is seriously flawed and short sighted. Squeeze too hard and you run the risk of catastrophic job losses in a fragile economy and driving critically-important research and development overseas. We have analyzed this very closely. If our contribution to health care reform exceeds $80 billion, as some critics today suggest, you reach a point where you risk sacrificing someone's job for someone else's health insurance. How does that make things better?

For health care reform to be successful, we agree that there must be a shared sacrifice. Yes, saving money is important but so is saving lives.
Jeff Muskus contributed reporting