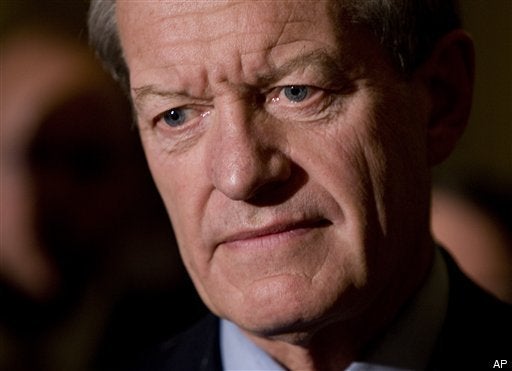 Senate Finance Committee Chairman Max Baucus (D-Mont.) confirmed this past week that he personally supports a public option for insurance coverage, even as the committee he heads is poised to produce health care legislation that lacks a government-administered plan.
In a conference call with Montana Democratic central committee chairs last week, Baucus reaffirmed his stance on the most divisive issue in the health care debate. "I want a public option, too!" said the Montana Democrat.
Later, when several county chairs said they didn't want a health care system in place where private insurance companies were essentially allowed to police themselves, Baucus responded, "Neither do I."
The senator's office did not dispute a report of the remarks written up Sunday on the site FireDogLake. But they declined to elaborate on the record.
Baucus' support of the public plan, they insisted, was not new news. Indeed, a public option for insurance coverage was part of the senator's November 2008 White Paper on health care reform.
"The Baucus plan envisions that the Health Insurance Exchange would offer a new opportunity for individuals and small businesses to easily compare private coverage options and a public plan and to purchase the policy that would work best for them," reads the White Paper.
The senator, since then, has insisted that a public option is "on the table" as possible methods for affecting change in the private market.
But support for the public option has not translating into a commitment to having such a provision in the bill. The senator is also devoted to getting bipartisan support for the Senate Finance Committee's legislation and has proven to be more than willing to drop the key provision as a means of recruiting Republican backers. He telegraphed such a move as far back as March, during an interview with Time Magazine.
That said, Baucus' most recent remarks are likely to be greeted with glee by progressive reform proponents. Should health care legislation with a public option ultimately come to the Senate floor -- perhaps in the form of the Senate Health, Education, Labor and Pension bill -- there is an open debate as to whether it would have the 60 votes needed for passage. A senior Democratic strategist, who is lobbying Congress on health care reform, told the Huffington Post this past weekend he wasn't sure how Baucus (among others) would vote if this situation presented itself. The senator now seems to have cleared the air on that front by indicating that he'd vote yes.
Support HuffPost
The Stakes Have Never Been Higher
Popular in the Community