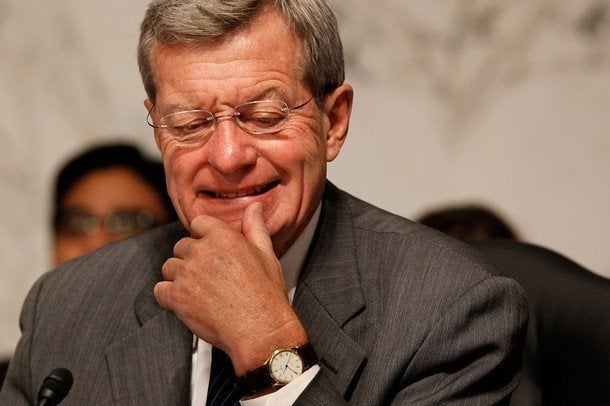 Senator Max Baucus (D-Mont.) insisted on Monday that a public option for insurance coverage was very much "alive" as he and two other Democratic senators merged together disparate health care bills.
But in what will surely be a disappointment for progressives, the Montana Democrat hinted strongly that the provision would be watered down.
"This issue is alive and we are looking at it to see what makes the most sense," the senator declared on a conference call with reporters. "The major overall goal here though is to get health care reform that passes the Senate, gets 60 votes, and I just don't know if there is 60 votes for the most pure kinds of the public option. There may be 60 votes for the less pure kinds."
The less pure kinds, Baucus explained, were co-ops, a public plan triggered by economic conditions and an insurance structure that allowed states to opt in or out of a public option. He seemed to find the last option the most intriguing.
"It is new and it is interesting," said Baucus. "Senators are trying to think it through, its effect, what it will do? We don't know yet."
The conference call, hosted by the group Families USA, was one of Bacucus' most extensive public conversations since the committee he chairs passed health care legislation by a 14-9 vote. Currently he and Sens. Chris Dodd (D-Conn.) and Harry Reid (D-Nev.) are in the process of melding together his Senate Finance Committee bill with one produced by the Health, Education, Labor and Pensions (HELP) Committee.
Baucus brushed off complaints from his Republican colleagues that Democratic leadership was forming health care reform in non-transparent, closed-door meetings with the White House. As for the much-criticized private industry study that alleged his bill raise heath care premiums, the Montana Democrat said it "was something slapped together at the end, and almost an embarrassment it was so poorly put together."
"It was one-sided," he added, dispensing with his usual laid-back demeanor. "It was wrong and frankly when the report came out... it galvanized... a lot of feelings in the Senate against the insurance industry. It was a last minute tactic that just didn't make any sense."
Popular in the Community