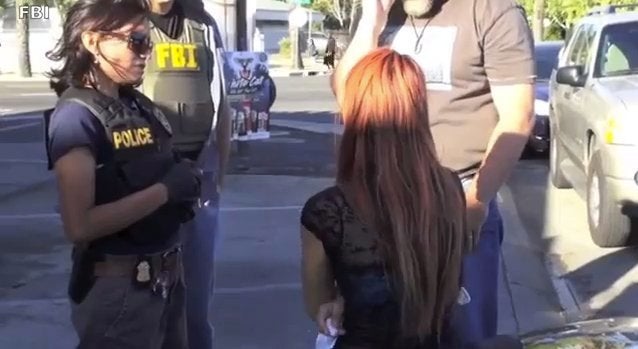 The FBI announced a major crackdown on child prostitution throughout the Bay Area Monday, during which six teenage girls were rescued and seven suspected pimps were arrested.
At a news conference at the Hayward Police Department, officials said the girls were between the ages of 15 and 17. Four of the girls were in Oakland, one was in San Francisco and one was in San Rafael. The operation took several days to complete and came to fruition last week.
"We are extremely proud to have been a part of this multiagency, multistate effort to save children from the horrors of prostitution," said FBI spokesman Peter Lee to The Huffington Post. "And the fact that we not only had six rescues but were able to arrest seven pimps is especially impactful."
During the national sting, a partnership between the FBI, local authorities and the National Center for Missing and Exploited Children, 79 children were rescued and 104 suspected pimps were arrested nationwide.
Efforts against child prostitution have been especially poignant in the Bay Area, where lawmakers and authorities have launched special programs like Alameda's H.E.A.T. Watch against human exploitation and trafficking.
Lee told HuffPost that the FBI hopes the success of Operation Cross Country will send a message to those who exploit children locally and nationally.
"This is just a snapshot of what really goes on," said FBI Assistant Special Agent Michael Gavin at the press conference.
Watch raw footage from Operation Cross Country in the FBI video below:
Related
Popular in the Community