In the last two weeks, 408 earthquakes have rumbled through the city of San Ramon, California, about 40 miles east of San Francisco.
But -- despite the eye-popping number -- there's no real reason to panic. Most of the quakes have been in the relatively mild 2.0 to 3.0 magnitude range, with the largest measuring in at 4.0:

"Earthquake swarms are not entirely unique," said Caroline Beghein, an associate professor of geophysics in the Earth, Planetary and Space Sciences department at UCLA. "They have been detected in several regions in the past, and the Calaveras Fault zone has a history of earthquake swarms."
Per the USGS, the swarms are also unlikely to be a precursor "to a large, damaging earthquake" based on historically similar events in the region.
"Earthquake swarms are no more or less dangerous than any other earthquake of the same size," Beghein added. So far, no damage or injuries have been reported in this swarm, reports the Associated Press.
These clusters of earthquakes happen on a somewhat frequent, if irregular basis. In an interview with NBC Bay Area, senior USGS research geologist David Schwartz recalled a swarm of 351 earthquakes in 1990 that hit over a period of 42 days, the largest of which was a magnitude 4.2.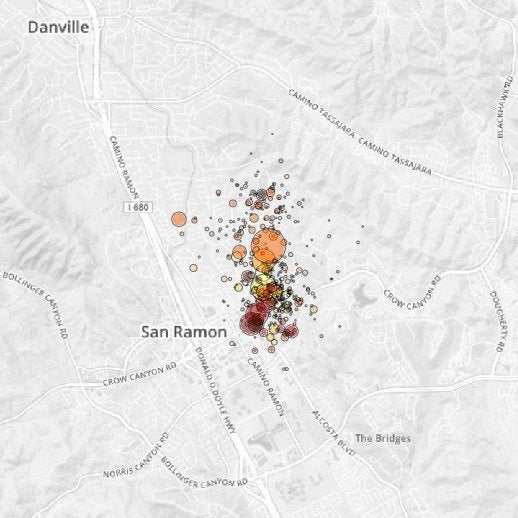 Disconcerting though it may be, science doesn't have an easy explanation for swarms like these. 
"We just don't understand the structural geology of the swarms, why they turn on and shut off quickly," Schwartz told NBC. "We just don't understand."
And if you are recalling last week's report from NASA that virtually guaranteed a magnitude 5.0 or greater earthquake in California in the next two and a half years, don't. That (somewhat disputed) study focused on a radius of about 60 miles around Los Angeles -- more than 350 miles away from the current activity near San Francisco.
Generally speaking, said Beghein, "the Bay Area is a very seismically active region. The USGS reports a 72 percent risk of a quake of magnitude 6.7 or larger in the next 30 years in the San Francisco Bay Region, and 8 percent on the nearby northern Calaveras Fault."
This story has been updated to include comments from Beghein.
PHOTO GALLERY
The Earth From Above
Calling all HuffPost superfans!
Sign up for membership to become a founding member and help shape HuffPost's next chapter