 While conservatives like to ridicule their false concept of San Francisco values, the truth is that the Bay area's attractiveness is in large part due to its diversity. Add in a fascinating sociological (as well as natural) history and the San Francisco Bay area becomes a unique corner of the world.
The city's dramatic topography has been popularized in film and on television through works like The Streets of San Francisco, The Towering Inferno, Bullitt, The Bridge, Saving The Bay, and What's Up, Doc?
San Francisco's LGBT community has been the focus of works like Passing Strangers, Crimes Against Nature: A Play By Faggots About Survival, Milk, Execution of Justice, Fruit Fly, and We Were Here .
San Francisco's cultural diversity has been a key ingredient in the success of Flower Drum Song, La Mission, Speaking In Tongues, and Heading East.
The City's indigents and mentally ill have been showcased in documentaries such as Empress Hotel and the recent world premiere of Tenderloin, a docudrama produced by the Cutting Ball Theater.
Unlike the folks in flyover country, residents of the Bay Area often have fascinating tales to tell.
Don Reed's monologue, East 14th Street: True Tales of A Reluctant Player, depicts what it was like to bounce back and forth between a father who was a pimp and a stepfather who was a Jehovah's Witness.
Brian Copeland has captivated audiences with two deeply personal monologues (Not A Genuine Black Man and The Waiting Period: Laughter in the Darkness).
José Sarria's story was depicted in SexRev.
And who could forget the characters in H.P. Mendoza's feature film debut Colma: The Musical?
While arts organizations across America have been struggling to develop projects based on local history and personalities that can help to deepen their community involvement and build a broader base of financial support, Bay area groups have continually encouraged local artists to write about what they know. Between the Bay Area Video Coalition, the San Francisco Film Society's growing Cinema By The Bay program, The Marsh's Youth Rising program, and the incubator program for playwrights at Playground, plenty of works inspired by life in the Bay area have emerged that deepen and strengthen the region's cultural tapestry.
Recently screened at the San Francisco International Film Festival, a 12-minute animated short by Slovakian filmmaker Michaela Čopíková depicted the relationship between a waitress and the homeless man who liked to beg for money outside the cafe where she works. Here's the trailer for the charming Dust and Glitter:
The recent Best of Playground Festival featured several short plays inspired by life in the Bay area. Before the program began, two actors read the script of teenager Ayelet Schrek's Roundabout, the winner in an educational outreach program to high school students who are aspiring playwrights. A junior at the Jewish Community High School of the Bay, Schrek's play focused on a young girl whose family used to take her to Steinhart Aquarium on a fairly frequent basis (where she loved to spend time at the Fish Roundabout).
When the original California Academy of Sciences was torn down to make way for a new natural history museum and home for the Morrison Planetarium and Steinhart Aquarium in Golden Gate Park (which opened in 2008), the original Fish Roundabout fell victim to progress. Schrek's writing demonstrated an acute eye for observation and a fresh voice as she spoke of her love for a very special San Francisco landmark that is no more.
Last year, Magic Theatre opened its season with the world premiere of Oedipus El Rey, Luis Alfaro's brilliant adaptation of the Sophocles tragedy, Oedipus The King. To close the Magic's 2011-2012 season, Alfaro teamed up once more with director Loretta Greco for Bruja, an updated version of the Euripides classic, Medea.
In searching for ways to update the tale of Medea and relocate the action to San Francisco's Mission District, Alfaro re-conceived Medea (Sabina Zuniga Varela) as a curandera (shaman) who still practiced magical healing on faithful clients like Aegeus (Armando Rodriguez) who cling to the cultural rituals they grew up with in "the old country." The mother of two young boys who love to play soccer, Medea's family is tended to by Vieja (Wilma Bonet), who has been her nurse and confidante since childhood.
Medea and her husband are still very much in love at the beginning of the play, and tease each other by mimicking the calls of the laughing falcon (snake hawk) with which Jason (Sean San José) claims Medea won his heart.
Like many illegal immigrants whose lack of documentation makes them vulnerable to deportation, Medea and Jason function in an alternate economy where many workers are paid under the table. Jason is one of the lead construction workers for Creon (Carlos Aguirre), a wealthy building contractor who suspects that he is terminally ill.
Creon and Jason function in a subculture ruled by machismo where, even if they may be considered healers and sorceresses, women do not have the final say in any decisions. When Creon gives Jason a promotion and talks about turning over the business to him, he makes it clear that Jason is expected to marry Creon's daughter, Glauce. Doing so would instantly give Jason citizenship. Once they are married, by adopting the two sons born to Medea, he could provide for their future. The only problem is Medea, who would need to "disappear."
Jason is so blinded by ambition that he doesn't consider how Medea will react to this betrayal. Forgetting that Medea worships a Quetzalcoatl (feathered serpent deity) and is a talented and resourceful bruja (witch), Jason marries Glauce before telling Medea what he has done. By the time she learns of his betrayal, everyone else in the neighborhood knows the score except for Creon's common-law wife. Confronted with the humiliating truth of Jason's actions, Medea carefully plots her revenge.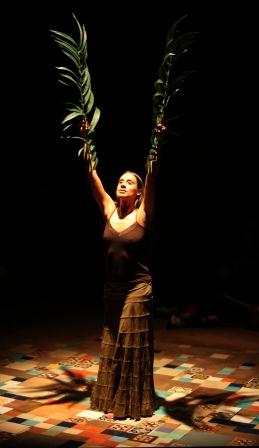 Sabina Zuniga Varela as Medea in Bruja (Photo by: Jennifer Reiley)
Alfaro's script mixes Nahuatl (an Aztec language from the south of Mexico and Central America) with Spanish and English. As the playwright explains:
Although my soul is very much Chicano, my writing is very much a reflection of the worlds I live in or dream about. Recently, I've been writing in Spanglish (a mix of mostly English with Spanish words that defy translation but carry a tone or feeling you understand without knowing the word). I was raised in religion, and the notion of service is very important to me. I think that is what I am doing right now: Speaking to my community. Telling our stories in the old way, but with new ideas. There is something ancient about theatre and truly avant-garde about its power. In this play, I am really interested in how characters tell stories.
Alfaro's script often seems stilted as he shifts between languages and tries to lay the groundwork for Jason's betrayal. Near the end, however, when Vieja relates the story of what happened when she delivered Medea's gift of a snakeskin garment to Glauce, the brilliance of the original Greek play and the effectiveness of Alfaro's translation compensate for the plodding slowness with which Bruja builds to its gruesome climax.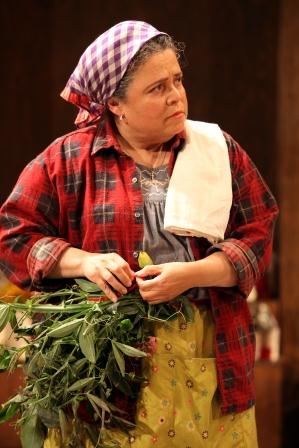 Wilma Bonet as Vieja in Bruja (Photo by: Jennifer Reiley)
Much of the evening's success is due to Wilma Bonet's performance as Vieja. Short, squat, and filled with foreboding, the emotional and dramatic power of Bonet's nurse make the self-satisfied machismo of Creon and Jason seem downright puny.
While Sabina Zuniga Varela is beautiful to watch, with an exotic beauty that can be riveting, her inability to control her situation until she invokes her magical powers makes her final ascent to the sky a moment of wonder, relief, and regret (a bit like Marguerite's redemption at the end of Gounod's Faust).
At the premiere of Bruja there were too many moments in which the play's dramatic tension was lost due to some very wooden acting. Here's the trailer:
REAL LIFE. REAL NEWS. REAL VOICES.
Help us tell more of the stories that matter from voices that too often remain unheard.