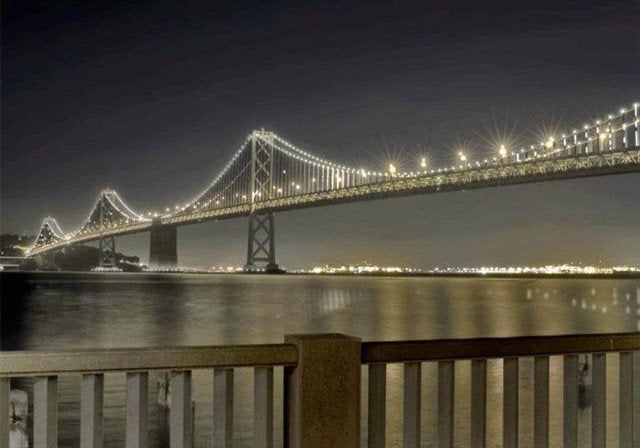 San Francisco's beloved Bay Bridge is about to turn 75, and for this milestone birthday the city wanted something big. In the tradition of many great landmarks which aspire to be more like the Eiffel Tower, the Bay Bridge is going to be lit up, creating an ever-changing artwork for the entire Bay Area to enjoy.
The installation, called The Bay Lights, will be created by light artist Leo Villareal out of 30,000 lights— energy efficient, of course. The lights will cover the bridge's expansive dimensions, 1 1/2 miles wide and 230 feet high and provide an evolving light sculpture that will last 2 years. Villareal was trained as a sculptor and eventually incorporated his passion for technology to create description-defying installations around the world.
According to the SF Gate: "The independently controlled LEDs will be linked in a network that uses complex algorithms that factor in traffic, weather and the bridge's motions to create patterns." The installation will face San Francisco and its appearance will differ depending on the angle which it is viewed. Those on the bridge have the worst view and will not be able to enjoy the installation. (Keep your eyes on the road, everyone.) The project is set to cost $7 million, but will be privately funded.
Eat your heart out, Paris, because this installation, when completed, will be 7 times as large as the Eiffel Tower's light sculpture.
Calling all HuffPost superfans!
Sign up for membership to become a founding member and help shape HuffPost's next chapter