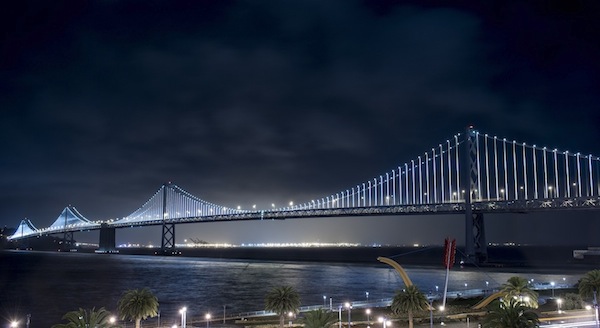 Think of it as the biggest "Turn On" of 2013. In early March, artist Leo Villareal's much-anticipated work, The Bay Lights, finally went live to much fanfare in San Francisco, Calif. The bold, breathtaking algorithm-astic piece of art graces the northern span of the Bay Bridge and features 25,000 white LED bulbs across 1.8 miles (from Treasure Island to San Francisco). At its highest point it soars roughly 250 feet into the air.
It is the largest LED light sculpture in the world and the flowing light patterns are certainly delicious eye candy. It's the best thing to experience this year.
But The Bay Lights is more than just a visual feast. It's a living, moving example of how art can help transform a city -- on many fronts -- and it certainly illuminates the importance of public art, in general. In an era where traditional funding, respect and attention to gutsy creative endeavors seems to have waned dramatically, shifting to the more distracting fancies found in the blather of Facebook updates, the dumbed-down faux connections Twitter spawns, or the empty mental calories found in reality TV, The Bay Lights is proving to be a remarkable concept.
Here are three reasons why:
1) Connection. The work has the ability to attract people, sure, but it also manages to create connections. Much like a campfire stimulates conversation and participation from those surrounding it, The Bay Lights is doing something similar. It doesn't hurt that it's eye-catching -- from many points around and in San Francisco and the Bay -- but the added perk is that you can connect with somebody next to you who is also experiencing the same thing you are. "It's definitely a focal point in which people can gather around," Villareal told me recently.
When we were testing it, suddenly the security guard on the pier and I are talking and it's just this connecting point. People may not necessarily know that it's artwork but light is something we are all attracted to, something we respond to. That's the initial thrill.
2) Art Marries Technology Beyond "connection," the work unites art with technology. And if there's one thing Northern Californians really dig -- especially Silicon Valley -- it's "techy" things. The LED bulbs, spaced nearly a foot apart along roughly 100,000 feet of bridge cables, are connected to individually programmed electrical boxes at various points along the bridge. Villareal, who rose to fame creating art with light over the last decade -- attending Burning Man stoked those imaginative fires -- created the codes and patterns seen on the bridge. The patterns generated never replicate. Installation spanned many months and, in many cases, was done in harsh weather conditions. Something cool: a live stream of The Bay Lights has the ability to attract millions (billions?) of onlookers to the work online.
3) Economic Boost The work will lure travelers near and far into the city. Estimates note that the project will funnel $97 million into the local economy over the next two years. Not bad. Upcoming, high-profile events, such as the Port of San Francisco's 150th Anniversary on April 24, and America's Cup later this year will attract swarms of visitors, but many will also flock to various points of interest in and around San Francisco to experience the project.
The bottom line: Villareal's work can be used as a model for how other cities can become more inventive with their own infrastructures and public art.
Ben Davis, founder of Words, Pictures, Ideas and chairman of Illuminate The Arts, originally came up with this bright idea a few years ago. He envisioned something artistic and dynamic along the Bay Bridge, something that would draw people together, and Villareal was the first artist that came to mind.
"I really appreciate how this can draw the attention back to infrastructure as we move from 30 to 50 million people in California -- 7 billion people on the planet," Davis told me in a recent interview. "We need to have systems in place, and infrastructure is important and ... we are going to need to re-imagine how we are going to make that happen as a society. So now, we have a shimmering beacon [The Bay Lights] as a reminder here."
In the meantime, for more reminders, take a peek at the big "turn on" of The Bay Lights in the video (produced by myself and Emery Hudson) below and check out the live stream online (from dusk until 2 a.m. PST).
Calling all HuffPost superfans!
Sign up for membership to become a founding member and help shape HuffPost's next chapter