The 17-year-old Muslim student who was misidentified as "Isis" in her California high school yearbook says she's now facing harassment for speaking out and demanding an investigation of the incident.
"I was going to go back to school and enjoy the nine days I have left -- or five days I have left -- until the students of the school started attacking me on social media," Bayan Zehlif, a soon-to-be graduate at Los Osos High School in Rancho Cucamonga, California, said at a press conference on Monday.
"A poster was put up of 'We Support Bayan,' she said, "and it was ripped down and students started to cheer."
"I have been getting a lot of support online from many people all over the world, but it hurts, seeing people hate me -- my classmates that I'm going to graduate with hate on me, attack me like that, it hurts a lot," Zehlif said. "It makes you forget about all the support you're getting. You know those people. You're supposed to be proud to be one of them, graduating with them."
In a Facebook post Friday that has since gained international attention, Zehlif said she was "saddened, disgusted, hurt and embarrassed that the Los Osos High School yearbook was able to get away with this."
"The school reached out to me and had the audacity to say that this was a typo. I beg to differ, let's be real," she wrote.
"We join with the family in their concern about a possible bias motive for this incident and in the deep concern for their daughter's safety as a result of being falsely labeled as a member of a terrorist group," Hussam Ayloush, the executive director of the Los Angeles chapter of the Council on American-Islamic Relations, said in a statement this weekend. "No student should have to face the humiliation of being associated with a group as reprehensible as ISIS."
The principal of Los Osos High School, Susan Petrocelli, tweeted Saturday that the school is investigating the yearbook photo.
Chaffey Joint Union High School District Superintendent Mat Holton told Los Angeles TV station KTLA that the school is now recalling 287 yearbooks that were already distributed to seniors.
Trevor Santellan, a student who worked on the yearbook, told ABC7 Eyewitness News that there was another student at the school named Isis Phillips, but it wasn't clear if she was still in attendance.
Holton said the school has contacted the families of both Zehlif and Phillips, and added that if the school's investigation finds "that a student acted irresponsibly and intentionally," then the "administration will take appropriate actions." He didn't immediately respond to The Huffington Post's request for comment on Zehlif's treatment since the yearbook photo was made public.
Zehlif told reporters she's faced discrimination at school before.
"Once a teacher did remark on the day 9/11, and she said the people who caused 9/11 shouldn't be here today," she said. "And I've seen on Twitter, a person say, from our school, that all Muslims are terrorists."
It's not an uncommon experience for Muslim students. There has been a surge in Islamophobic political rhetoric and a corresponding wave of anti-Muslim hate crimes over the past year. A recent poll found that over half of Muslim students in California reported being bullied because of their faith.
"They would call me a terrorist and towel head and throw rocks at me.""
Twenty-nine percent of students in hijabs experienced "offensive touching or pulling of their hijab," according to the poll. Ten percent said they had been physically harmed or harassed for being Muslim. Nearly 20 percent said their fellow students made offensive comments to them online or on social media. And nearly 20 percent of students also said they experienced discrimination from a school staff member.
"They would call me a terrorist and towel head and throw rocks at me," one student told CAIR.
"When I wear my hijab in schools sometimes people ask me if I'm related to Osama bin Laden," said a different student.
"I heard another student call a Muslim student a terrorist and felt scared to portray my faith," said another.
And another student said: "Your existence is always interrogated, investigated and questioned."
Zehlif said Monday that the harassment she's faced since going public about the yearbook photo has been worse than the yearbook photo itself.
"Seeing the yearbook hurt," she said. "Seeing the classmates go against me like that hurt even more. The hate is more clear. It hurts me more."
After graduation, Zehlif is set to attend Chaffey College -- also in Rancho Cucamonga -- where she wants to study speech pathology. Her decision on whether to take legal action against her high school "depends on what happens after the investigation," she said.
Asked by The New York Daily News what she would say to the student or students responsible for the yearbook photo, Zehlif said she'd ask them to consider her feelings.
"Why me?" she said. "And what led them to do that and how they feel about it hurting me, personally. I would like closure for what happened. … Apologies would be nice from anybody at this moment."
Before You Go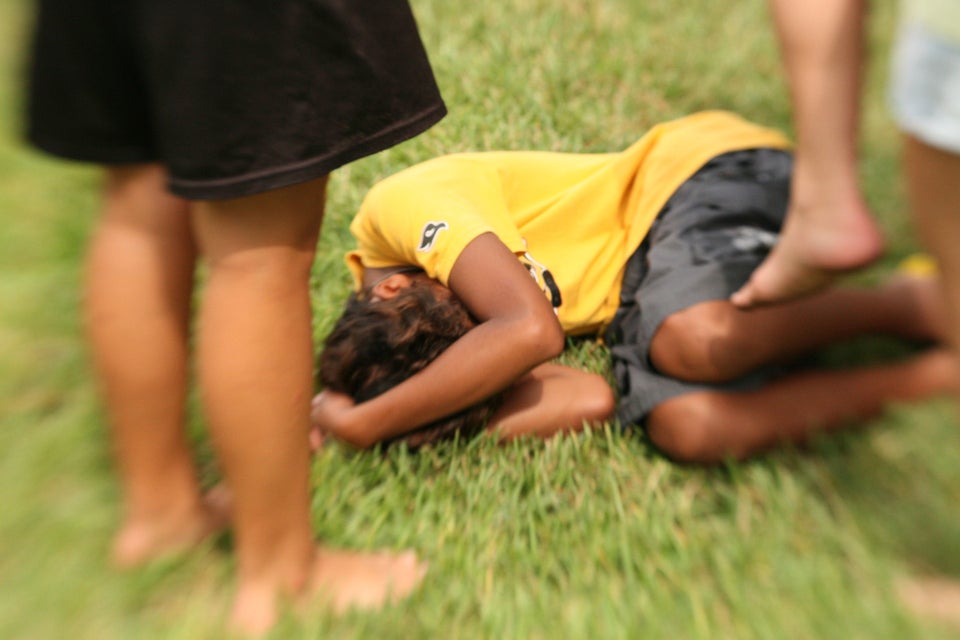 Fighting Racism And Discrimination Everyday
Popular in the Community