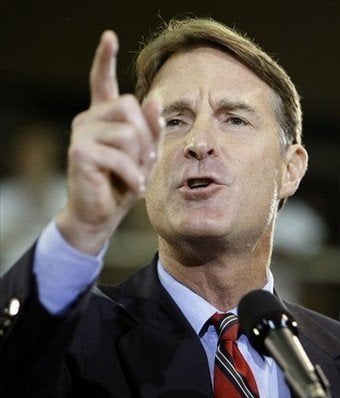 Appearing on "The Rachel Maddow Show" earlier this week, Indiana Sen. Evan Bayh argued that Connecticut Sen. Joe Lieberman should keep his committee chairmanships, suggesting that the posts could be taken away at a later date if he misbehaves. But a Senate rules expert who spoke to the Huffington Post said this could prove more difficult than is presently assumed.
Attempting to put Democrats' fears to rest, Bayh told Maddow:
And the final thing I'd say is, if he does retain his chairmanship, we still exert oversight over him and control over him. He doesn't have the ability to just do whatever he wants. The caucus still has the right to remove him from that position at any time if he starts going off on some kind of tangent.
Bayh's rationale appeared persuasive to some Democrats, including former Clinton campaign operative Phil Singer, who wrote on his blog that the Indiana Senator's take was "not unreasonable."
But former Democratic Senate staffer Martin Paone suggested Bayh is under-educated on this matter. Paone, who became as the "secretary to the majority" in the Senate starting in 2001, notes that Republicans harbored similar desires in the past, but never executed them due to the threat of a filibuster.
"It takes a Senate resolution to change a chairmanship, and that resolution could be subject to a filibuster," Paone told the Huffington Post. Put simply, under Bayh's proposed scenario, Republicans would have every reason to filibuster a new Senate resolution taking Lieberman's chairmanship away if he was proving an effective antagonist of President Obama.
Paone noted that a similar game of political chess played out in the Senate's recent history. "We had a similar situation in the past with a Republican moderate senator, Mark Hatfield from Oregon, who voted the wrong way in the eyes of [former Sen. Rick] Santorum and others on the constitutional amendment on a balanced budget," Paone said. "There were rumblings they wanted to take his chairmanship away. But the ranking member on the committee was [Democratic] Sen. Robert Byrd, who wrote Hatfield a nice note saying, 'if they ever try to take your chairmanship away, I'll make sure we [Democrats] will filibuster such a resolution."
According to Paone, "the time to take a chairmanship away is when everybody is being appointed [at the beginning of the new Congress]. Everybody has an investment in that resolution. In order for everybody to benefit, that resolution has to pass. It's much more difficult to cherry pick in this fashion, to take one Senator's chairmanship, at a later date."
Asked if Bayh understands this complexity, Paone said "I'm sure he probably doesn't. There aren't that many people up there who do. It's not every day you want to change a chairmanship. And since the Hatfield matter never materialized, I think that shows why it's not as easy as some might think."
Popular in the Community