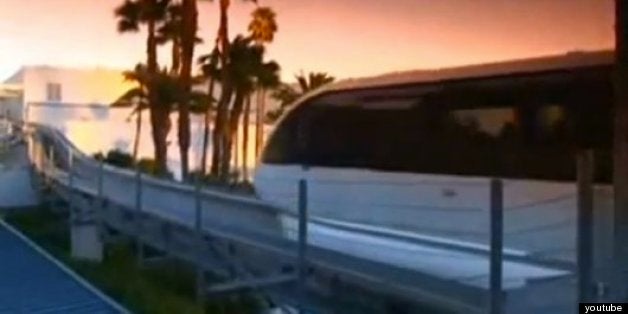 For decades, Miamians have been crying out for a light rail system that stretched to Miami Beach -- and it looks like the proposed "Bay Link" system is heading back to the light.
But keep your pants on, bedraggled Miami drivers: so far, it's just the approval of a "Beach Corridor Transit Connection Study." El Nuevo Herald reports that on Thursday, the Miami-Dade Metropolitan Planning Organization approved $325,000 to take a fresh look at Bay Link, which was originally proposed to ferry passengers from Downtown to South Beach over the McArthur Causeway.
"What the light rail will do is minimize the quantity of cars and maximize the quantity of people," wrote an advocate on Curbed Miami. "In time, the infrastructure would start to change to accommodate more people (public spaces). Think about it, less giant parking garages, more mixed-use buildings or parks. Narrower streets or less lanes, wider sidewalks for people.. If Miami wants to compete with the big cities of the 21st century, we have to change our ways and move toward more green, sustainable, and efficient forms of transportation."
"If we don't do something about traffic in Miami Beach, it's going to kill the tourism industry," Miami-Dade Mayor Carlos Gimenez told MPO members, El Nuevo Herald reports.
Bay Link was last shot down by officials in 2004, but lived on for transit advocates and everyone who's had trouble getting in and out of Miami Beach. According to scope of service documents obtained by ExMiami, the current directive is to "update and refine" past studies centered on a "premium transit connection... given current and future conditions."
The scope of service also requires examination of a light rail alternative in the form of cable-less electric streetcar service, such as found in Seville, Spain; Angers, France; and Dubai.
Here's one onlooker's take on the possibility:
Related
Popular in the Community