The Baylor football team doesn't have a long history of winning or success. Before current head coach Art Briles took over the program in 2008, it hadn't played in a bowl game since 1994. But in six short years, Briles, the former high school football guru, has taken his innovative spread offense to the Big 12 and been unstoppable. The 2014 version of the Bears -- fresh off a Fiesta Bowl appearance one year ago -- has one of the hottest quarterbacks in the country in fifth-year senior Bryce Petty.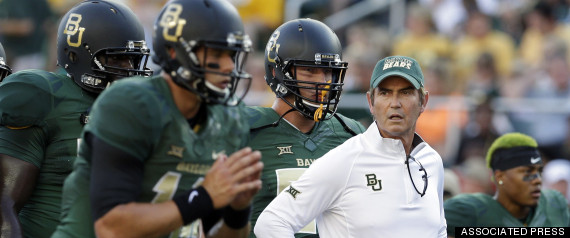 Here are three reasons why Baylor (9-1, 6-1 Big 12, No. 7 CFP, No. 6 AP) could not only qualify for college football's playoff, but also win the first national title in school history.
He's not RG3, but that's just fine. Petty, with his 23 TDs and five picks, is a possible Heisman finalist. Not bad for a kid who literally couldn't get on the field for five years. An underrated athlete who can extend a play, Petty has target-practice-like accuracy and an incredible understanding of Briles' fast-pitched offense. Petty has three go-to targets, including Corey Coleman, who recently torched Oklahoma for 224 yards and two touchdowns. Moreover, with his 54-yard touchdown catch against Oklahoma State, Coleman extended his nation-best streak of consecutive games with a receiving TD to seven. The 23-year-old Petty consistently burns zone coverage, a favorite of many teams, and you'd be hard-pressed to find a more clutch quarterback this side of Jameis Winston.
Briles has taken a moribund Baylor program and turned it into the class of the Big 12 -- and he did it in just five years against premier programs like Oklahoma, Texas and even Kansas State. Perhaps best of all, the 58-year-old did it without a slew of blue-chip recruits. In fact, during his tenure in Waco, Briles has yet to sign a single five-star recruit. Baylor's biggest question mark is its defense, but with Briles' top-ranked offense, that may just be OK. He is 27-7 at Baylor as a ranked team, and his unbridled confidence in his offense is a thing of beauty: the Bears are an almost inconceivable 23-30 on fourth down this season. "Being on offense, that's what you want is a coach that has confidence in you," receiver Levi Norwood said. "If we've gone for it 30 times, he has all the confidence in the world."
Neither we nor the playoff committee should forget that Baylor's only loss this season came at the hands of West Virginia in Morgantown. That may be an indictment of the Bears' lackluster defense, but even so, "quality losses" matter. And when you combine that result with wins in Norman over OU, along with a marquee win over fifth-ranked TCU, Baylor -- should it run the table and beat K-State on Dec. 6 -- belongs in the playoff. Briles is a mastermind who has the perfect guy to orchestrate his offense in Petty, and the Bears are one of the few teams in the country that can beat anyone.
Email me at jordan.schultz@huffingtonpost.com or ask me questions about anything sports-related at @Schultz_Report, and follow me on Instagram @Schultz_Report. Also, be sure to catch my NBC Sports Radio show "Kup and Schultz," which airs Sunday mornings from 9 to 12 EST and 12-1 for fantasy football, right here.