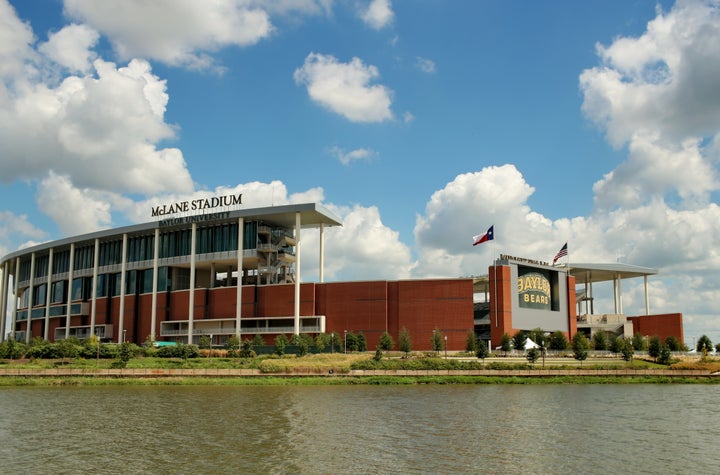 Baylor University is investigating at least two football players after members of the school's equestrian team reported a sexual assault, local Texas station KWTX-TV reported Thursday.
Title IX investigators at the university have obtained video of the alleged assault in an apartment building near the Waco campus of the Texas university, which may have been posted on social media, sources told the television station.
No arrests have been made and no charges have been filed, but the investigation is ongoing, KWTX reported.
The sexual assault reportedly occurred the night of Nov. 11, but was listed as being reported on a university online crime log on Nov. 14. A heavily redacted city police report obtained by the station also described the incident. The victim was identified as Jane Doe, while the complainant was identified as Jane Doe 2 in the police report, according to KWTX.
The station reported that investigators interviewed four students — at least two of them redshirt football players. Four staff or faculty witnesses have also been interviewed, according to the police report.
Baylor's football team has a history of mishandling sex assault complaints against its players.
A law firm's 2016 report on the school found that the football staff actively dissuaded women from filing accusations and refused to report complaints to the proper authorities.
The university's board of regents noted that the athletic department failed to "identify and respond to a pattern of sexual violence ... to take action in response to reports of a sexual assault by multiple football players, and to take action in response to a report of dating violence."
Following the investigation football coach Art Briles was fired, athletic director Ian McCaw resigned and former university president Kenneth Starr stepped down after he was demoted.
The university declined to confirm KWTX's report, saying that the issue touched on "federal guidelines related to student privacy and confidentiality; thus, we are unable to address them at this time."
"Baylor University takes any allegation of sexual assault seriously," university spokeswoman Lori Fogelman told HuffPost in a statement.
"The University is unwavering in our commitment to follow our well-documented Title IX policy and procedures in regards to reporting and responding to incidents of sexual assault," she said. "Additionally, the University is required to protect the confidentiality of all parties involved to ensure a fair and equitable process."
Popular in the Community