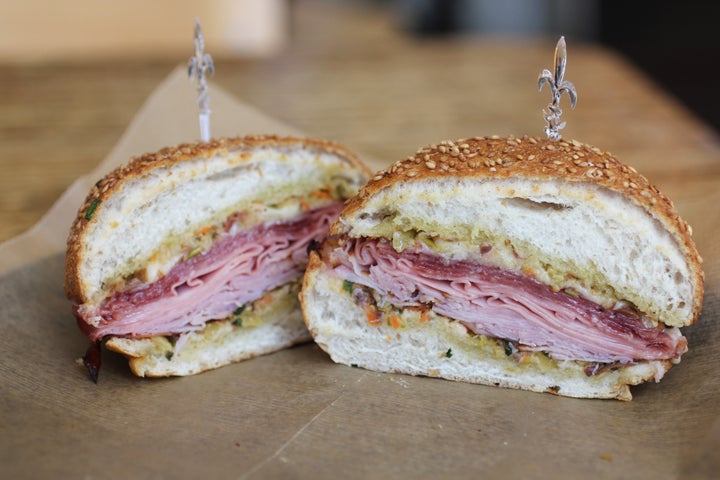 ARLINGTON, Va. -- Chef David Guas' D.C.-area restaurant, Bayou Bakery, is more than 1,000 miles away from New Orleans, but the Big Easy is inescapable here -- in the food, the music playing overhead and in the way Guas talks about his hometown.
Since then, he's gone on to open his own place, Bayou Bakery -- which also serves up savory fare -- to much acclaim. The Huffington Post recently dropped in to speak with Guas about the New Orleans dishes that most inspired him, and how they translate on his menu.
Although he has reverence for many of the foods from his childhood, that doesn't mean Guas isn't above tweaking them.
"I grew up eating the muffaletta in New Orleans, Central Grocery being the most famous place to get the muffaletta," Guas said. The store's original owner, Sicilian immigrant Salvatore Lupo, invented the now-famous sandwich in the early 1900s. "And no disrespect to what they're doing -- what they've been doing for over 120 years -- I'm not a big fan of cold muffalettas. I'm not a big fan of room temperature muffalettas."
When Guas opened Bayou Bakery, he decided to downsize the portion of his muffaletta to something more manageable than Central Grocery's behemoth version. He also chose to heat it up, a major departure from Central Grocery's and the vast majority of muffalettas in New Orleans.
The olive salad that tops Guas' is made with around 15 ingredients, including carrots, fresh parsley, dried oregano, red wine vinegar, garlic, red onions and two to three different types of olives. "I mean, you name it, it's got it in there," he chuckled. Guas admits to eating up to three of them a week. "I just crave it. It's sort of hard to describe."
Another famous New Orleanian dish is the rice and beans, which at Bayou Bakery is creamy, simply seasoned with diced onion, bay leaf and fresh parsley, and cooked for at least 10 to 12 hours. It was a dish Guas mainly ate at home, but he admits that one restaurant does them exceedingly well.
"The funny thing is that I grew up three blocks from one of the original franchises of Popeyes," he explained. "Even today, the beans are good. There's not too many other things that I'd get there, but the red beans and rice is pretty tasty. Real smokey!"
Of course, Bayou Bakery wouldn't be a New Orleans restaurant without beignets. Guas models his after the ones made at Cafe Du Monde, arguably the place most famous for them. The original shop was opened in 1862, and is open 24 hours a day, seven days a week.
Guas says he's a fan, but "they're done a little differently there, in the sense of texture-wise. They're a bit cake-ier. Ours tend to bit a bit bread-ier." But, they're served just like at Cafe Du Monde -- three big ones on a small plate sprinkled with a generous cover of powdered sugar.
Rounding out the sweet end of things, pralines are another Bayou Bakery favorite. But they weren't always a favorite of Guas'. "I grew up eating them as a kid, but not remembering that I loved them," he said, adding, "I grew out of that pretty quickly." When Guas visits New Orleans these days, he'll sample candies from Pralines by Jean and Aunt Sally's Pralines.
Compare Guas' creations with their New Orleans inspirations for yourself in the slideshow below.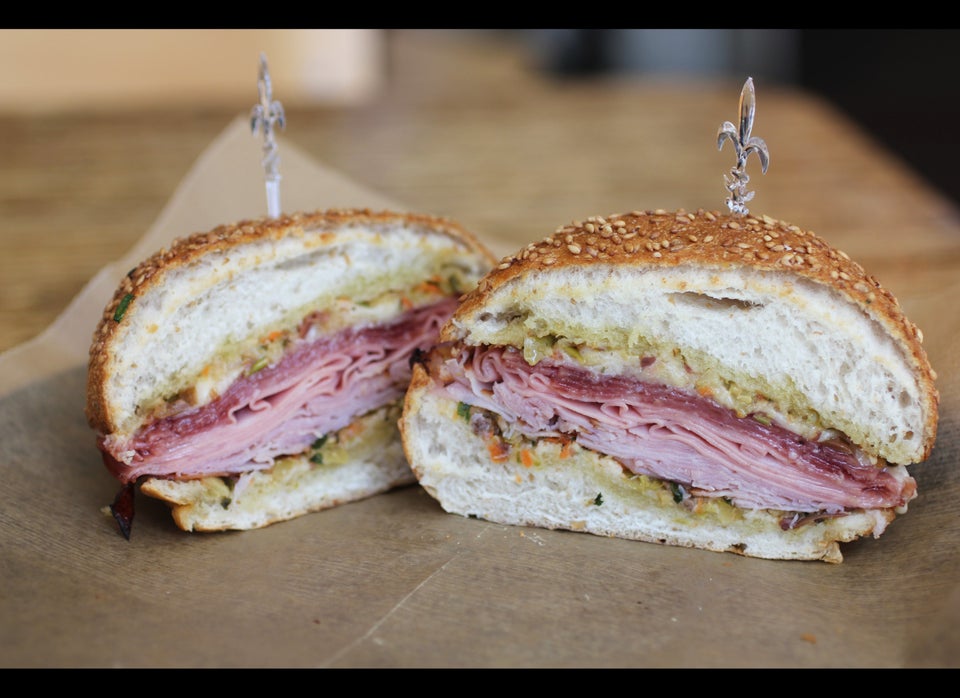 Related
Popular in the Community