NEW YORK ― Rusti Miller-Hill, 55, stood outside her old prison cell and exhaled. A quarter century had passed since she was incarcerated at Bayview Correctional Facility, a women's prison across from Chelsea Piers in Manhattan, but her memories are still vivid.
"This became my house," she said, scanning the room slowly. "It was what it was."
In 1992, Miller-Hill served a year at Bayview for possessing crack cocaine with intent to sell. Earlier this week, she returned to the now-closed facility to take a reporter on a tour.
Most of her recollections of the prison are grim, like the time she witnessed a correctional officer rape a woman in the cell across from hers. She was surrounded by women with histories of domestic violence, sexual abuse and substance addictions, she said, and many fell victim to the guards. One survey found Bayview had the highest rate of staff sexual abuse in the country.
"It was known, a routine occurrence," Miller-Hill said. "Who were you going to tell? And who would listen?"
The prison, shuttered in 2013 after damage from Hurricane Sandy, is now on the precipice of a major transformation. No women will ever be punished inside its walls again. Instead, the building will reopen as a home for the women's and girls' rights movement.
In 2015, the NoVo Foundation, a not-for-profit group run by Warren Buffett's son and daughter-in-law, announced it had won the rights to restore and redevelop the former prison. The project, called "The Women's Building," will offer office space for organizations advocating for women and children, and will serve as a global hub for people working on those issues.
As part of the planning, NoVo has recruited former inmates, like Miller-Hill. She has returned to the prison on a half-dozen occasions for meetings, she said. The first time, she was overcome with feelings of frustration, anger and relief.
"Prison is an environment built to degrade and dehumanize you," she said. "A lot of women never came back, mentally I mean. We're survivors, we beat the odds."
Pamela Shifman, executive director of NoVo, said it was important to include formerly incarcerated women as leaders in the process of transforming the prison into a space to support women.
"The Women's Building is dedicated to liberation, equality, and justice for all girls and all women, so formerly incarcerated women would have a central role to play, no matter where it was built," Shifman said. "But the fact that The Women's Building will rise from the walls of the former Bayview prison means that their perspectives and voices are even more fundamental to ensuring that the mission and potential of this building is fully realized."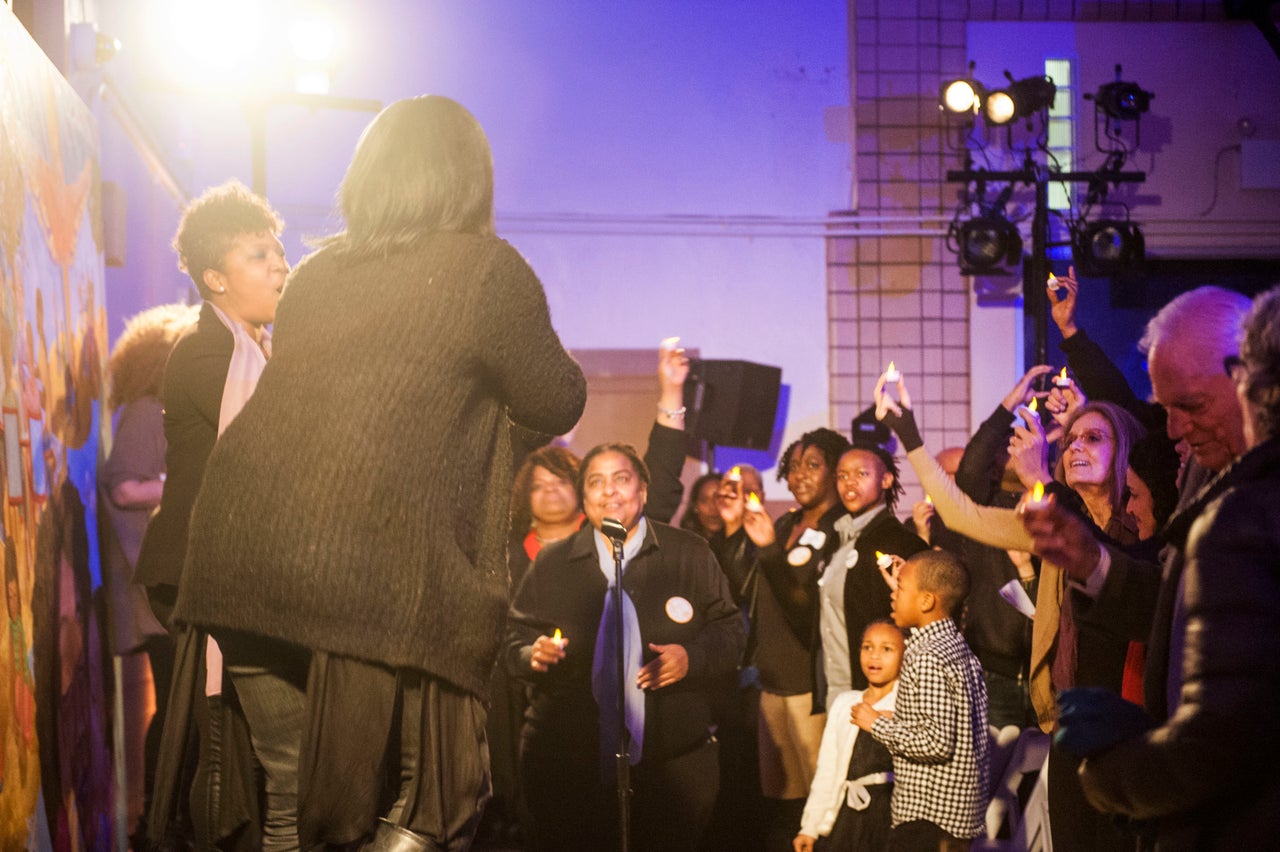 On Saturday, hundreds of formerly incarcerated women and their families crowded into the old prison gym for an event organized by Women & Justice Project, one of NoVo's partners.
For some women, it was their first time back at Bayview since they were imprisoned there. Some cried. Others were giddy, exploring the building, emboldened to walk wherever they liked without being reprimanded.
The event, called "Transformation from the Inside Out," was an opportunity for former inmates to "reclaim the space," explained Miyhosi Benton, an associate at Women & Justice Project.
"We wanted to acknowledge the brutality that these women suffered every day, and to honor their resilience and strength," Benton said.
A mural of incarcerated women, depicting the transition between prison life and freedom, was displayed in the front of the gym. On one wall, a poster listed the names of women who died while incarcerated. A group of women performed monologues about their prison experiences. At the end of the day, everyone broke out in song, while holding up flameless candles.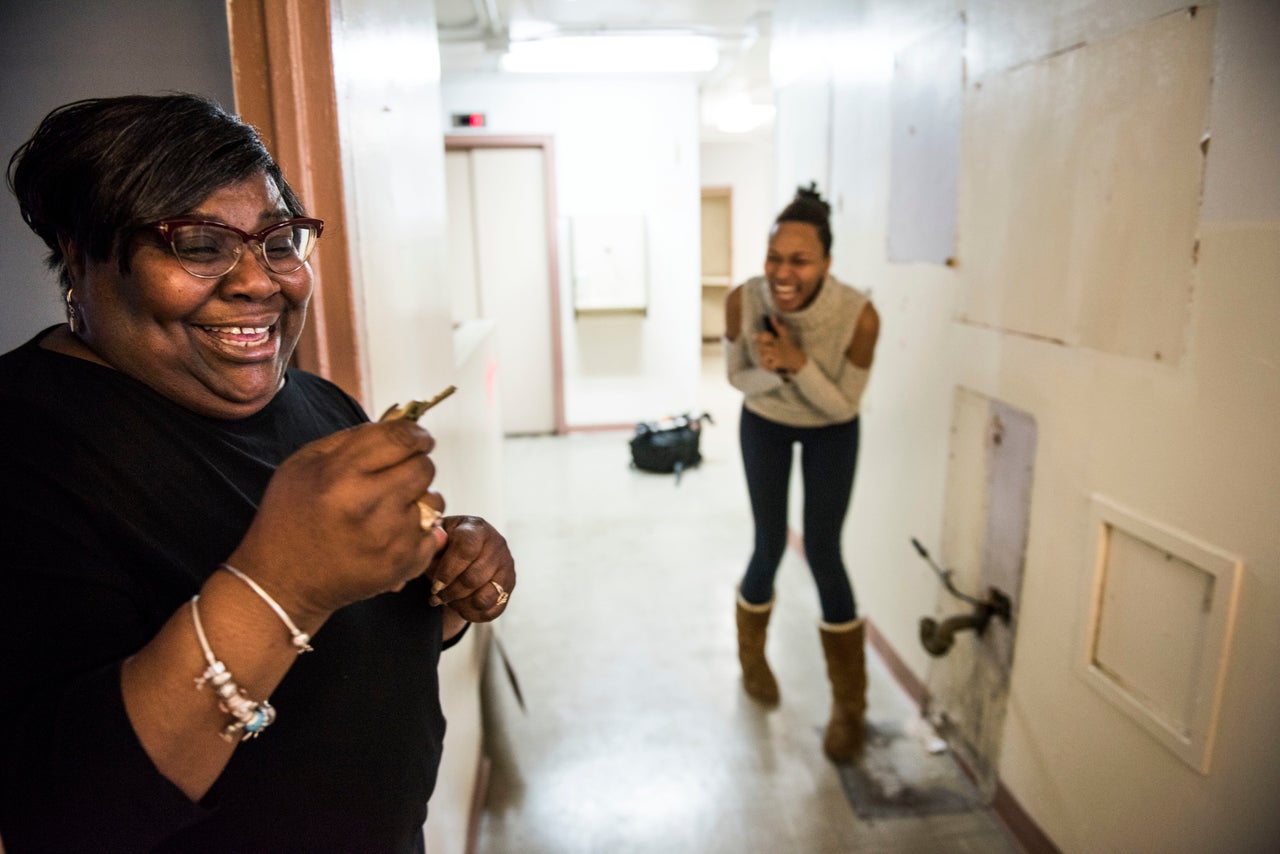 "It's surreal," said Donna Hylton, who spent 27 years at Bedford Hills Correctional Facility, a maximum-security prison in upstate New York. "Our total vision is to dismantle the prison system, and here we are, literally tearing one down."
For Drea Lewis, who said she spent four years at Bayview on drug charges, returning to the prison made her feel anxious and a little angry.
"People have empathy, but if you weren't there, you don't know," she said. "Look at the windows, with the mesh. You couldn't even see outside. It was very closed in. We were confined to this one building."
Gloria Steinem, a supporter of the project who attended Saturday's event, said women's rights advocates had been searching for a location for The Women's Building since the 1970s.
"This building is the culmination of more than 30 years of work," Steinem said. "It was worth every year to have the symbolism of liberating a prison."
Formerly incarcerated women are going to be on the demolition crew, she added.
For Miller-Hill, visiting her old cell provided symbolic and literal closure. On her recent visit, she was given the chance to hold the key to her old cell, No. 820.
"Wow," she said, holding the key in her hands. "Now I'm really free."

______
Melissa Jeltsen covers domestic violence and other issues related to women's health, safety and security. Tips? Feedback? Send an email or follow her on Twitter.
______
Popular in the Community