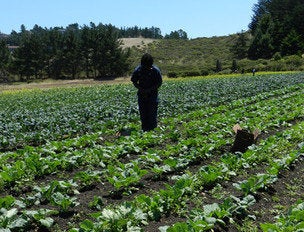 "You don't want to run into the stinging nettle," said Chloe Wilkerson, a 17-year-old high school senior from the Bayview neighborhood of San Francisco, offering a friendly piece of hard-won ecological advice. "That hurts."
Learning to recognize stinging nettles, purple star thistle and other troublesome denizens of the 23,000-acre San Francisco Peninsula Watershed is not a typical experience for young adults from Bayview-Hunters Point - a gritty urban habitat with historically high rates of homicide, gun violence and gun seizures by law enforcement. Neither is a potentially intimate encounter with ticks, rattlesnakes or the occasional mountain lion.
But every morning at 7 this summer, Wilkerson and about 110 other young adults donned boots and overalls for paid jobs as Earth Stewards protecting the watershed. They learned how to stabilize reservoir banks, ridding the fields of scotch broom and other invasive species; how to clear brush beneath power lines to prevent fire; and how to identify and protect beneficial insects like the hairy weevil.
"I tell you, if it's a weed deep down there, sometimes even a wrench can't get it out," Wilkerson observed. "And those bugs know how to play dead ... really."
Wilkerson's tenure as an Earth Steward is the result of a novel partnership among the San Francisco Sheriff's Department, the San Francisco Public Utilities Commission, the San Francisco Police Department and The Garden Project, a horticultural program geared originally to ex-offenders that now focuses on at-risk young adults. Cathrine Sneed, the 57-year-old co-founder of the project, defines "at risk" as "kids who weren't really out there in trouble but kind of were."
Started four years ago, the Earth Stewards program combines life skills, counseling and environmental education with a paid job protecting natural resources, including the Hetch Hetchy Reservoir in Yosemite National Park, which supplies drinking water for 2½ million people in the Bay Area, and the Crystal Springs Reservoir in San Mateo County. The reservoir is not far from the truck farm now flourishing with kale, Swiss chard, potatoes and bok choy destined for public housing projects and senior centers that Sneed started adjacent to the San Francisco County jail.
Funded with $1.1 million from the utilities commission and sheriff's department, participants like Wilkerson are paid $11 an hour for the eight-week summer program and $13 an hour for yearlong apprenticeships. The program is aimed at teens and young adults ages 13 to 25. In addition to remaining alcohol- and drug-free, the entrance requirements include a written application and setting up a bank account.
"Most of these young adults don't know anyone with a bank account," Sneed said. "I say. 'Guys, people get checks.' "
Sneed's belief in the stabilizing and healing force of nature is the program's philosophical taproot, but there is nothing New Age-y about it.
"It is a way to attack intergenerational violence," said Greg Suhr, chief of the San Francisco Police Department, who was formerly the captain of the Bayview station. "Lots of programs are great as far as they go, but they lack opportunities for jobs. This program offers a payoff for good choices. You need to show, not just say, that young people are valuable."
The participants, selected from a pool of applicants with help from the local precinct, Boys & Girls Clubs and other neighborhood organizations, are young adults who either have juvenile criminal histories or come from families with a history of incarceration - "people who are living life on the installment plan, in and out and in and out," Sneed said. All come from households with limited resources, often headed by one single-paycheck parent. A number of the young people are the sole wage earners for their siblings.
"It's clear that people without high school diplomas who are into hanging around at night go to jail," Sneed said. "We give them structure. That includes being on time, looking people in the eye and shaking their hand."
San Francisco County Sheriff Michael Hennessey said 75 percent of participants in the program for ex-offenders, which was discontinued in 2000 due to staff shortages, stayed out of jail.
"Cathrine teaches skills a lot of Americans get naturally from their two-parent families, one or both of whom is employed," he said.
He calls Sneed "a cross between Mother Teresa and a drill sergeant."
Sneed believes weeds can be teachers, representing whatever is out of control or getting in the way of future growth in her young stewards' lives. Her early adulthood was not dissimilar to theirs: Pregnant at age 17, Sneed left a troubled family of 14 children in Newark, N.J., and hitchhiked to San Francisco, where her sister lived.
"It was 1972," she said. "I wanted to see the world like everyone else."
She eventually found her way to college and law school, working as a legal counselor at the San Francisco County jail until she was diagnosed with acute nephritic syndrome, a kidney disease.
She spent a year in and out of the hospital; at age 27, newly married, she was told she was dying. After reading John Steinbeck's "The Grapes of Wrath," she had "a flashbulb moment" about the importance of the natural world. She asked her boss if she might bring prisoners outdoors to work the soil and plant a garden.
"He figured I'd be dead in a few months, so he said yes," she said.
"I had a life-threatening issue," she now observes. "So did they."
Two years ago, the Earth Stewards group went through a wrenching experience when an avid participant, who would often volunteer to go up trees to fell branches perilously close to transmission poles, was shot by a stray bullet and paralyzed from the waist down. Although Sneed and her crew built a ramp so the young man could harvest green beans in his wheelchair, "after six months, he got sad," Sneed said.
"He said, 'I really want to be here, but it hurts to see everybody working,' " Sneed said. "He said, 'I know you say the plants will heal my heart. But they won't heal my legs.' "
At Yosemite and elsewhere in the wild, the young environmental brigade is accompanied by Sneed, as well as field supervisors, pest control managers and foresters from the public utilities commission. The use of pesticides is not permitted in sensitive watershed habitats, so invasive species like scotch broom must be pulled by hand. It can be exhausting, mind-numbing work that requires tree cutting, bushwhacking and hauling branches.
"I went from a size 16 to a size 8," Sneed said.
Joseph Naras, watershed resources manager for the utilities commission, said the learning curve is sometimes steep. He recalled one tough-looking young man wearing a leather jacket "literally jumping on the car" when told to watch out for snakes.
"They can be all over the board," Naras said. "Some have never been out in the wild lands. That's an opportunity as well as a challenge."
Ed Harrington, general manager of the utilities commission, said Sneed's charges "are the hardest-working young people we have."
"We're all young," said Lawrynce Wallace, a college freshman. "We don't want to just sit around. Here, every day is different."
Protecting the watershed preserves delicate creatures like the endangered Mission blue butterfly, which depends on undisturbed grasslands and lupine, a native plant, to survive.
The lives of the young stewards, too, are fragile. Sneed believes the patterns and rhythms of nature can be profound and inspiring teachers, if one learns how to be attuned to them.
Life is like climbing in Yosemite, she tells them.
"You've got to look up and see the sun," she says. "If you look down, you'll fall."
California Lost is an occasional series examining challenges facing neglected communities around the state. Patricia Leigh Brown is an investigative reporter for California Watch, a project of the non-profit Center for Investigative Reporting. Find more California Watch stories here.
Related
Popular in the Community