There was a time when many young, upwardly-mobile, African-Americans would deny their blues heritage. However, even when we weren't there for them, and their audiences consisted mostly of young white kids, blues legends like B.B. King and Bobby "Blue" Bland, kept it real.... giving their hearts and souls at performances across the country for many decades. I remember one such concert.
The year was 1976. I was a student at UCLA and heard on campus that blues singers B.B. King and Bobby Bland would be performing at the nearby Cocoanut Grove -- a night club at the since-demolished Ambassador Hotel on Wilshire. (This was the hotel where Robert Kennedy was assassinated in 1968.) The Grove (as it was called then) was a renowned club which had hosted many big-name acts in its heyday. But by 1976 it had seen better days.
Still, the two blues legends - and yes, even 40 years ago they were considered legends in the blues world - were appearing together at the club. Not only that, they would be recording an album during the show. (Bobby Bland and B.B. King Together Again Live)
I wanted to go. I had grown up listening to these two - B.B. and Bobby "Blue" Bland. They were royalty (along with Ray Charles, Dinah Washington, and Aretha) among my Texas-bred family members. Not only did I listen, I enjoyed their music! I liked the blues.
This was not something I could readily admit to my friends at the time; I knew there was no way they would join me at this concert. To most of them, the blues represented a throwback to a black cultural experience they were trying to deny - poverty and the juke joints of the deeply segregated South.
By the mid-seventies, as a result of the civil rights movement and affirmative action - educated African-Americans were starting to get jobs in corporate America and were vigorously pursuing the American mainstream which had alluded prior generations. Young adults still listened to and supported black artists, just not those who played the blues. And, even though many had grown up listening to the music, no one wanted to admit it.
Still... I really wanted to see these guys -- whom I only knew from 45s and LPs -- perform in person. Although my friends would not go, there was one person I knew who would salivate at the thought of seeing these two in concert. My mother. So I asked her to go, of course she said yes, and I purchased the tickets.
The crowd that night consisted of a few older African-Americans (who were probably much younger than I am now), and young white kids who were there in big numbers! They had discovered the blues and would keep B.B. and Bobby going for many, many, years thereafter.
We knew we were going to be in for a long night because they were recording and some songs had to be repeated. But that was okay with this crowd, because the liquor was flowing, the music was good, and folks were getting more and more jovial as the night wore on.
B.B. came out first and played and sang a few songs, he was the headliner. And then Bobby came out and there they were - B.B. in his bright pink suit and Bobby in a burgundy-colored suit. (Yes...this was the 70's. I can't remember what I had on but probably just as outlandish.) The two friends bantered, reminisced, and joked a lot and most of the songs became long medleys of various blues standards.
I knew the music and lyrics because the songs were the soundtrack of my childhood. The familiar phrases:
"The eagle flies on Friday, Saturday I go out to play" (From the song Stormy Monday. I think I knew this lyric before I knew my address.)
"When I first met you baby..... you were just sweet 16" (Sweet Sixteen)
"Chains of love tied my heart to you" (Chains of Love)
"I've got 50 cents more than I'm gonna keep" (Let the Good Times Roll)
I still enjoy these songs. But back to the 1976 concert:
At first, it seemed like my mom and I were just two friends out for a night on the town. My mom was in her early 40's and I was around 21. I thought it was one of the few times we could abandon the mother-daughter drama and just be two women at a club. I wanted to call my mother by her first name but thought better of it.
I ordered a margarita (my drink of choice in those days) and she ordered some kind of Scotch concoction - probably Scotch and milk (yuck!!). At that time, it seemed to me that most black people from Texas, like my mom, drank Scotch. Once, my mother and her friends fixed me a "cocktail" that contained Scotch and I took one sip and didn't drink again for a long time. (My mother was much smarter than I ever gave her credit for.) From then on, I never developed an affinity for Scotch or any of what they call the hard liquors.
My friends and I usually sipped margaritas at Happy Hour. You see, our going out at the time included Friday nights at the Red Onion (also on Wilshire) or a club called The Speakeasy. These 'Happy Hours' were attended by young, upwardly mobile, African-Americans, and those who wanted to be - including broke students like me, and guys who wore a uniform to work but changed into business suits on Friday nights.
Because we were 'financially challenged,' we sipped our drinks slowly. And that's what I was doing at the concert. Enjoying my drink, enjoying the concert, and surprisingly to me -- enjoying my mom! I was especially happy when a few more drinks, sent over by others, magically appeared. I wasn't used to this at Happy Hours. Younger men would not send over drinks to strangers. (Probably couldn't afford it.)
All was well, but then my mom had to be my mom again.
"You're not drinking that," she said as I reached for my second drink. "You're driving...you don't need another drink," she told me as she downed her second free drink. Now mind you...this was before the movements against drinking and driving, but she was absolutely right! Nevertheless, I tried explaining to her that I was eating, and it would be a long night, and I could "handle" another drink! Didn't work. Unfortunately, my embarrassment didn't end there.
"Who's sending us these drinks?" she asked the waitress. She looked in the direction of a group of smiling older men and said, "Thanks and this is my DAUGHTER!" She also gave them a look that said, "Don't you dare mosey your ass over here!"
I knew my mom was protective, especially when it came to me...but by then I knew how to handle geezers (what I called men over 40 in those days). If she had not interceded, I would have gotten us free drinks all night, and dinner too, without giving them much more than a smile. (Actually, she probably could have done the same if she had wanted to.)
So there was my mom giving them the back-off look. And I knew they didn't want to mess with her, because being a Texas woman, who knows what she was carrying in her purse. (Again folks, it was a different time and I knew not to ever go searching in my mother's purse, or bag as she called it.)
So there I was, feeling a little humiliated while everyone was drinking and getting a buzz and I was sitting there with a coke. (My mother had the nerve to suggest I get a Shirley Temple, as though I was 8 years old.)
Nevertheless, the music was good and Lucille was on fire! (Lucille was B.B.'s guitar, for my children who probably aren't reading this anyway.)
I was doing okay.....and then my mom said something that totally repulsed me.
"Dance with me!" she said. I looked around because I was sure that I could get one of the geezers to dance with her, but she was determined that I dance with her. Not only that, she stood up and started dancing... by herself!
This was something I could not relate to from my Happy Hour experience. Women waited to be asked by a guy to dance. (I'm glad the kids don't do that anymore. They just get up and dance. I remember songs I wanted to dance to but had to sit out if no one asked. And sometimes at the crowded club it was hard for the guys to even get to you if you weren't near the dance floor.)
But there she was, my mom....not just dancing but doing that uninhibited "this is my show and I don't need no partner" dance that I had seen done many times by the older women in my family. I thought you had to be a woman of a certain size to dance like that - at least over 150 pounds ...because after all, you needed something to move.
"Come on, get up and dance with me," she said again. No way, I thought. It was one thing that I was there listening to the blues, but to get up and dance to the blues...in PUBLIC?

However, I looked around and most of the room was dancing and the music was good! And then I realized, "there is no one who knows me in this room!" So I stood up and tried to mimic my mom's moves. I was rail thin at the time, barely 100 pounds, so imagine a stick figure trying to shake, rattle and roll.
But...it didn't matter. It wasn't about how I looked, it was about enjoying the music, enjoying my mother (who would always be my mom and act accordingly) and enjoying myself. I was dancing the blues!
Thank you Bobby Bland and B.B. King. What a legacy you have left us.
B.B. King (1925-2015)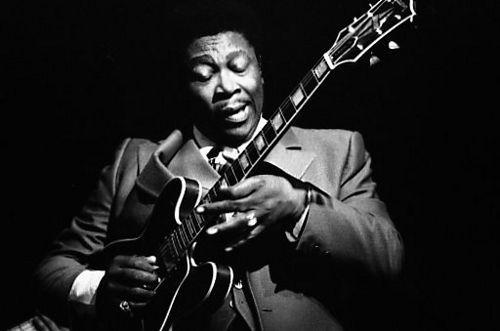 Photo by Jean-Luc Ourlin-1977
Popular in the Community