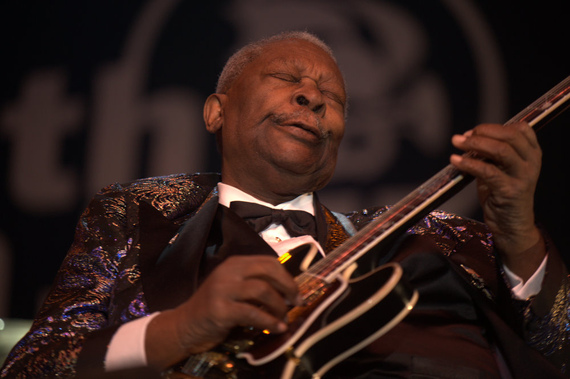 I can't say anything more than others have about B.B. King. Except perhaps that my mother loved her "Blues Boy" more than any other musician in the world. They were both from Mississippi, for one thing. But there was a whole lot more to it than that.
So, I grew up hearing his guitar, Lucille, wail. And B.B. wailing with her. And I realized even as a child that he was in a class by himself. There were dozens of celebrated blues men and women out there, and we had a stack of albums and 45s by all of them.
But B.B. was somewhere above and beyond them all. His sound was somehow purer and more powerful than any other. It came from somewhere others couldn't go. Can't even be described, B.B.'s "sound." Not accurately.
Actor/musician Hugh Laurie tweeted this today:
"Play a BB King song today & remember him! RIP Mr King & thanks for all the Great Music!!"
So I will post a song for you, from Indianola Missisippi Seeds, the album I loved most. One of the links takes you to the whole album via YouTube. If you like the one song, please go listen to--and maybe buy--the whole thing.
It was King's favorite, too. And it sold better, I'm sure, than any of his previous albums. Perhaps better than all the others.
The song I've chosen, "You're Still My Woman," is the one that stopped me in my tracks the day my mother first played that album. I was a rock and roll girl, so I knew many of my favorite British bands had been influenced by her blues. But I wasn't "into" her blues. Until that very day, when this achingly beautiful song filled me with a sweet sorrow that hinted at life experiences still 'way over the horizon for me at the time.
I just hoped I would be able to make something wonderful of them, the way B.B. had. Just...listen. And remember "B.B. the King."
Photo credit: By Tom Beetz [CC BY 2.0 (http://creativecommons.org/licenses/by/2.0)], via Wikimedia Commons
Calling all HuffPost superfans!
Sign up for membership to become a founding member and help shape HuffPost's next chapter