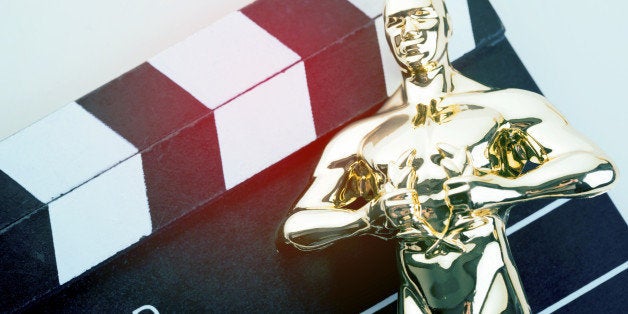 Camera/Field Producer: Sarah Halliday
In a casual conversation in BBC Worldwide offices in New York City, Christian Blauvelt, BBC.com's Deputy Culture Editor gives us an insider scoop into the 2016 Oscar nominations and predicts the top winners of this year's Academy Awards.
He also talks about the real Oscar Buzz that's dominating this year's award season--#OscarSoWhite--and shares his view on the ongoing criticism of diversity in Hollywood and what's expected of this movement and also the Academy after Sunday's Oscar ceremony.
Here's what you need to know about our #OscarSoWhite conversation:
There seemed to have been a lot of pressure on this year's host: Chris Rock. Do you think he made the right decision to move forward and host amidst all these diversity talks?
Christian Blauvelt: "You know, while the lack of diversity this year among the nominees has dominated this award season this was a big move from Chris Rock. We will most likely see this topic be a big part of his Monologue. He actually has re-written his monologue to address this controversy. But for Chris, I think he felt that this was the right choice for him to do and address this from within the Academy better than being from the outside."
What has been the Academy's response to all this controversy?
Christian Blauvelt: "The thing that is on the forefront of everyone's mind is that the Academy has responded to this in a robust way and it will be very interesting to see how overtime it will unfold and evolve. You know, when Spike Lee and Jada Pinkett Smith decided to boycott the Oscars, we saw the Academy coming out and saying they were going to make some changes to the ceremony membership moving forward. I think some people felt they were being very proactive--but of course we will only see in time on how proactive and affective they will be."
 
Should we expect these diversity talks to continue after the Oscars? Or would it quiet down?
Christian Blauvelt: "Oh yes, definitely, you know, the Academy has responded, so right now, I think people still want to know in time how this will be answered and what the impact is. It's interesting that the Academy has actually been more proactive in taking on some of this stand in comparison to some of the other parts of the industry--because this is an industry-wide issue."
Some may argue why Will Smith and his wife, Jada Pinkett Smith are now suddenly vocal on this issue? Why now? Why didn't he do more when he was at the peak of his power in Hollywood? Is all this just because his movie "Concussion" was not nominated?
Christian Blauvelt: "Well you know, diversity is a sensitive issue and is something that a lot of actors and film makers feel they have to approach in a very delicate manner. I don't think it's just an Academy thing, but rather an industry-wide issue. It's something that impacts all aspect of film and TV--and also behind the camera as well and not just in front of it. So yes, Will Smith did have a film this year: "Concussion" and admittedly, there were other great films with African American actors, like "Creed", which was excellent; "Straight Outta Compton" was really really good--but for the industry as a whole it's an ongoing concern and the Academy is a reflection of that to an extent.
Last Sunday, during the American Black Film Festival, Jamie Foxx joked about: "All these Oscar talks, I don't even trip about that," and another joke saying, "Me and Denzel were like, 'Hashtag what's the big deal? Hashtag act better.'" Do you think this was appropriate on behalf of Foxx while so many people are frustrated and taking action on the diversity issue in Hollywood?
Christian Blauvelt: "Sometimes humor can be the best form of criticism.
While they have been few African Americans nominated in Oscars, but then again, you look at folks who are super popular now in Hollywood and you can tell that we are going toward a more diversified direction. I mean look at the "Fast and Furious" franchise, look at "Star Wars" that has an amazing British actor with African decent--John Boyega--who is incredible. So diversity, I feel is something that is headed in the right direction, but so much more work needs to be done."
Calling all HuffPost superfans!
Sign up for membership to become a founding member and help shape HuffPost's next chapter