Sean Spicer's tenure as President Donald Trump's press secretary may have been short, but one BBC reporter won't let him forget the chaos he caused.
In an interview with BBC Newsnight's Emily Maitlis on Tuesday, Spicer explained some of his most infamous moments in office, including the time he lied to the press that Trump's 2017 inauguration had the largest crowd in history, despite pictures proving otherwise.
Maitlis pushed back hard on Spicer, blaming both him and White House counselor Kellyanne Conway for creating a "corrosive culture" in the U.S. with their "alternative facts" rhetoric.
While Spicer owned up to his part in the inauguration crowd-size controversy, saying he "screwed up" and wished he could have a "do-over," he also accused the media of "constantly undermining" the Trump campaign before the election.
But Maitlis replied by pointing out Trump's own history.
"It's just not good enough," Maitlis said. "Donald Trump, as you well know, made stuff up long before he was a candidate."
She noted Trump's previous claims that President Barack Obama's birth certificate was fake and that climate change was a "Chinese invention."
Maitlis also reminded Spicer that Conway defended his lies about the inauguration size by calling it "alternative facts," which Maitlis said shifted political discourse in a dangerous way.
"She was introducing a second version of the truth," Maitlis said. "How dangerous was that?"
Maitlis said she sympathized with Spicer, who again said that there were things "I would absolutely love to do over," but she didn't let up on his complicity.
"It became a joke," she told Spicer. "It became something that defined you. You joked about it when you presented the Emmy Awards, but it wasn't a joke.
"It was the start of the most corrosive culture. You played with the truth. You led us down a dangerous path. You have corrupted discourse for the entire world by going along with these lies."
Spicer defended his role by accusing the media of sharing its own "false narratives and false stories," but Maitlis pushed back again.
"This is the office of the president spouting lies or half-truths or knocking down real truths," she said. "And you were his agent for months."
Spicer is on a press tour to promote his book, The Briefing, which discusses his time in the Trump administration and its relationship with the media.
Watch his full interview with Maitlis in the video above.
Support HuffPost
The Stakes Have Never Been Higher
Before You Go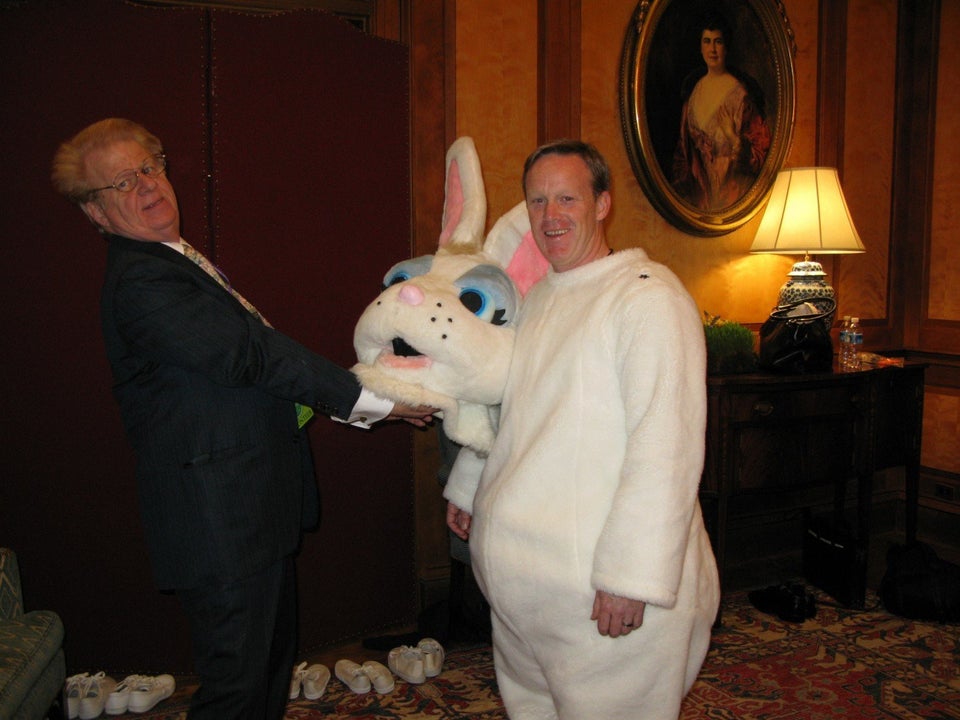 Sean Spicer Was The White House Easter Bunny
Popular in the Community