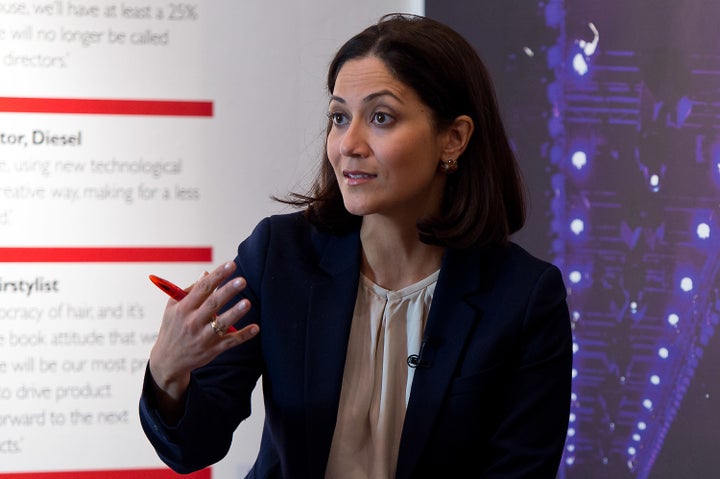 BBC Radio 4 host Mishal Husain pulled zero punches during an interview with BBC Director-General Lord Tony Hall about the network's gender pay gap after it was reported that men in the network are earning more than women.
A report released on Wednesday shows that two-thirds of the highest earners at the BBC are men. During Husain's interview with Hall, also on Wednesday, Husain asked her boss how he plans to fix the disparity.
"You've acknowledged that the figures reveal a gender pay gap and that two-thirds of the highest earning presenters are men. How are you going to address the pay gap?" Husain asked.
Hall didn't directly answer the question, rather he talked about how the BBC continues to bring on women radio hosts ― which is fine, but avoids Husain's actual question about how the pay gap itself will be addressed.
″[This] is a different point. I'm talking to you about the pay gap," she had to remind him. 
Hall said that he plans on closing the gender pay gap by 2020, but failed to offer the concrete steps the company will be taking to do so, and Husain didn't let him off the hook. She asked what exactly those steps will be, and even asked if closing the pay gap means men in the company will have to take a pay cut. 
In the interview, Hall boasted that the BBC has a smaller gender wage gap than the national rate (in the U.K., women earn 9.4 percent less than men), but also said that he'll be working on the network's issue "case-by-case" with employees. At that point, the interview came to an end.
Regardless, during a live interview, a woman asked her boss how he plans to level the playing field. That's pretty damn heroic. 
Calling all HuffPost superfans!
Sign up for membership to become a founding member and help shape HuffPost's next chapter
BEFORE YOU GO
PHOTO GALLERY
7 Trailblazing Women Who Changed the World