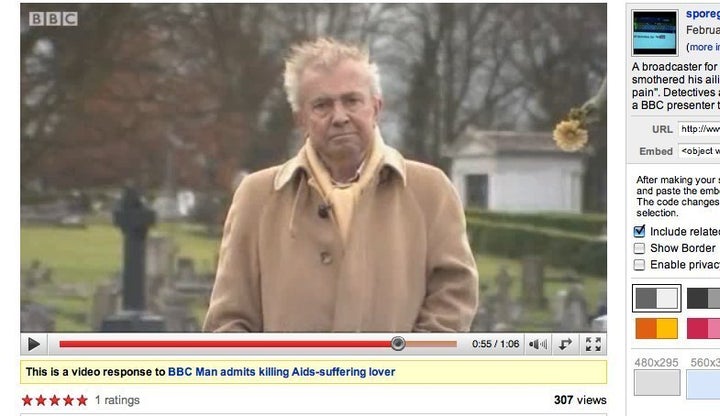 BBC TV presenter Ray Gosling has delivered a shocking on-air confession: he smothered his lover to death.
In a documentary on death and dying on BBC One's Inside Out East Midlands program -- filmed in December -- Gosling is seen walking through a cemetery when he says, "And maybe, this is the time to share a secret that I've kept for quite a long time.
"I killed someone, once," Gosling continues. "He was a young chap, he had been my lover, and he got AIDS."
Gosling said that one "hot afternoon" in a hospital, doctors said there was nothing further they could do and his lover was in "terrible, terrible pain" so he asked the doctors to leave them alone.
"And I picked up the pillow, and smothered him until he was dead," Gosling said. "The doctor came back, I said, 'He's gone.' Nothing more was ever said."
Gosling then put his head down and cried.
The BBC reports that police are now investigating Gosling and the network will cooperate with the investigation fully.
Gosling later claimed that the two "had a pact" and that he doesn't think what he did was a crime.
"When you love someone, it is difficult to see them suffer," he said. "It's a terrible situation. I loved him to bits. We had a pact. He said if the pain gets bad and if nothing can be done, don't let him linger on. I don't think it's a crime. If he was looking down on me now, he would be proud."
Support HuffPost
The Stakes Have Never Been Higher
Related
Popular in the Community