Adding to the growing list of missteps made by Qatari officials ahead of the 2022 FIFA World Cup, a BBC crew, invited by the Qatari prime minister's office to take a look at recently constructed housing, ended up getting arrested for nothing more than "doing [their] jobs," they say.
After hearing of the reportedly poor conditions that migrant laborers have been forced work and live in in preparation of Qatar's World Cup, the crew decided that on top of what the prime minister's office had planned, they "wanted to see [the workers' conditions] for ourselves."
FIFA says it is now investigating the incident. Lobel wrote:

Suddenly, eight white cars surrounded our vehicle and directed us on to a side road at speed.

A dozen security officers frisked us in the street, shouting at us when we tried to talk. They took away our equipment and hard drives and drove us to their headquarters.

Later, in the city's main police station, the cameraman, translator, driver and I were interrogated separately by intelligence officers. The questioning was hostile.

We were never accused of anything directly, instead they asked over and over what we had done and who we had met.
Lobel added that soon after, they were taken to a prison where they had to wait or be questioned for 13 hours.
The Qatari government said in a statement, as quoted by the BBC, that a group of journalists were indeed invited and given "free rein" to see the new housing provided for works as well as the "sub-standard" accommodations. It added, however, that the BBC "decided to do their own site visits and interviews."
"In doing so, they trespassed on private property, which is against the law in Qatar just as it is in most countries," the statement said. "Security forces were called and the BBC crew was detained."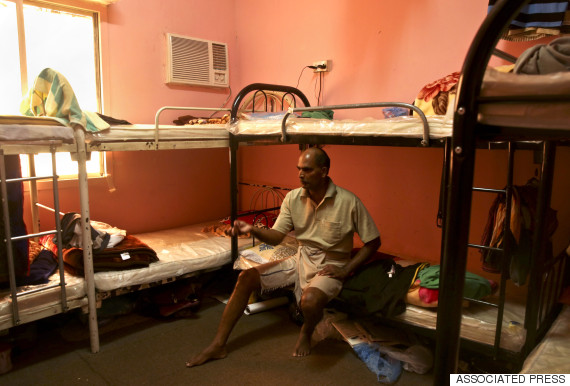 In this Sunday, May 3, 2015 photo taken during a government organized media tour, Kuttamon Chembadnan Velayi of Kerala, India, speaks to journalists while sitting on his bed in a room he shares with seven other Indian laborers in Doha, Qatar. The housing facility has been cited by Qatari labor officials for substandard conditions. (AP Photo/Maya Alleruzzo)

Their equipment was confiscated, and the BBC has asked for it to be returned as well as for an explanation for the detainment. Lobel said they were released after spending two nights in prison "on a disgusting soiled mattress." They were also allowed to join the scheduled tour of the housing villages.
But Lobel took Qatari officials to task for their actions.
"How the country handles the media, as it prepares to host one of the world's most watched sporting events, is now also becoming a concern," he wrote.
Human Rights Watch has said the migrant workers have been exposed to "exploitation and abuse" by employer for little pay, if wages are paid at all. Many are also subject to "kafala system," which means their residency in Qatar is bound to their employment. But to even leave the country is a challenge, since they need to obtain an exit visa.
Calling all HuffPost superfans!
Sign up for membership to become a founding member and help shape HuffPost's next chapter