Off-Grid applications are clean technology's next big market. Nowhere is this more true than Africa where the International Energy Agency predicts population growth will outstrip grid expansion to leave 645 million without power. It's predictably tough for companies in this potentially vast market to stick out from the pack - unless of course you're BBOXX. I caught up with Mansoor Hamayun, the CEO of BBOXX, on the eve of a Series A investment from Khosla Impact to discuss the company's evolution and Off-grid clean tech 2.0.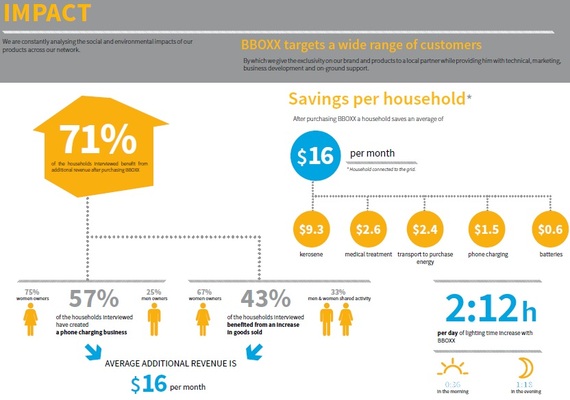 BBOXX is, as Mansoor describes it, a classic university start up that began as a charity focused on one of the great problems of this century - universal electrification. The company realized early on that the grid was an economic question - even if governments provided every household with the grid the payback period never happened because load was too low. That meant grid extension was a non starter. As Mansoor puts it 'I don't see the grid expanding, and even if it did the reliability issue is huge. Remember the first source of demand for companies like ours is on grid consumers who have terrible service.'
That meant for Mansoor the solution was a 21st century distributed 'grid.' But to his surprise he couldn't find the products required to build it out. That's because few working on the problem knew what it meant to provide an on-grid service in an off-grid environment - they were simply too focused on kWh and not service delivery. That meant the field was wide open for creating products and appliances that catered to the realities of the market.
But supplying quality products is one thing, genuine demand is another. It turns out BBOXX was fortunate to move into the African market at an ideal time - right after the Copenhagen climate change conference. That conference created a group of motivated consumers - successful African businessmen - interested in clean energy solutions. They saw off grid clean energy as a real opportunity but lacked the ability to make it happen.
That's where BBOXX stepped in with nothing more than 45,000 in British Pounds scrounged between the three cofounders. Given their cash starved state, and the demand driven by their African partners, they were forced to be sales driven - without cash flow they couldn't grow. They turned that motivation into $3 million in revenue and have been opening operations in a new country every 6 weeks. Currently they're in 14 countries and introducing their own retail network. Not bad for a few years work.
But the real innovations, those that earned them a Series A from Khosla Impact, are the evolving pay-as-you-go finance solutions backed by remote battery monitoring all delivered through their own distribution network.
Sandhya Hegde from Khosla Impact sums up their positive impression this way, "Gathering data on customers' energy usage behavior is the only way we can learn how to provide energy as a reliable service. We believe this innovation is central to unlocking the pay-as-you-go business model and making solar energy an accepted, trusted and financeable product in the eyes of the Off-grid world." This is Off-grid clean tech 2.0.
Arguably the most important piece here is consumer financing. That's because entrepreneurs face a harsh market reality: Asking their customers to buy lifetime energy needs on day 1. No one in the world is ever asked to do that but it's daily reality in off grid markets.
BBOXX is responding by moving to a payment plan model supported by an in house finance company: BBOXX Capital. The sole purpose is to finance end customers. The fund was capitalized with the help of a soft loan of 300k from the Africa Enterprise Challenge (funded by DFID) that was matched by franchise partners to reach roughly $1 million. The aim is to use this fund to support 200-300 payment plan products/month in two geographies (Kenya & Uganda).
With financing in place they have overcome the space's biggest hurdle. That means the biggest risk they face now is execution. For BBOXX that means increased service delivery in the form of Radio, TV and other products. Because once households have even watt level energy, their demand for transformative services like the internet is enormous. As Mansoor puts it "It's amazing when I see people streaming YouTube on their phones in rural areas. It blows me away."
In order to get there though they'll need to secure the Holy Grail - a long term relationship with the customer with a proprietary distribution channel. Because you see if you own the entire chain, you have the ability to overcome the last mile challenge and deliver the services of the future - from TV to Tablet.
Which in 21st Century Africa means off grid clean tech providers like BBOXX are the future. But Mansoor is not alone. While he says his main competitor is kerosene and consumer habits he knows other companies are not far behind. From M-Kopa to Azuri, the Off-grid clean tech space is quickly filling with exciting competitive companies. But it doesn't seem to bother BBOXX. They're pioneering Off-grid clean tech 2.0 and they're not looking back.
REAL LIFE. REAL NEWS. REAL VOICES.
Help us tell more of the stories that matter from voices that too often remain unheard.