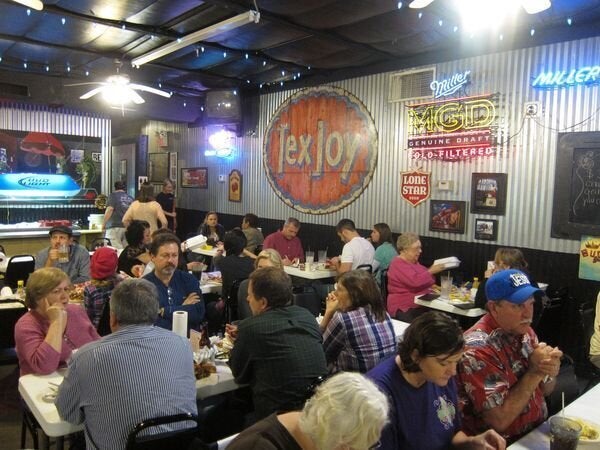 It is a rare thing today to come upon an American dish that virtually no one outside of the zone in which it is made knows about.
But such is the case with BBQ Crabs, a specialty of the coastal East Texas strip known as The Golden Triangle, about 90 miles east of Houston.
Now, if you tell foodies around the country about BBQ Crabs, they usually respond as if they DO know the dish. "Oh, sure," they say. "That's crabs on a grill." Wrong. "Oh, sure," they say. "That's like the BBQ Shrimp of New Orleans, cooked in a pan with butter." Wrong again.
BBQ Crabs are unique. To make them, live blue crabs (the kind you get from the Gulf of Mexico, around to the Carolina coast, and up to Maryland) are split and cleaned. They are dredged in a spice powder, and then...deep fried! Once out of the oil, the hot crabs are piled high on a platter and served. The real art's in the pickin', as your teeth glide through crunchy, spicy crab bodies, down to the sweet flesh within.
But, though eating them is really easy, tracing and describing the history of the dish is not.
I had my BBQ Crab epiphany at a restaurant in Nederland, Texas, near Beaumont, right in the heart of the Golden Triangle, at Sartin's Seafood. Sartin's is well-known on the Texas/Louisiana border, because a wildly popular restaurant of that name opened in the border town of Sabine Pass, Texas in 1972. Many people associate Sartin's with BBQ Crabs, and with Doug Sartin, the son of the original owner.
But there are a number of blips in this smooth narrative. Sartin's didn't invent BBQ Crabs, most folks say. According to many, they were invented at an older Sabine Pass restaurant called Granger's in the late 1940s when a cook seasoned some crabs with a powder called Sexton Alamo Zestful Seasoning, and, on a whim, dropped them in the deep fryer. Is the story true? Who knows? Another source, Millie Espree, claims that the cook who first served the dish at Granger's was her grandmother -- and, in the early 1930s, was simply making a restaurant version of an old, old family recipe.
Wait. The plot thickens. Granger's burned down in 1958, but the BBQ Crab tradition was carried on by a Port Arthur restaurant (also in the Golden Triangle) called Mama's. Then came Sartin's in Sabine Pass in 1972, grabbing the modern glory of the dish. Unfortunately, the oil crisis of the 1980s led to the closing of Sartin's in Sabine Pass in 1988, to be succeeded by Sartin's in Beaumont in 1994...which was wiped out by Hurrican Rita in 2005! And that's just the real estate side of the story! The trail of Doug Sartin, and his ex-wives, and THEIR restaurants in the Sartin's tradition, is even trickier to follow.
In my BBQ Crab adventure, I focused on Kim Lynch, an ex-wife of Doug's, who, along with other family or ex-family members, was allowed to take the Sartin's name for a restaurant (there are three Sartin's Seafoods today, two of them in Houston and Beaumont). Kim's one-and-only place, Sartin's Seafood in Nederland, oozes character, in the American southern roadhouse style.
You can get all kinds of fried Gulf seafood at the restaurant, but most regular patrons come for the crabs. "We keep a family secret at this place," Kim told me. "The oil we use for frying the crabs has first been used for frying other seafood, like shrimp. This makes the crabs browner, and much more flavorful."
The other "secret" -- in case you're itchin' to make this very simple dish at home -- concerns the spice rub that goes on the crabs; it is something like a BBQ rub, and accounts for the name of the dish, BBQ Crabs. But thereby hangs another tale (a dish doesn't get to be a legend if its history is simple!).
The original supplier of Sartin's rub, Sexton's, was going out of business in the 1970s. In 1978, the Sartin family joined forces with a San Antonio company called Bolner's Fiesta Products, and went through 28 prototypes before developing a powder that tasted like the old Sexton's stuff: think Old Bay, but with more of a Texas twang. Today, it is marketed to the public as Fiesta Bar-B-Que Crab Seasoning, and can be purchased online. But due to the popularity of BBQ Crabs, there are many others that try to fill the bill, most of them with references in the title to the product of old: Monarch Alamo Zestful Seasoning, Durkee Zestful Seasoning, McCormick Alamo Zestful Seasoning, TexJoy Seafood Seasoning, etc.
It's nice to know the history exists. But at home, or at a Sartin's, or at any of the other Golden Triangle places that now serve this dish...ain't nothing like getting your nose close to that spicy, crabby, deep-fried aroma wafting off that marvelous platter of shells.