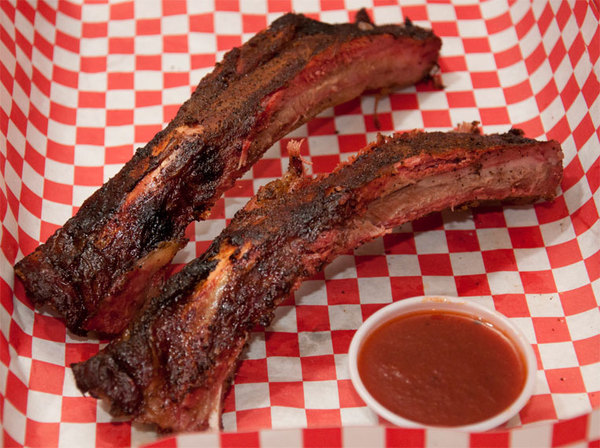 A full figured family man who scrapes together a living selling barbecue from a trailer has won the fourth of five prelim cookoffs in the Kingsford BBQ Pitmasters and will advance to the finals airing on July 8. He and four others will have a shot at the $50,000 purse, winner take all. And I find myself rooting for him. There is one more prelim on Sunday, June 24.
Airing on Sunday, June 17, this time the judges and three competitors assembled in Dothan, AL, at the site of the Tri-State BBQ Festival in mid April for the taping. The pitmasters were given fresh ham, wagyu beef back ribs, and 11 hours to cook them. Each week, as the show begins, the voice of god intones that "three of the nation's top pitmasters" will be in the showdown. Not tonight.
The teams were, in order of finish:
1) Corey Brinson, Fatback's BBQ & Rib Shack, Fayetteville, NC.
2) Lee Ann Whippen, Wood Chicks BBQ, Chesapeake, VA.
3) Shane McBride, Ribdiculous Bar-B-Krewe, NY, NY.
This is not "traditional barbecue", Myron
Tis year's show is giving us a much closer look at how these teams cook than ever before, and it is fascinating. One thing that is apparent, these folks have invented a completely new style of barbecue.
Judges say they are looking for "traditional barbecue", but what they mean is a far cry from real traditional Southern barbecue, and judge Myron Mixon of Georgia, a teacher of both traditional Southern barbecue and modern competition barbecue, should know better. Judge Aaron Franklin of Austin cooks real traditional barbecue every day and people line up around the block to eat it. He certainly knows better. Judge Tuffy Stone who is both a pitmaster and a real chef should also know better.
Real traditional Southern barbecue is seasoned with salt and pepper, cooked in a pit with wood embers. A real traditional Southern barbecue pitmaster will baste the meat with a vinegary mop while it cooks, and dress it at the end with the sauce typically favored in his region. (Click here to read a description of America's regional barbecue sauces and recipes.)
It totally blows my mind when competition cooks say they are doing traditional cooking and upholding the banner of "real" barbecue. Cooking in steel tubes with digital thermostats? Injecting with phosphates, sugar, apple juice, and brine? Rubbing all their meats with sugar, salt, paprika, black pepper, powdered garlic and other herbs and spices? Braising in foil? Bathing the meat in Parkay Squeeze, which may be 1 electron away from plastic? Painting everything with a sticky sweet tomato based glaze?
The fact is that competition barbecue has moved so far from traditional Southern barbecue that it must be considered a style of cooking unto itself, as different from the original as is Korean Barbecue.
Now I'm not complaining that the product is poor quality. I have judged these foods and they are often spectacularly good. But they are not traditional and these people ought to stop saying it is.
You want real traditional barbecue? Go to the great Texas barbecue restaurants and many others around the nation. Not a barbecue competition.
Corey Brinson
Brinson has to be the success story of the season, and I find myself rooting for him to win the $50,000 if only because he seems to need it more than the others. He makes his living selling barbecue, especially ribs, from a log cabin on a trailer that he drags around behind his pickup in Fayetteville, NC.
But his trailer was too large for the space allocated in Dothan, so he cooked on a Stumps cabinet style smoker with a gravity feed tube for the charcoal, one of the best designs for a smoker out there. In addition he used the very nifty new PartyQ thermostat controller on it. It is a small squirrel fan that controls the air to the charcoal, and thus the temp.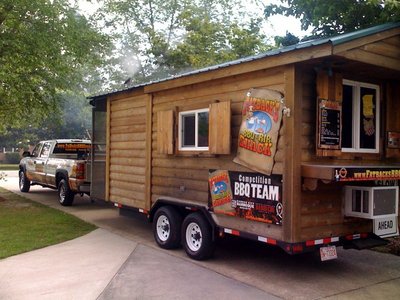 One of my biggest complaints, stop me if you're tired of hearing this, is that so many of the pitmasters have such limited cooking skills beyond the standard four meats required in Kansas City Barbeque Society (KCBS) competitions: Pork ribs (almost always spare ribs), pork shoulder, beef brisket, and chicken (almost always they cook thighs).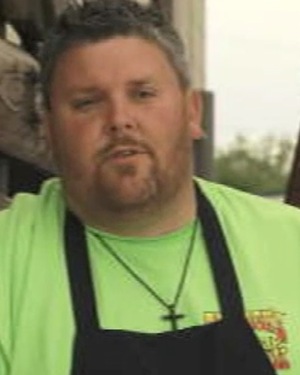 So it was no great shock to hear Brinson confess he had never cooked either meat. Beef ribs? The staple of half the barbecue joints in Texas? Fresh ham? Does this guy only cook from the front of the hog? Is this some sort of version of North Carolina kosher?
More shocking is the fact that he won by beating Whippen, a much more experienced competitor with two restaurants that are not on wheels, and McBride, a trained chef working at a French restaurant in NYC. If I were a betting man, my money would have been on the filly. How did he pull this off?
He did it by sticking to what he knows best. He treated the beef ribs like pork ribs, and the ham like a pork shoulder. A great pitmaster might have done things differently, but lucky for Brinson, the other competitors took the same path, and he outcooked them.
Fresh ham is far different from the Easter hams you get, spiral sliced, and coated with brown sugar and honey. That's a wet cured smoked ham. It is injected with a brine and smoked, so when you get it home it is already cooked. All you have to do is heat and serve.
The world of hams can be very confusing. There are scores of preparations sold in the stores. (Click here for a buyer's guide to hams.)
Fresh ham is the upper part of the hind legs of the hog, the rump if you wish. It is some of the best meat on the animal and has been prized by cooks since the first wild boar was slain by a spear. It has far less fat and sinew than the shoulder, and makes great slices for grilling or sandwiches. It can be handled much like the shoulder, rubbed and slow smoked, but then, instead of pulling into shreds, sliced like a turkey breast. Left alone it has a wonderful pork flavor. If you have a sweet tooth, as most barbecue cooks do, it is highly compatible with sweet red sauce.
When it came time to serve his ham, Brinson sliced off chunks of the rich sweet dark rub and sauce coated exterior, called the bark, the candy of the meat, and placed them randomly in the presentation box. Mixon joked that it looked like he threw them in like dice. From a ham that probably weighed more than 10 pounds, he served about 1/2 pound, none of which was meat further than 1/2" below the surface. Judge Franklin said it had the best smoke flavor. Well, duh, smoke never penetrated much past the surface, so it's no surprise it was smoky. I think they should have dunned him for not serving more meat from the rest of the ham.
Anybody who reads me knows that my motto is "No rules in the bedroom or dining room" so I really ought to keep my mouth shut about the phosphates, foil, and Parkay, but I must confess to shuddering when Brinson and the other covered some of the beefiest meat on the steer with a sweet sauce. Arrrgghh! Louis Mueller and his son Bobby are surely spinning in their graves. Of the many pitstops in Texas, Louis Mueller's Barbeque in Taylor, TX is probably the on folks genuflect towards when beef ribs are discussed. His technique? Salt and pepper, low and slow on a brick pit. That's it. That's traditional. And spectacularly good. Because it tastes like beef. Not rub and sauce. Mixon made a point of saying "I like to be able to taste the beef... but I do not want any sweet thangs on any piece of beef I try." But all three pretty much used a lot of sweet. To see how they do it in Texas, and for my recipe, click here.
Lee Ann Whippen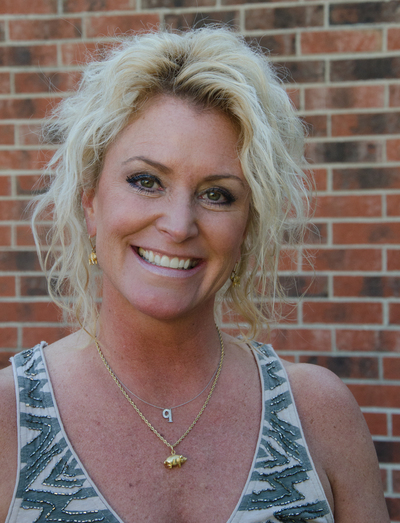 The slender single Mom with runway looks, a megawatt smile, and her trademark flyaway wisps of blonde hair, would be the last person picked to be a pitmaster out of a lineup. With her equally blonde and elegant sister, her flame-emblazoned funnycar type paint job on her customized offset wood burning pit, this team breaks all stereotypes.
She is part owner and Executive Chef of Wood Chicks BBQ, a restaurant in Chesapeake, VA, and Chicago Q, a large upscale dining room with an impressive bourbon lineup in a brownstone in a high rent district of Chicago. Whippen, by far the most experienced pitmaster on the episode, was back for her third crack at the title, and, once again, she was one and done.
Whippen immediately thought of the cured/brined hams common in Virginia, and so she threw hers in a brine on ice for about an hour. About all this will do is salt the surface. Brines do not penetrate very far in a cold environment, and to get down more than 1/2" or so they need to soak for hours. And the mechanism is not osmosis as all the books and websites say, according to the latest research by Dr. Greg Blonder for AmazingRibs.com.
She then applied her rub of brown sugar, white sugar, cayenne, coriander, chili powder and who knows what else, but she left the fat cap on. No way the rub will penetrate to the meat. But she knows her customers, and she put a glaze of Judge Mixon's favorite flavor, peach preserve, on the giant hunk of meat. Mixon is, after all, from Georgia, he cooks with peach wood, and uses peach flavors whenever he can. She served the judges slices, pulled shards of meat, and chopped chunks. Just like a shoulder. And Mixon liked it even if the others did not.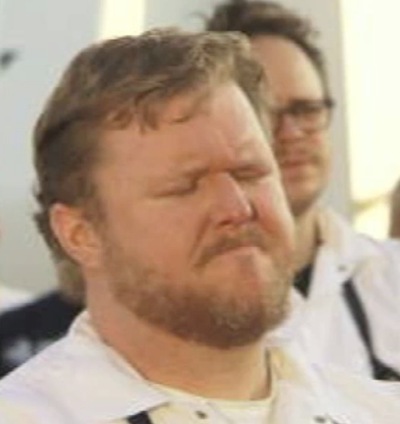 Shane McBride
It seems like every week the producer tosses in one cook who is way over his head. Although McBride is a trained chef from the Culinary Institute of America and Chef de Cuisine at Balthazar, a French Brasserie in Midtown Manhattan and he clearly knows how to cook, he was as far out of his out of his league as Brinson would be in a French kitchen. Yes, he has a pig tat, yes, he had a fancy reverse flow offset smoker (at right), yes, he has competed in barbecue, but he never won anything of note. This was like watching Michael Jordan playing minor league baseball in Birmingham.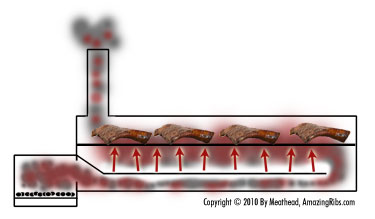 As any Northerner who has spent time in the South knows, these folks are still fighting the Civil War, and the other pitmasters and judges mercilously rode him by calling him "Yankee Doodle", "Gourmet Guru," and "Cheffy Chef". Well, he did wear a white shirt to a barbecue competition, he did have a state of the art Lang 64 pit, and he did have four digital thermometers probing his cooker, so he was asking for it. I'm a big believer in digital thermometers. Dial thermometers are just not reliable. Click here to read my reviews of many of the best.
Cheffy did the French thing with the beef ribs, basting them with veal stock and butter. When he served them he did something clever, the "Cadillac cut". Each team was issued six slabs of wagyu beef ribs. Wagyu is a breed of cattled descended from a Japanese breed that produces meat with thin whispy filligrees of fat running through the muscles. Instead of slicing ribs through the meat midway between the bones, he ran his knife along the bone of the adjacent ribs so each bone has twice as much meat as normal, double wide.
But he went conventional barbecue with the ham by injecting it with apple juice, apple vinegar, salt, Worcestershire, sugar, and spices. His rub showed the French influence: Salt, sugar, paprika, thyme, fennel, and coriander. He served it in thin slices, almost like a brisket. It impressed the judges, but he did not trim enough fat off and that got him marked down.
Whippen, who now lives in downtown Chicago looked straight into the camera and, with no sense of irony, declared "City boys have no place in barbecue. None."
At a glance
5 prelim rounds on Sundays, at 9 p.m. ET, finals on Sunday, July 8, on the
Destination America
channel (formerly Planet Green)
$50,000 prize, winner take all, and the title "Kingsford BBQ Pitmasters Grand Champion"
Previous episodes
Here are links to my reviews of previous episodes:
Episode 1: "Finally, 'BBQ Pitmasters' Gets It Right"
Episode 2: "Melissa Cookston Wins BBQ Pitmasters' Best Show Ever"
Episode 3: Pulling The Trigger; All According To Script; And Is This Really Blind?
Season 2 Finals and season wrapup: "BBQ Pitmasters Finals: Whole Hog Cooked Old School On Concrete Pits, a Fitting Finish with $100,000 to a Real Chef From Iowa"
Judges
Myron Mixon, winner of 180 grand championships as head of the Jack's Old South team, and author of a best selling barbecue book "
Smokin' with Myron Mixon
".
Tuffy Stone, past winner of BBQ Team of the Year and owner of three restaurants named Q
Aaron Franklin, owner of
Franklin Barbecue
in Austin, called the best in the nation by
Bon Appetit
magazine.
Judges scored each sample on a 10 point scale, on appearance, tenderness, and taste. Scores were weighted with 20% for appearance, 30% for tenderness, and 50% for taste.
Cooking tips for this week's meats
What you need to know about the many different hams and how to cook them.
What you need to know about beef ribs and how to cook them.
Barbecue beef ribs Chicago and Texas style.
If you watched, tell us what you thought. And what do you think about Competition Barbecue cooking methods?
All text and some photos are Copyright (c) 2012 By Meathead, and all rights are reserved. For more of Meathead's writing, photos, recipes, and barbecue info please visit his website AmazingRibs.com and subscribe to his email newsletter, Smoke Signals.
Friend Meathead on Facebook: http://www.facebook.com/AmazingRibs
REAL LIFE. REAL NEWS. REAL VOICES.
Help us tell more of the stories that matter from voices that too often remain unheard.